Russell Crowe is pretty chill about not being in that "Gladiator" sequel
"Love And Monsters" (season 2, episode 10; originally aired 6/17/2006)
(Available on Hulu, Netflix, and Amazon Instant Video.)
"When you're a kid, they tell you it's all, grow up, get a job, get married, get a house, have a kid, and that's it. But the truth is, the world is so much stranger than that. It's so much darker, and so much madder. And so much better."
Doctor Who is the BBC's flagship program, but that doesn't mean the BBC can actually afford to make the show. The original series' budgetary limitations are the stuff of legend, but the revived Doctor Who is not immune to the realities of producing such a complicated show with the relatively small resources of British television. Every Doctor Who story demands its own unique costumes, sets, special effects, and even acting and writing styles. Such constant reinvention would be difficult to realize with the huge budgets available to shows on American broadcast networks of premium cable channels; it's a miracle that Doctor Who is possible at all considering its budget is small compared to the typical Canadian show, let alone the average American show. (There's a reason that the Canadian Broadcasting Corporation helped fund the second season.) But the practical challenges of making Doctor Who are not merely financial. The production schedule for the first season was so compressed that parts of different stories had to be shot simultaneously. The show's massive success meant the BBC was happy to commission a Christmas special in addition to the second season's main 13 episodes, the production schedule remained the same length, forcing the Doctor Who team to make 14 episodes in a space of time that couldn't really accommodate 13.
The solution to this logistical nightmare was the creation of what has become known as the "Doctor-lite" episode, in which Doctor Who would present a story that required only the most minimal participation from its two overworked stars. This type of story, born of sheer practical necessity, provided Russell T. Davies with an opportunity to explore what the show's universe looked like when its main character was not around. To that end, "Love And Monsters" features a reworked version of a story that Davies had been kicking around since 2004, in which a person's entire life is shaped by occasional, fleeting contact with the Doctor. But that was not the sole purpose of the episode; much like last year's "Boom Town," this story is what we might call a "checklist" episode, Davies used his final episode before the finale to fulfill an assortment of narrative requirements. In "Boom Town," Davies sought to bring back Annette Badland as Margaret Blaine, explore the morality of the death penalty, show off the sights of Cardiff, and save money. If anything, the checklist for "Love And Monsters" was even more random, as the episode was designed to make David Tennant and Billie Piper's roles as small as possible, make lighthearted fun of Doctor Who fandom, incorporate a monster designed by a nine-year-old boy as part of a Blue Peter competition, and feature a guest spot for stand-up comedian Peter Kay. Conserving the show's precious resources was the lone commonality.
G/O Media may get a commission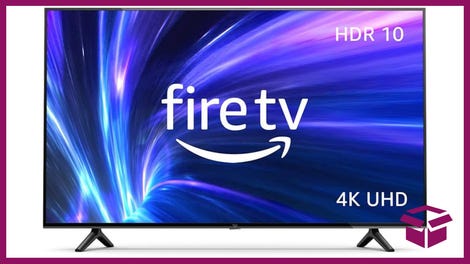 42% Off
Amazon Fire TV 50" 4K Smart TV
The result is an episode even less coherent and even more given to whiplash-inducing tonal shifts than "Boom Town," which was never a story noted for its narrative consistency. Davies' script shows flashes of insight into its characters and genuine compassion for the shared loneliness that brings them together, but it also ends by strongly implying that Elton Pope, the story's fill-in protagonist, is engaging in oral sex with a slab of concrete. (It's also possible that he's hallucinating engaging in oral sex with a slab of concrete, which might actually be worse, somehow.) Indeed, the story zigzags in its portrayal of Elton. He generally comes across as a kindhearted if rather pathetic man, one capable of seeing the true danger that the Doctor represents, but there are moments—most notably his apparent recollection of the Doctor and Rose's pursuit of the savage Hoix as something out of Scooby Doo, not to mention the fact that he might be imagining Ursula's survival—that suggest his connection with reality is tenuous at best. It's not that a man with possibly serious mental health issues is incapable of such understanding and perception; indeed, that would be a fine point for Doctor Who to get across. But the varying portrayals of Elton never quite gel together to make such an interpretation feel earned. Instead, he lurches from one characterization to another, depending on the requirements of a particular scene or moment.
Such inconsistency isn't as big an issue as it might otherwise be because Marc Warren is so good in the role, making the most of the stronger material that Davies' script gives him and finding ways to compensate for the weaker stuff. The story's first-person perspective means that Elton is in every scene of the episode, and he spends a significant chunk of it addressing the audience through his video camera, at least when he isn't dancing to the Electric Light Orchestra. If Warren had anything less that total command of his intentionally strange, occasionally off-putting character, "Love And Monsters" would be an unmitigated disaster. This story could so easily be one big joke at Elton's expense, and there are moments where Davies' script does read that way, but Warren manages to keep the audience on his character's side.
Indeed, "Love And Monsters" generally works well when it is simply a portrait of Elton and his friends at L.I.N.D.A. These people are lovable losers, and both Davies' scripts and the guest stars' performances emphasize the "lovable" and the "loser" in equal measure. These are people who need the mystery and the magic of the Doctor to fill something missing in their own lives, and Davies is unmistakably poking fun at the obsessiveness of Doctor Who fans when he depicts Mr. Skinner's professorial analysis or Bliss' conceptual depiction of the Doctor's true being. Much as "Bad Wolf" indicated at least a vague discomfort with Doctor Who's chosen medium, "Love And Monsters" suggests that Doctor Who fandom is only risible for as long as people actually care about the Doctor; as soon as L.I.N.D.A. shifts its focus away from the Doctor, the episode takes them far more seriously. In context, that's probably fair; after all, overenthusiastic appreciation of Doctor Who as a work of fiction is perhaps a bit silly (though it's probably best if I don't think about that particular point too much), but it's very different from obsessive interest in a real person, even if the real person in this instance is a time-traveling, shape-shifting alien.
Anyway, such specifics aren't important, at least not in this instance, as the real takeaway is that the fandom represented by L.I.N.D.A. offers its members a chance to build a community, to find what they had missing in each other instead of the Doctor. That's a worthy theme, and I wouldn't have complained if "Love And Monsters" had just been 45 minutes of the L.I.N.D.A. team bonding over baked goods and ELO. Admittedly, it's hard to imagine how Davies could fit a plot into such a scenario; I suppose he could have built the story around the L.I.N.D.A. team uniting to find Bridget's missing daughter as Elton confronts his own repressed tragedy, with no monsters at all and only the briefest of cameos from the Doctor, but that would have been ridiculously experimental. The issue is that "Love And Monsters" is at its best when it is steadily drifting away from the Doctor Who universe. The story requires Victor Kennedy to drag the story back on track, and it's his intrusion that ultimately dooms the episode.
In fairness, Peter Kay isn't bad at all as the human form of Victor Kennedy. One of Britain's most successful standup comedians, Kay is only an occasional actor, and he won a role on Doctor Who after sending Russell T. Davies a letter praising the new series. Kay was reportedly committed enough to spend significant time with Davies during the writing process fleshing out the character, and that does come across in his work as Victor, as he conveys an unsettling mix of oily charm and primal hunger. His performance as Victor isn't a revelation, but if it were the worst part of the episode, then "Love And Monsters" would be in pretty good shape. Unfortunately, the same cannot be said of Kay's work as the Abzorbaloff. Buried under tons of frankly disgusting prosthetics, Kay's work as the monster is an over-the-top, pantomime-style performance. Whatever nuance Kay was able to bring to Victor Kennedy is lost after his transformation into the Abzorbaloff.
Moreover, the reveal of Victor's alien nature is an odd fit for the story's initial themes about fandom. It's generally agreed that Victor is meant to represent the controlling, joyless super-fans; I'm not sure that's an entirely fair characterization of Doctor Who's most hardcore fans, but at least his initial takeover of L.I.N.D.A. tracks with that notion. A more logical endpoint for that theme would be to reveal why a human Victor is so obsessed with finding a man he seems to despise; one could imagine some youthful trauma that Victor now blames on the Doctor. That might not be a better direction for the episode to explore, but it would be a more organic extension of the ideas that "Love And Monsters" presents; after all, say what you will about annoyingly hardcore fans, but very few of them are actually murderous aliens. The idea of the Abzorbaloff absorbing L.I.N.D.A. members one-by-one sort of illustrates the domineering nature of the most devoted fans, but that was already more ably illustrated when the human Victor Kennedy was just bossing people around. Still, the Abzorbaloff had to go somewhere, I suppose.
In discussing the Abzorbaloff, I find myself in the uneasy position of criticizing the work of a 9-year-old boy—or, perhaps more accurately, the production team's decision to prominently feature the work of a 9-year-old boy. Young William Grantham designed the creature as part of a competition on the children's variety show Blue Peter, one of the very few active shows whose inception predates that of Doctor Who. In one of the most ambitious manifestations of the two shows' long-running partnership, the production team agreed to sponsor a "Design A Monster" competition, even promising that the winning creature would appear on an actual episode. The Abzorbaloff—which Grantham actually intended to be several stories tall—isn't a bad idea for a Doctor Who monster, but its internal logic is so silly, so clearly that of a young boy, that it doesn't translate well to the screen. The monster would be an excellent fit for one of the Doctor Who tie-in comics, or it might work better in an animated format, but it's too ludicrous and frankly too disgusting to work well in live action. The essential silliness of the creature is most clearly on display after Ursula is absorbed, and she's still wearing her red eyeglasses. It's a small point, I realize, but it breaks whatever suspension of disbelief I had left.
Ultimately, the best part of "Love And Monsters" is neither L.I.N.D.A nor the Doctor and Rose; Russell T. Davies' greatest success with this episode is his portrayal of Jackie Tyler. It's taken nearly two seasons for the show to give Camille Coduri the sort of material it previously found for Billie Piper and Noel Clarke, but this is the episode that reveals the human side of Jackie, her flaws very much included. The funniest sequence of the episode is Elton's attempt to infiltrate Jackie's life, with his voiceover explaining the steps that the lonely Jackie is all too happy to take care of. Her attempted seduction of Elton could be read as mockery of Jackie, but both Davies and Coduri stay on the right side of the line. It's made clear that Jackie is just lonely, and it feels distinctly, recognizably human for her to deal with her abandonment issues by going on the prowl for a casual hookup.
Much like Elton, Jackie can be a ridiculous figure, but her behavior is only a reaction to the impossible situation in which she finds herself. The one area in which the episode's constant tonal shifts work like gangbusters is the final evening that Jackie spends with Elton, as the story rapidly moves from goofy sex comedy to melancholy human drama to righteously angry confrontation. Coduri nails all three incarnations of her character, revealing all the different ways in which one can be left behind. Her final, angry rebuke to Elton shows the very best of Jackie Tyler, as she promises to protect her daughter and the Doctor for the rest of her life. Given everything she has said (and will say) about the Doctor and what he has done to her daughter, that moment of unwavering support is a major revelation. The fact that the Doctor and Rose aren't there to hear it only adds to her moment of triumph. After all, if "Love And Monsters" has a point, it's that we reveal the best and the worst of ourselves when the Doctor isn't there to show us the way. "Love And Monsters" has too many misfiring elements for me to really be able to recommend it—"Boom Town" remains the better example of how to do messy, barely coherent Doctor Who—but at least it is never boring, and there are enough isolated moments of insight to make the story worth checking out.
Stray observations:
Okay, that's not the only point that "Love And Monsters" has to make, as Elton closes the episode reflecting on the deaths of his friends and wondering whether such awful fates are the natural end result of getting close to the Doctor. The notion of the Doctor as a fundamentally destructive presence is an intriguing one, even if it's a concept that I don't personally care for all that much. Indeed, I'm inclined to criticize this story for its excessively cruel treatment of the guest characters, but I suppose that is rather the point of the piece. Either way, we'll be circling back to this theme, I have no doubt.
Well… even if I accept that the L.I.N.D.A. members need to die for the story to work, I'm still more than a little leery about Bliss finding herself on the Abzorbaloff's ass. That seems like a wholly unnecessary indignity.
Time And Relative Dimensions In Spoilers: Yes, this section still exists! "Love And Monsters" manages to be the intersection of all four of the Davies-era arc words, as this story features an allusion to the Bad Wolf virus, a mention of Torchwood files, a campaign poster for Mr. Saxon, and the first mention of the planet Clom, which is later lost. Also, the Doctor's precise description of the living shadow that killed Elton's mother doesn't quite fit with what we later learn about the Vashta Nerada, the show's most famous living shadows, but it's not impossible that the Doctor was indeed tracking down a lone member of that particular species.
"Fear Her" (season 2, episode 11; originally aired 6/24/2006)

(Available on Hulu, Netflix, and Amazon Instant Video.)
"You, stop! You just took a council ax from a council van and now you're digging up a council road! I'm reporting you to the council!"
One of the oldest and thorniest points of contention with regards to Doctor Who is the matter of its target audience: Is the show aimed at adults or children? The notion that Doctor Who is a children's show is sometimes—certainly not always, but sometimes—used as a way to short-circuit debates about the critical merits of the show. If Doctor Who is intended primarily for young viewers, this argument can so easily go, then it would be unfair for adults to hold the series to the same standards as they would for more mature television shows. Admittedly, I'm coming dangerously close to constructing a straw man here, but the controversy over the show's intended viewership is very real. Philip Hinchcliffe, the classic series' most celebrated and creatively successful producer, was unceremoniously removed from Doctor Who and reassigned elsewhere in large part because the violent content of his stories had drawn the ire of tiresome morality watchdogs, who claimed the Tom Baker era was too scary for children.
If there is a correct answer to my opening question, it's that Doctor Who isn't aimed at adults or children, but rather adults and children. Doctor Who is the consummate family show, even if certain production teams have pushed the show in more consciously mature or juvenile directions. More to the point, the implication that Doctor Who's hypothetical status as a children's show makes it unworthy of criticism is an unfair dismissal of the intelligence and sophistication that can be found in the best children's entertainment. Indeed, there's a quote generally attributed to The Hitchhiker's Guide To The Galaxy author Douglas Adams, who served as script editor for Tom Baker's penultimate season as the Doctor, in which Adams explains that the secret to writing Doctor Who is to make it complex enough for children to enjoy and simple enough for adults to understand. At its best, Doctor Who refuses to talk down to the most impressionable, least jaded part of its audience, a youthful viewership that other shows would ignore. Doctor Who can be silly, but it tries to be smart about it, and that combination means the show can be both enjoyed and analyzed by viewers of all ages.
I mention all this because "Fear Her" is one of the only stories in Doctor Who history that is explicitly aimed at children. As episode writer Matthew Graham—who, whatever his weaknesses as a Doctor Who scribe, is one of my favorite writers for his work on Life On Mars and Ashes To Ashes—explained in a 2011 interview with Den Of Geek, that explains why "Fear Her" has such a poor reputation with the show's older fans. Indeed, "Fear Her" is generally considered a low point not only of season two or the Davies era but also of Doctor Who in general; an episode like "Love And Monsters" may provoke more vitriol, but it at least has its ardent defenders. "Fear Her" commits the cardinal sin of a Doctor Who story, in that it's just sort of boring. Still, in the interest of fairness, let's hear from Graham, who suggested in the interview that the episode's child-centric approach is why the story has such a lowly reputation among Doctor Who fans:
What we had set out to do right from the start with "Fear Her" was tell a story that was aimed very much at children. For children, not really for adults, not really for the older Doctor Who fans. It was aimed at the kids, because "Army Of Ghosts" and "Doomsday" were coming up, and they were going to be very big, very dark and very traumatic. And Russell wanted a playground adventure. He said, "How old is your son?" At the time he was seven. So, he said, "Write this one for your son." That's what I did. I did something that was in primary colors, that had a scary voice in the cupboard. I always say that other people got Cybermen, I got two blokes with a red lamp rattling a wardrobe!

But, to be honest with you, I didn't go online particularly and read the responses. From my side of it, the response was brilliant. I had loads of kids write to me and say how much they enjoyed it. And it was only later I realized that the older fans had reacted badly to it. So, I went, "Well, it's a shame that they have, but it wasn't meant for them."
I won't dismiss that explanation out of hand. If the argument is that "Fear Her" plays to simpler, more primal fears that are more compelling to children than they are to adults, then that's not something I can really speak to. Except for a quickly abandoned attempt to watch the TV movie when I was eight years old, I never watched Doctor Who as a child, so it's possible that I am missing the true appeal of "Fear Her." For instance, I could see how elements like the Isolus' love of play and Chloe's alien-aided obsession with drawing might be more enthralling to younger views than they are to me. That said, I'm really not sure that the specter of a dead, abusive father is the stuff of child-friendly entertainment.
Besides, my fundamental issues with this episode are all those that I'm fairly certain I would have had if I had watched as a child. "Fear Her" feels resolutely drab. A key idea of the story is that it takes place on a typical, boring council estate, the crushing normality of the setting theoretically adding to the horror of the children's disappearances. In practice, director Euros Lyn can't find a way to play against the dullness of the visuals; his heavy use of Dutch angles in "The Idiot's Lantern" verged on the ridiculous, but that camerawork leant that story a certain energy that is much missed here.  The episode's then near-future, now near-past setting of the 2012 London Olympics makes the story a companion piece of sorts with "The Idiot's Lantern." But while that earlier story derived at least some power from its Coronation-era setting, "Fear Her" is unable to do much of interest with 2012. This story is really just set in 2006, except the Olympics are going on; it would be silly to criticize Matthew Graham for, say, not foreseeing how much social media would come to dominate our consumption of events of the Olympics, but even an incorrect prediction of how the world would change in the six years between the episode's broadcast and its fictional setting would add some much-needed color to the story.
The Olympics themselves could be of some interest, but the Games are never satisfyingly linked to the main story. Yes, the disappearance of the people in the stadium is a big moment in the story, but that could theoretically have happened to any large gathering of people. "Fear Her" gets closer with its use of the Olympic torch as the engine of the Isolus spaceship's rebirth, but the discussion of the torch's status as a beacon of hope represents Doctor Who dialogue at its absolute corniest. Huw Edwards, who went on to announce the actual London Olympics, does his best with his voiceover, treating the unexplained disappearance of a stadium's worth of people with the measured concern of a true professional. Even so, it's hard to imagine how such a massive disappearance could unfold in front of the entire world without sparking mass pandemonium. It feels deeply implausible that the carrier of the torch would keep on running toward an empty stadium or that people would still throng the streets to watch him, irrespective of the power of the Olympic spirit, but that's what the story demands.
There's no bigger victim of the story's illogicality that Chloe's mother Trish. For the plot to work, Trish is required to wander away from her daughter on multiple occasions, and "Fear Her" never adequately explains why she would repeatedly ignore the Doctor and Rose's explicit instructions. This is the basic problem with making a child—or, more specifically, a human child possessed by an alien child—the antagonist; for the threat of Chloe Webber to be at all credible, the adults sometimes need to act like complete idiots. That aside, the Isolus actually isn't a bad idea for an adversary, and David Tennant does some nice work when he discusses how fear and loneliness can motivate terrible acts just as readily as evil ambition can. As Rose points out, the Isolus is throwing a temper tantrum on a planetary scale, and one of the story's more intriguing elements is the sympathy that the alien's plight provokes in the Doctor. The fact that the Doctor never punishes the Isolus for its misdeeds might have been worth exploring in more detail, but "Fear Her" pushes such questions to the background in favor of letting the Doctor light the Olympic flame. Again, this story is by design told from the perspective of the children, not the parents, so this choice makes sense in light of that stated intention. That doesn't make the story's superficiality any less frustrating, though.
The one strength of "Fear Her" is its use of Rose Tyler. Once more, the story recalls "The Idiot's Lantern," as the Doctor and Rose split up to pursue their own investigations until one of them is taken by the monster. This time around, it's Rose who is left behind to save the day, and she makes the most of this opportunity to play the hero—no, to play the Doctor. Rose has always been capable of taking on alien threats, but she used to do so by leaning on her humanity; way back in "Rose," for example, she relied on her childhood gymnastics training to save the Doctor from the Nestene Consciousness. In "Fear Her," Rose effectively steps into the Doctor's shoes, with her one-liner the "council spaceship" feeling particularly reminiscent of what the Doctor himself would say. She lacks the Time Lord's centuries of experience, and she still needs the trapped Doctor to drop a vital clue about how to recharge the Isolus ship, but the intellect and the courage displayed is entirely her own. The final 15 minutes of this episode reveal that Rose no longer needs the Doctor to defend the Earth. The Doctor's dynamic with Rose hasn't been about teaching her in the same way as his previous relationships with classic series companions like Leela or Ace, but still: "Fear Her" feels like Rose's graduation.

Indeed, if this were classic Doctor Who, "Fear Her" would likely have been Rose's departure episode. She has demonstrated that she has learned all she can from the Doctor, and so it's time for her to move on with her life. But the big innovation of the new series has always been its emphasis on emotion, and Rose still needs the Doctor emotionally. Indeed, for all the strength that she shows in taking on the Isolus after the Doctor disappears, Rose seems (not unjustifiably) on the verge of a breakdown when she realizes the Doctor may not be coming back. In its way, "Fear Her" represents a natural endpoint for the Doctor and Rose's time together, but Rose can't see it, going so far as to tempt fate by claiming that the two will never ever be separated. Rose still hasn't learned what Sarah Jane realized back in "School Reunion." Everything must come to an end, and, as the Doctor observes, a storm is approaching.
Stray observations:
I don't think Abisola Agbaje's performance as the Isolus-possessed Chloe really works. I prefer not to criticize child actors where possible, and there are certainly moments in which Agbaje does good work. The portrayal of the Isolus is so dependent on the weird voice, and that requirement makes it even trickier Agbaje to convey a range of emotions. I get what Euros Lyn and company were going for in crafting that performance, but it misses the mark. That doesn't help an episode that already has plenty of other elements that don't work.
It's worth acknowledging that this was a backup script. The original plan for episode 11 was a story written by the great Stephen Fry; I'm not entirely convinced that Fry's style would have proven a good match for Doctor Who, but I don't doubt the result would have been more interesting than "Fear Her." Still, in criticizing "Fear Her," it's worth acknowledging that this episode was basically intended to fill a hole in the schedule, which perhaps helps explain why it feels underdeveloped. Also, the cheapness of this episode was very much intentional, given the necessity of saving money for next week's big-budget finale.
This Week In Mythos: The Doctor explicitly acknowledges that he was once a dad. The fact that we know he was a grandfather made that a relatively safe assumption, but it was at least possible that Time Lord families are structured in a way that is different from our own. So then, this is confirmation that the Doctor was a father, although we are left to speculate on the exact circumstances of his parenthood.
Next week: We reach the end of the second season with "Army Of Ghosts" and "Doomsday." It's about to get emotional.