RuPaul's Drag Race tends to heat up after "Snatch Game," and the competition is starting to get more intense in "9021-HO," which has the queens heading to high school with an acting challenge involving a drag version of Beverly Hills, 90210. The queens are directed by two of the original show's stars, Jennie Garth and Tori Spelling, and the over-the-top teen drama gives the writers plenty to work with in creating ridiculous drag comedy. Maybe a little too much to work with, because the final clip of "9021-HO" is very long, and even with some strong performers in the group, it's hard to stay engaged for the entire thing.
That said, this is still a much better episode than last week's boring "Snatch Game," and as the stakes get higher, there's more tension within the group. I've mentioned that this season's queens are a bit too focused on the sisterhood aspect of this show and aren't being ruthless enough in the competition, and I find myself yearning for a fun, unapologetic bitch to bring some conflict to the season. Of the remaining queens, I think Trinity Taylor is the one that could best fit this role. She's outspoken and catty but also talented and endearing, and she has a great episode this week. Trinity has been winning me over in Untucked, and this episode solidifies my appreciation of her as she lets more of her bitchy side out and slays the challenge.
The first person that came to mind while watching Trinity's performance as Nelly's mother was Jennifer Coolidge, and Trinity has the same manic energy, pinched expressions, and big blonde hair as Coolidge. (Michelle Visage sees it, too, and she mentions Coolidge during judging.) Trinity knows how to give a big, exaggerated performance, and it makes her a standout in every scene she's in. She also has an excellent showing on the runway with a huge wig (the category is Big Hair Everywhere) and an outfit that is delightfully trashy: skin-tight and busy with a giant cutout at the crotch.
Trinity lands in the top, and she scores her second win this week, putting her just a bit ahead of Shea in the competition because she has two solo wins under her tightly cinched belt. Shea isn't going down without a fight, though, and she gives the other scene-stealing performance in "9021-HO" as elderly student Grandrea Zuckerwoman. Shea actually lucks into a way meatier part after Aja complains about getting the role of Grandrea, and when they switch parts, Shea seizes the opportunity to really ham it up with a performance that is part Jeri Blank, part Steve Urkel. You can never go too far with a Drag Race acting challenge, and the most lackluster performances are the ones that play it safe.
G/O Media may get a commission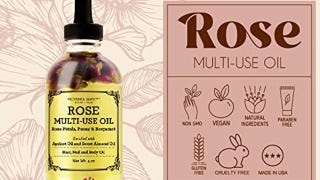 Provence Beauty Rose Multi-Use Oil
Complaining about her role is the worst thing Aja could do, and she gives up Grandrea for a part that has almost no screen time. She needs to be really impressive if she's going to make that small character memorable, and Aja's acting talent isn't at that level. Her line delivery is flat and she doesn't have the aggressively bitchy attitude that the script demands. Aja turns it out on the runway with bold black-and-white look, but the judges know that she gave up the role she was originally assigned and then failed to do something interesting with the part while Shea took charge and made Grandrea one of the best.
As the quietest and most subdued queen in the group, Nina doesn't seem like she'd be a great actress, and her difficulty giving the directors what they're asking for summons up the insecurity and anger that have been consistent problems for her this season. Tori and Jennie get nasty vibes from Nina, and the combination of her lackluster performance, bad attitude, and repetitive runway look lands her in the bottom to lip sync against Aja. It's not a bad lip sync, but I expect more for an iconic drag song like Cece Peniston's "Finally," and the two are pretty equally matched. They make good use of the space and aren't boring, but they also don't do anything that really makes me gasp. (Aja's somersault into a splits could have been that moment, but the execution is a bit sloppy.) In the end, Nina is safe, and I think she's saved by her story this season. She has a much more defined personal narrative as someone that has to constantly fight her insecurity, and it's a battle that RuPaul is very invested in.
Farrah manages to be safe this week thanks to a very impressive showing on the runway, but I think the stiffness and lack of personality in her acting should have landed her in the bottom instead of Sasha, who doesn't go far enough with the character, but still goes farther than Farrah. Sasha's waitress character is more drowsy drunk rather than boisterously boozy, but it's a fuller character than what Farrah delivers as Nelly. Going with a mohawk on the runway is a smart decision that sets Sasha apart while fitting very well with her overall aesthetic, and while the outfit isn't all that memorable, it projects a more distinct character than Farrah.
The work room scenes are a lot more engaging this week, starting with a post-elimination teaser that features some very fun cuts to Shea voguing on the floor and Trinity ripping the black bar off Valentina's bare chest. Every episode has featured some sort of emotional moment while the queens get ready for the runway, and this week's is especially powerful as Trinity, Shea, and Sasha open up about their relationships with close relatives suffering from cancer. Trinity was raised by her grandma after her mother died from complications with HIV, and when her grandma was stricken with cancer, Trinity dropped out of school so that she could take care of her. Shea's father gained a new perspective of Shea's drag art when he was diagnosed with cancer and realized that he needed to be supportive of his son, and Sasha reveals that she's a bald queen as a tribute to her mother's strength when she lost her hair during her cancer battle.
There's a lot of raw emotion in this scene, and even though I keep saying that I want less sisterhood and more competition this season, these moments of personal connection do bring the group together in a more meaningful way. The nature of RuPaul's Drag Race has changed with time, and as the queens realize that being on the show makes them part of this elite drag network, they aren't as willing to compromise personal relationship for the sake of winning. Unfortunately, that makes the series less dramatic, and I want to see a queen that isn't afraid of hurting some feelings on her way to becoming America's Next Drag Superstar.
Stray observations
To everyone who dragged me for not recognizing Cynthia's fall last week was a deliberate homage: I deserved that. But Cynthia also could have done a much better job selling that moment on the runway.

Where are the mini-challenges? Did the writers run out of ideas?

Jennie Garth and Tori Spelling really do not like Tiffani Amber-Thiessen. I'd even go so far as to say they hate Tiffani Amber-Thiessen.

The other queens must hate Valentina so much for doing so damn well every single week. Her Monna is perfectly ditzy and naive and her lily pad jumpsuit on the runway has the judges gagging. At this point, I'd be shocked if she didn't make it to the final three.

I have the feeling Peppermint is going to end up this season's Miss Congeniality. She's just so nice, and when she casts "9021-HO," she lets the queens pick the roles they want to play before she makes the assignments. A more vicious queen would have asked the queens who they want to play and then made sure not to give them those parts, but Peppermint doesn't play the game that way.

I'm one of those gays that loves Cats in all its stupid glory, so Nina's makeup makes me happy this week.

"I love her, but bye bitch!"

"Now you look like a bitch, playin' a bitch, in the last scene."

"I'll bring you a chicken."

"Wake me up before you cali-co-co."'

"Maybe it didn't need the Meryl Streep treatment." Who else wants to see Meryl Streep on RuPaul's Drag Race now?

"A lot of actresses have made a big career on a hair flip and one-note bitch delivery. But she's not going to be one of them."