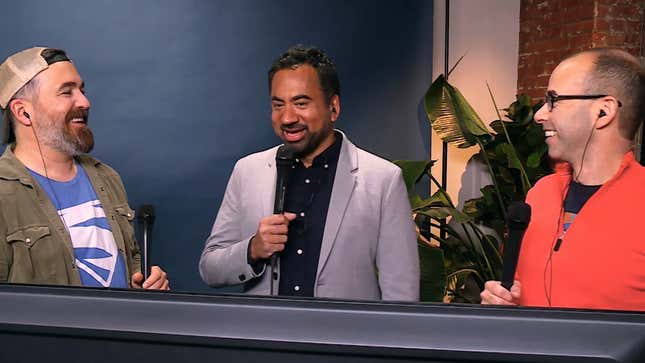 Not to be confused with practical jokers, the Impractical Jokers are looking for some public speaking advice. While the Jokers have many famous friends they can turn to, including Gary Busey, Rosie O'Donnell, and The Blue Man Group (actually, that last one won't be much help), they called in Kal Penn. He's no slouch, either; in addition to being the titular Kumar in the Harold & Kumar movies, he's also a former member of the Barack Obama White House and an academic lecturer. Ironically, the best person to teach Sal Vulcano public speaking has the last name Penn. You can't make this stuff up.

Why Robert Rodriguez still loves "Spy Kids"
In this exclusive clip from the latest episode of Impractical Jokers, Kal Penn invites Sal to play Penn's "Sound Guy" for a filmed public speaking class. But things don't go as the students probably planned. Almost immediately, Sal's giving them hard, embarrassing news about their breath, which can be a real killer if you're speaking to an audience from a podium. We can only hope these students get their deposit back.

Impractical jokers exclusive
Impractical jokers exclusive
Impractical Jokers is celebrating its 10th season, and Penn is but one of the celebrities sent from Hollywood to humiliate and torture Sal. Other guests this season include Post Malone, Paul Rudd, Kesha, AEW champion MJF, Bret Michael, John Mayer, and Bruce Campbell.

Is there a better way to spend a Thursday night than watching a celebrity forcing the boys into increasingly precarious and embarrassing positions? We think not. The new episode of Impractical Jokers, featuring Kal Penn, premieres tonight at 10 p.m. EST on TruTV and TBS, with new episodes airing every Thursday.