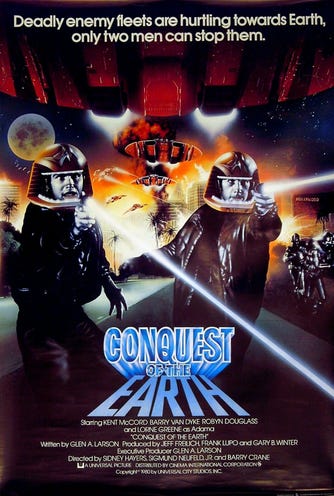 Kent McCord (Capt. Troy)Barry Van Dyke (Lieutenant Dillon)Robyn Douglass (Jamie Hamilton)Lorne Greene (Commander Adama)James Patrick Stuart (Dr. Zee)Richard Lynch (Commander Xavier)Robbie Rist (Dr. Zee)John Colicos (Count Baltar)Robert Reed (Dr. Donald Mortinson)William Daniels (Norman)Lara Parker (Shirley)Pamela Susan Shoop (Dorothy Carlyle)Sharon Acker (Anne)Fred Holliday (Mr. Brooks)Peter Mark Richman (Colonel Briggs)Roger Davis (Andromus)Richard Eastham (Gen. Cushing)David Moses (Second Cop)
Barry Crane, Sidney Hayers, Sigmund Neufeld Jr.
The Battlestar Galactica and its ragtag fleet of ships finally locate the Earth, only to discover that the planet is not prepared for the inevitable Cylon invasion.