For decades, Geraldo Rivera has boldly investigated some of the most difficult stories of the day to see how he might make them worse. To that end, this week he weighed in on the sexual assault allegations against Matt Lauer by shrugging, "News is a flirty business," a credo that Riviera has previously offered up on behalf of Roger Ailes and, presumably, embroidered on the throw pillow adorning his office couch.

Sharon Stone made a fraction of what Michael Douglas did for "Basic Instinct"
That Riviera—who also sort-of spoke up for Harvey Weinstein—seemed suspiciously defensive was only compounded by another tweet preemptively laying out a comprehensive rulebook for reporting all sexual harassment allegations in a timely and orderly fashion. And it was only reinforced by everyone reminding him that he'd given interviews lamenting how pesky workplace protections really screwed up his sex life; how he'd written an entire memoir, perfectly titled Exposing Myself, detailing his many conquests with mustache-licking zeal; and finally, by Bette Midler herself recalling that time Rivera had pushed her into a bathroom, shoving amyl nitrate under her nose and groping her breasts. And Geraldo said to himself, this is the flirty business I have chosen. 
Anyway, Geraldo's sorry now. In the cyclical, Sisyphean lull between pushing the boulder up the hill that will inevitably roll down to crush him anew, he posted an apology to Midler—one that took the now-standard "different recollection" angle, but offered apology nonetheless. "Although I recall the time @BetteMidler has alluded to much differently than she," he wrote, "that does not change the fact that she has a right to speak out & demand an apology from me, for in the very least, publically [sic] embarrassing her all those years ago. Bette, I apologize."
G/O Media may get a commission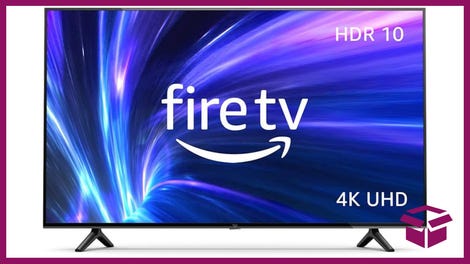 42% Off
Amazon Fire TV 50" 4K Smart TV
Just in case, he also offered an apology for Exposing Myself, a book that features Geraldo repeatedly bragging about having sex, or trying to—with the celebrities he's interviewing; with colleagues like Barbara Walters; with the wife of the Canadian prime minister; with myriad production assistants and interns and other young women who were in his employ or otherwise vulnerable. "A stiff dick has no conscience," he wrote in one passage, a credo that's undoubtedly embroidered on the other throw pillow.
Anyway, Geraldo's sorry about that, too. "27 years ago I wrote a tawdry book depicting consensual events in 1973-45 years ago," he says. "I've deeply regretted its distasteful & disrespectful tone & have refrained from speaking about it-I'm embarrassed & profoundly sorry to those mentioned-I have & again apologize to anyone offended."
And with that done, and all wrongs temporarily once again righted by his apologizing for having volunteered ill-considered opinions no one asked for and that will swiftly be proven wrong, Geraldo Rivera quickly pivoted to declaring that Michael Flynn's current legal problems "never had anything to do with [Donald Trump] or even #RussiaGate-whatever that is," because he can't fucking help it. News is a flirty business, after all, and Geraldo Rivera is the guy who just wants to get up in it, so so bad.