Up until now, everything we've heard about the upcoming Mission: Impossible 6 has been centered around Tom Cruise's love for risking his life on increasingly dangerous stunts. All the way back in March, we reported that Cruise had spent a year training for "the most impressive and unbelievable" stunt he's ever done, but just a few months after that we reported that the whole production had to be temporarily shut down when Cruise apparently broke his ankle while trying to jump from one roof to another—a stunt that actually seems kind of simple and straightforward.
Today, that pattern seems to be continuing with Cruise signing up for Instagram to share some official updates on Mission: Impossible 6, and maybe it's just us, but there seems to be a hidden message here about Cruise being a bit injury-prone on this set. First off, here's a shot announcing the official name of Mission: Impossible 6, which is now Mission: Impossible—Fallout:
And here we have a teaser shot, showing Cruise dramatically clinging to a helicopter that may or may not have a pilot. Is this the unbelievable stunt? If so, there must be more to it. After all, he held on to an airplane in the last movie, and this helicopter isn't really as exciting as that was.
G/O Media may get a commission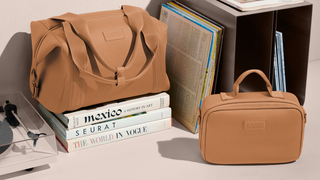 15% off
Dagne Dover Travel Kits
But hold on: The movie is called Fallout and the first thing we're seeing from it is Cruise—who got injured during a stunt—holding on to a helicopter? Almost as if he's about to fall out and get injured? Hopefully nobody at Paramount is getting an angry call from David Miscavige over this one.