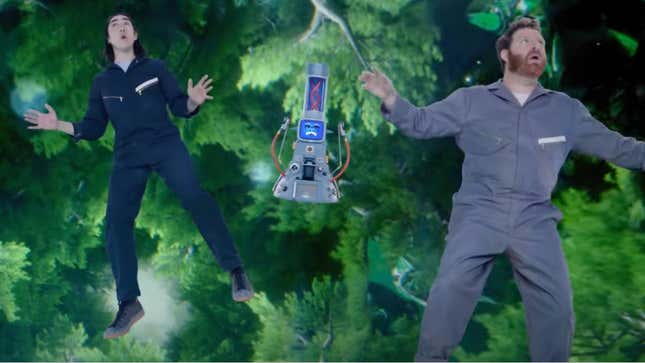 An all-important national holiday arrives each year on April 20th, and it's not National Pineapple Upside Down Cake Day. Luckily, Funny Or Die has something extra-special and extra-informative planned: a new HBO Max series where a talking bong voiced by Paul Bettany walks intrepid stoners Matt Klinman and Zack Poitras through the weirdest and most wonderful this world has to offer. Welcome to High Science.
Top 3 moments from James Corden's final "Late Late Show"
In each episode of the series—which Klinman and Poitras also created—the duo "smoke on" a new topic, leading them to realizations that often seem too specific and strange to be true. The Ancient Egyptians invented toothpaste. Sharks are older than trees. Trees eat salmon. The facts that Bettany's "Dr. Oh" introduces consistently blow Klinman and Poitras' minds, more often than not, warranting a lengthy, fried "wooooahhhh." Where do scientific discoveries end and high thoughts begin? Or were the two never all that different in the first place?
If an anthropomorphic bong seems a little left field for Bettany, it's because it is—but according to the actor, that's been half the fun.
"It was a pleasure to work with Funny Or Die and the creators, Matt and Zack, on a project that is so opposite to anything I have done before," Bettany shares. "'Dr. Oh' is their creation that I've tried to sort of bring an avuncular warmth to. This one's for those science fans with a sense of humor."
A clear product of Warner Bros. recent decision to merge HBO Max and Discovery+, new episodes of High Science will become available for streaming on HBO Max weekly after they air on the Discovery Channel. A two-episode premiere is set for April 26.