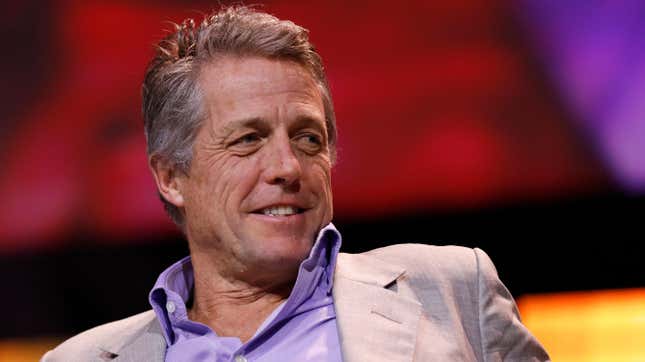 Hugh Grant's nasty temper is well documented, despite his genial image. Perhaps his charming romantic comedy hero vibe compensates for those less savory elements of his personality; perhaps he's saved by his own honesty about having anger issues. In any case, it was Grant himself who blew the whistle on his latest on-set tantrum, this time during the filming of Dungeons & Dragons: Honor Among Thieves.  
Why Christian Bale just can't quit David O. Rusell
Speaking with Total Film (via Yahoo! Entertainment), Grant admits, "I lost my temper with a woman in my eyeline on day one. I assumed she was some executive from the studio who should have known better. Then it turns out that she's an extremely nice local woman who was the chaperone of the young girl. Terrible. A lot of groveling…" Referencing another actor's infamous on-set blowup, he adds, "I did a Christian Bale."
Perhaps the "Christian Bale" should be renamed the "Hugh Grant," because the older star has been making headlines for his temper for decades. After Jon Stewart banned Grant from The Daily Show over an incident in 2009, Grant admitted to Vanity Fair, "I did have a tantrum backstage. About once a year, I have a really mega-tantrum, and sadly he witnessed one." He tweeted that Stewart was "correct to give me kicking."
Also on record as usually having a tantrum on every birthday since he was "a small boy," the actor has had various altercations with paparazzi over the years. In 2007, he was arrested for a confrontation with a photographer that left the latter "bruised, battered and covered in baked beans" (per People). In 2009, The Mirror reported Grant had kicked a photographer between the legs. And in another case of mistaken identity in 2019, the Daily Mail claimed Grant pushed a woman's camera out of the way thinking she was trying to film him and his wife, when in reality she was working in her capacity as the head of a municipal waste company.
G/O Media may get a commission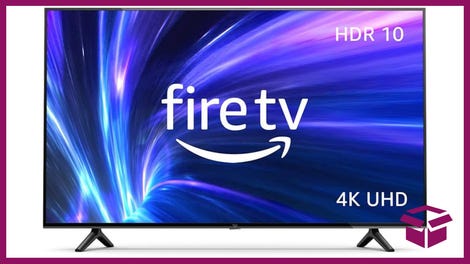 42% Off
Amazon Fire TV 50" 4K Smart TV
After Bridget Jones' Diary director Shannon Maguire joked about Grant's "2:30 tantrum" in Talk magazine in 2001 (via IndieWire), he elaborated on his "three kinds of rage: coffee rage, cheese rage, and sex rage." Grant explained, "One comes after Nescafé, the world's most delicious coffee by far and away. All this wank fucking Starbucks bollocks. Nescafé is so much more delicious. I send back real coffee and ask for the instant. But I get foul, really foul, an hour later. Same with cheese. I get foul because I know I'm not going to go to the lavatory properly for the next two weeks. It's just the most hideous thing. But delicious! Sex—the same thing. Heaven! But now, as soon as it's finished I want to kill." He couldn't explain why these things were triggering for him: "Someone has to explain it to me." There are certainly people who can be paid to do so! In the meantime, a message to all civilians: stay out of Hugh Grant's eye line.