The Houstons were as classic an American saga as the Ambersons or the Glass family, and the life and untimely death of their golden child, the global pop diva Whitney Houston, bore the weight of their ambitions and failures. John Houston, Whitney's imperious father, worked in zoning for the corrupt mayor's office of Newark. Her mother, Cissy Houston, a professional backup vocalist, came from a family of singers (Dionne and Dee Dee Warwick were her nieces) and made church and gospel music the center of her children's lives. Outwardly, they were "the Cosbys of Dodd Street." In private, theirs was a multi-generational story about jealousy, recrimination, drug addiction, the need for sex and love, and what it takes to be upwardly mobile in America. That's the big idea behind Kevin Macdonald's exhaustively assembled documentary Whitney, a twist on that essay prompt of pop obituaries, "What X meant to us." Except the "us" takes the form of the pop star's inner circle (friends, family, record company executives, etc.), presented against a larger landscape of aspirations and pretenses—the conflict between personal freedom and the peeling façades that make it possible.
To that end, the Scottish-born Macdonald, whose career has been divided between documentaries (Touching The Void, One Day In September) and workmanlike dramas and thrillers (The Last King Of Scotland, Black Sea), cuts together an assortment of coked-out home videos with talking heads, interviewed in the head-on style of Errol Morris' Interrotron. Though Whitney was made with the permission of the singer's estate (unlike last year's Whitney: Can I Be Me), its group portrait is filled with conflicting denials, accusations ("opportunist" is a popular one), estrangements, prejudices, and personal failings. These develop and deepen over the course of its two-hour running time along with its continually expanding cast of real-life characters: Houston's ex-husband, Bobby Brown, whose relationship remains the bad example by which all rocky celebrity marriages are measured; her half brother, Gary Garland, a failed NBA player who sang backup for his sister on tour; the late John Houston, a paranoid philanderer who tapped the family phone and expected to be treated as a powerbroker even at home. ("You had to kiss the ring," recalls one of the Houston children. "Literally. He had a big-ass gold ring.")
Sometimes, Macdonald tosses out time-setting montages of TV clips (Ronald Reagan, the Space Shuttle, the O.J. Simpson trial, Princess Diana, Keith Haring's "Crack Is Wack" mural, etc.) that play like the visual equivalent of Billy Joel's "We Didn't Start The Fire." But if the point that Whitney Houston's rise to stardom was a product of its era is baldly obvious, Macdonald's treatment of it is more ambivalent, contrasting images of prosperity with those of addiction, racism, and poverty. Even the highlights of her career—the hit singles, her performance of the national anthem at Super Bowl, The Bodyguard—are sometimes treated with irony. (As the documentary points out, Saddam Hussein used "I Will Always Love You" as the campaign song for his final presidential referendum.) Whitney herself remains a figure of some mystery, her rise and fall refracting the hopes and anxieties of the people around her, with a tragic echo in the death of her daughter, Bobbi Kristina Brown, in 2015. Named after Whitney Blake, the blond mom on the 1960s sitcom Hazel, but called "Nippy" since early childhood, Houston was blessed with cover-model looks and a stupendous voice, her talent evident in hauntingly isolated vocals. One of Whitney's central themes is the duality exemplified by these two names: "Whitney" for the fans, "Nippy" backstage.
G/O Media may get a commission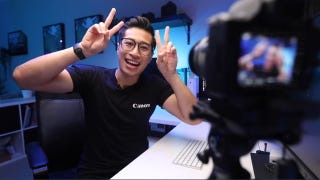 Up to 33% off
Canon Camera National Promotion
Webcam kits, lenses, & more
Since many of us adopted working from home, we've become accustomed to the crappy video quality output of our laptops' built-in webcams. Present yourself professionally with the help of a professional quality camera. Dress to impress now means set dressing and picture definition. Canon has made it easy to take your EOS camera and convert it to a webcam with the help of a variety of kits.
But its take on that her downfall—late-night punchlines and bad press, culminating in her ignominious death by drowning in a hotel bathtub—is more complex than a multi-platinum chart-topper's demons finally catching up with her public image. The singer's sexuality may hold some clues, as Whitney implies that she was primarily attracted to women. (Her longtime girlfriend Robyn Crawford is conspicuously absent from the interview roster, on account of bad blood with the Houstons.) But even her private life was disastrously complicated by a need for normalcy and—in a bombshell that's been reported ahead of the film's release—by childhood sexual abuse by Dee Dee Warwick, who also molested her half-brother, Garym while Cissy Houston was on tour. In trying to make sense of the facts of a celebrity's biography while embracing contradiction and failure as relatable qualities, Macdonald suggests that the subject of Whitney was neither the public, show-stopping Whitney nor the private, childish Nippy—just a human being trapped in the sort of roles we believe will ensure the happiness of the people around us and induce our own. That might make her unknowable, but it rings with an almost literary truth.