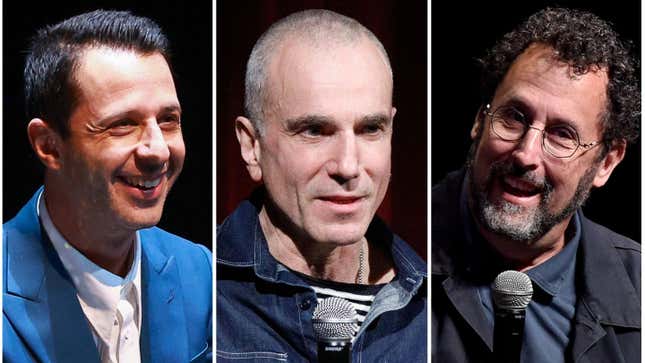 Even the method actor haters tend to give Daniel Day-Lewis a pass, on account of him being one of the most revered performers of his generation and all. Perhaps no one reveres him more than his own former assistant (and fellow method actor) Jeremy Strong. And Strong is joined in that admiration by screenwriter Tony Kushner, who worked with both actors on Lincoln and spoke with Strong about the experience in a new Vanity Fair interview.

From Kushner's perspective, it's not so easy to perform when one is on set with a bunch of cameras in one's face, particularly when one is performing as a 19th-century politician. "People have made fun of Daniel for staying in character, but then watching him playing Abraham Lincoln with this 21st-century machine booming in as he's saying the most important words in a scene and you think, 'Okay, you know what? You try it,'" Kushner says.
Strong, of course, agrees ("I don't know how you could do it any other way, to be honest.") It didn't take much work to get into character as Lincoln's secretary, seeing as how he'd already been Day-Lewis' assistant on the film The Ballad Of Jack And Rose: "[In] a way it was a reprise of what I had done in life, so there was a real kind of something that felt fated about it to me."
It took more work to get into character for Armageddon Time as Irving Graff, a character based on director James Gray's own father. While Gray was "fearless in his willingness to go to these very difficult places and unearth this stuff," he was apparently "resistant" to giving Strong more real-life fodder to draw from for his performance. "He showed me one photograph. And it gave me a lot, but it wasn't enough," Strong shares. And so he took matters into his own hands: "I was in Copenhagen and I got on a plane with the tape recorder and tracked him down and got a tape recorder in front of his father and had James' wife actually ask him a million questions for me and get footage. That became a sort of template around which to build."
"I think you just need one thing that is true, that is a tonal center," says Strong, who admittedly sounds like he needed more than one true thing for this particular performance. "And then from there you can do a lot of your own work." Daniel Day-Lewis (who "adores Jeremy," per Kushner) must be very proud.