Welcome to Random Roles, wherein we talk to actors about the characters who defined their careers. The catch: They don't know beforehand what roles we'll ask them to talk about.
The actor: Kelsey Grammer made his first real waves on television playing Dr. Frasier Crane for nine years on Cheers before the character was spun off to his own headlining series for another 11 seasons. Although he failed to find post-Frasier sitcom success with the short-lived series Back To You and Hank, his dramatic career has been on the upswing thanks to his Golden Globe-winning performance as Chicago mayor Tom Kane on the Starz series Boss, which returns for its second season on August 17.
Boss (2011-present)—"Mayor Tom Kane"
Kelsey Grammer: He's the goddamned mayor of Chicago. [Laughs.] A dynamic, self-involved animal of politics. That's about it. He believes, however, that his actions are justified, and that he is good for his city.
The A.V. Club: In most cases, an actor is asked how his character has evolved, but this is more a case of de-evolution.
KG: Yeah, the de-evolution of this guy is… Well, that's the construction of the show. That's our apparatus, our catalyst for any of this happening, his disease and what it makes him do, how it shapes his end. That's what we're talking about. But we promised people that you will see his end, and that's what we intend to do.
G/O Media may get a commission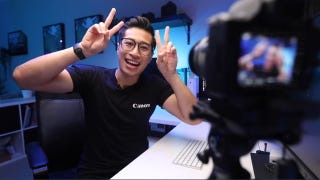 Up to 33% off
Canon Camera National Promotion
Webcam kits, lenses, & more
Since many of us adopted working from home, we've become accustomed to the crappy video quality output of our laptops' built-in webcams. Present yourself professionally with the help of a professional quality camera. Dress to impress now means set dressing and picture definition. Canon has made it easy to take your EOS camera and convert it to a webcam with the help of a variety of kits.
AVC: How did you wind up on the series?
KG: [Show creator] Farhad [Safinia] and I met over a drink and just kind of talked out loud about what we liked, things we enjoyed, King Lear being one of them, epic tragedies being another of them. Months later, when we decided it was time to maybe talk about doing some work together, we harkened back to that conversation and began cracking the idea of who this guy would be. And we spent about six months doing that, and found a way into what we thought would be the right universe to tell his story. Big politics, big city… Chicago was really the only answer. Not that it's a character in the show, but the character of the city allows for big personalities. I mean, you just don't think of San Diego necessarily as being a place with a big personality. You don't even think of L.A. as being a place for that, because it's just diverse, so big, and with such sprawl. But Chicago is vertical, yet it sits in the middle of the country. It's sort of like a kingdom. And that's what we wanted: to tell a story about a king. And the only one we could find was the one running Chicago.
AVC: There's talk of Kane possibly finding redemption by the end of the series, which you touched on in the Television Critics Association press-tour panel, but viewers who saw him throw his own daughter to the wolves at the end of season one will probably question whether redemption will ever be within reach.
KG: Tough hill to climb, that one. [Laughs.] But climb it we will, indeed. Yeah, it'll be a different kind of redemption, I think, by virtue of the fact that he is descending toward his end. What is his greatest virtue? What will finally make him redemptive? His will. His power. His focus. Which is being challenged every day by this disease. But I still think it'll be the thing that defines him, and in the end, we don't know exactly how yet, but there'll be that moment—and it's bound to be too late, as it is with most tragedies—when we'll say, "Oh, well, now that's a shame… " [Laughs.]
Another World (1984-1985)—"Dr. Canard"
AVC: Your first listed TV role on IMDB is as an uncredited waiter in an episode of Ryan's Hope, but listings like those need to be taken with a grain of salt.
KG: Ryan's Hope was a soap opera, right? I don't know if I did that. The first thing I did on television was a PBS thing where I played a priest. It was a Walt Whitman or Carl Sandburg story, I can't quite remember, but I was a turn-of-the-20th-century priest kind of guy. Never saw it, don't know if I was any good or not. [Laughs.] But I was twentysomething years old. My first actual Screen Actor's Guild credit, though… I don't remember doing Ryan's Hope, but I did The Doctors, Guiding Light, and One Life To Live. Those I know for sure. And which one was filmed in Brooklyn? Was that Another World? Yeah, I played Dr. Canard on that. Dr. Duck, they called him. He discovered some sort of strange spider disease or something like that, and he somehow knew to administer the right antitoxin instantly. [Laughs.]
AVC: How did you first start acting?
KG: A high-school teacher said, "I think you can play this role. Can you smoke a cigar?" I said, "Yeah, I can." [Laughs.] So I played Ben Hubbard in Little Foxes, and that's what started it all.
X-Men: The Last Stand (2006)—"Dr. Henry 'Hank' McCoy / Beast"
KG: The first thing that comes to my mind, honestly, is that we didn't do more. I'd love to play him again. He's such a great character. I'm glad they brought him in for that one, but it's a shame we didn't get to see more of Hank. Then they moved to the prequel and everybody got young. [Laughs.] But it's all right.
AVC: Were you a comic-book fan prior to that?
KG: I hadn't followed X-Men so much, but when I played the role, I got so much response from people about how excited they were. I think there was just a gap in the market. I think we missed a real chance there to give the ones who loved Hank a bit more of him.
AVC: How was the makeup?
KG: It wasn't as bad as you'd think. We got the process down to an hour and a half for most of it, so it was only three hours total. So it wasn't brutal. It was just the prep. If I had to sit around in it for most of the day before we shot… well, that was just planning. That happened a couple of times, but I pissed and moaned enough to make sure it didn't happen more than once or twice. [Laughs.]
Star Trek: The Next Generation (1992)—"Captain Morgan Bateson"
KG: I knew that was coming up. [Laughs.] I've always liked to think that he was a friend of James T. Kirk's. At the very least, he wore the same uniform as they did in the original Star Trek movies.
AVC: Did they just call you up and ask if you'd be interested in doing a cameo?
KG: Well, Jonathan Frakes is kind of a buddy of mine, and he just called up and said, "Hey, what are you doing? Can you come over for a day and shoot a scene as this guy?" And I said, "I'd love to, sure."
AVC: Your character has made a few appearances in other media. Were you ever offered a chance to reprise the role in another Trek series or film?
KG: No, nothing subsequent to that one episode. I think he must've gotten stuck in the [temporal causality] loop again. [Laughs.]
Medium (2006)—"Angel of Death / Bob Sherman"
KG: [Laughs.] Fun. That's what comes to mind. It was fun to do a part on my own thing, a show I was producing rather than starring in. There was something really interesting that happened in that performance. I remembering thinking, "Wow, my eyes really look dead." I always thought that odd. Either that was me being really good, or the director of photography did something really smart, but there was a kind of hollowness to my eyes, which I thought was sort of unnerving, really. Particularly if it wasn't laid in by the DP.
AVC: Were people encouraging you to get in front of the camera for a while prior to that?
KG: Oh, yeah. Everyone enjoys doing a stunt like that once in a while. There was discussion about reprising the role, but I guess it had run its course by the time there was any serious talk about it. I also almost directed an episode at one point, but with my schedule at the time, it was just too difficult. But I enjoyed that show, and I enjoyed being a part of it and helping to shepherd in onto the airwaves.
Toy Story 2 (1999)—"Stinky Pete the Prospector"
KG: Stinky Pete! What a poor, repressed little shit. [Laughs.] I loved him, but he was… I liked how small his thinking was. You know, how inside the box he wanted to be. He was a very interesting little character to play. The thing I remember most, though, was [co-writer/director] John Lasseter. His enthusiasm for the work he does was just breathtaking. He would run out of the sound booth and go, "Oh, my God, I can't wait to go animate that line!" He loves performance and embraces it. He likes to… well, he's just like a child. He's wonderful.
A Christmas Carol: The Musical (2004)—"Ebenezer Scrooge"
KG: Oooh, I loved that! Loved doing that, loved playing Scrooge. Scared the hell out of my daughter, though, the first time she saw me in makeup. [Laughs.]
AVC: Were any of the numbers particularly challenging for you?
KG: No, not that I can think of. I really enjoyed doing it. But I ended up wishing they'd written one of the songs a little different. It was kind of set in stone, though, because it was a piece that was translated directly from stage to film, so they stayed pretty true to the music as it was. I'd wanted to try and do one more verse in one of the songs, but… [Shrugs.] These things happen.
[pagebreak]
30 Rock (2010-2012)—"Kelsey Grammer"
KG: Uh… interesting. [Laughs.] Especially when I was basically playing James Bond. It was pretty funny. The very first one, with the conceit that I can't resist a grift, seemed pretty weird to me, but I enjoyed the idea. Then he became more of Kelsey Grammer as… I dunno, an old Florida boy or something.
Gary The Rat (2003)—"Gary 'The Rat' Andrews"
KG: Gary the Rat! I loved those guys! Mark and Rob Cullen, two brothers who write together. Fantastic guys. They walked in with this idea about a man who turns into a rat, à la Franz Kafka, and he says awful things… because he is awful. [Laughs.] Once again, not unlike Tom Kane, I was drawn to the idea that he might redeem himself somehow and become a man again. But it was just so interesting. It was very popular as short webisodes, but then we went into the full-blown thing. Spike TV was launching itself, and we were in a block with Stripperella, and I just don't know if it was well-done enough, maybe? I don't know. But I sure did love Gary. And I'd still like to do him again, in some weird way. I just loved the premise: a lawyer who wakes up as a rat. Surprise, surprise. [Laughs.]
Back To You (2007-2008)—"Chuck Darling"
Hank (2009-2010)—"Hank Pryor"
KG: I thought Back To You was a good show. The writers' strike really kind of put an end to that, though, honestly. There were a couple of factors involved, but to start a show and then to have it disappear and not come back for that long… it's just bad form. That killed Girlfriends [which Grammer produced] as well. There's just no way back after that.
AVC: Did Hank ever have a chance?
KG: You know, it really just wasn't funny. We tried. I thought it was an interesting idea, I thought it could work, but we just didn't find the funny in it. Maybe it wasn't the time. Everybody was just kind of lost. We didn't break it right, I think. It happens sometimes, you know? But I do think Back To You was funny. If it wasn't for the writers' strike… [Trails off.]
AVC: There's an already-classic story about you calling the head of ABC about Hank.
KG: Oh yeah, I called the president of Warner Bros. Television, Peter Roth, and said, "How do we put a bullet in this thing?" I guess I'm becoming more and more famous for making particularly honest statements. There are worse things. [Laughs.]
The Simpsons (1990-present)—"Sideshow Bob"
KG: An irrepressible villain. He is a presumptive joy to play on every occasion. Sam Simon had worked on Cheers, so that's how I got involved in that. He just called one day and said, "Hey, Kels, I remember you used to sing a lot on the set of Cheers. Can you do a Cole Porter tune?" I said, "Yeah, absolutely!" And that was the basis of the conversation. He said, "We've got this guy on the show, he's never said anything before, he's the sidekick character of Krusty the Clown," and once he ran it down, I said, "Sure, I'll play." They were kind enough to send the song over first—you probably already know, but it was "Ev'ry Time We Say Goodbye"—but I said, "Yeah, I can sing it."
AVC: Do you have a favorite Sideshow Bob episode?
KG: Well, I have a favorite Sideshow Bob line, which is [in character] "Lisa, you do not spend a decade as a homicidal maniac without learning a thing or two about dynamite." [Laughs.] And then there's the rakes. That's just a classic.
Cheers (1984-1993) / Frasier (1993-2004)—"Dr. Frasier Crane"
KG: The golden key. [Laughs.] When I first came onto Cheers, it was originally only going to be for seven shows. Apparently, I was funny enough to keep around. They said that to me quite openly. "He's funny enough to keep around. He makes things funny that we didn't think were funny, and that's an asset to the show." So they found a way to have him be part of it.
AVC: That was a case where a character evolved over time. What was your favorite part of Frasier's gradual evolution?
KG: Well, I guess… [Long pause.] You know, one of my favorite episodes of playing Frasier on Cheers was one I think was called "The Triangle," when he actually started to do therapy on Sam and Diane and sort of ended up examining himself in the process, and had the big blowout in Sam's office with the two of them. He sort of became his own man at that point, and I liked that. It was a good episode. And it was probably also when he realized he could have his own show. [Laughs.]
AVC: What were your thoughts when they first pitched the idea of a Frasier spin-off? Was there any hesitation on your part, that maybe he'd run his course as a character?
KG: Oh, I quite clearly thought he should die with Cheers. But then we broke another story with Casey-Angell-Lee [writer-producers Peter Casey, David Angell, and David Lee], and they wrote a great script about a completely different character. And it was [Paramount TV head] John Pike who was responsible for Frasier. He's the one who sat me down and said, "I think a sitcom should be funny, and the script you guys turned in is not." [Laughs.] "I want you to do Frasier." So I said, "Okay, well, there's a couple of conditions: he's not married, and I don't want any kids in there." So we found the devices to get as far away from Boston as we could, and people made an attempt to make sure this was a new guy with an old but recognizable name. But he was still the centerpiece of the show, so we got David [Hyde Pierce] to be the Frasier of the show, and we were able to let Frasier be someone a little bit different.
AVC: Were you happy with the way Frasier wrapped?
KG: Oh yeah. Yeah, that was one instance where I knew the end of the show at the same time we did the first episode. My idea was always to embrace the idea that he's going off to the other world, using the poem of Ulysses. That was always part of it, and they were—happily—not against that idea.