The second note I took while watching Star, the latest primetime soap from Empire creator Lee Daniels was, was literally: "Uh, this is actually terrible." Yes, the "Uh" was included. This note came within the first 15 minutes of the pilot, before I generally like to make judgements about an entire show, but I felt pretty confident in saying it would take incredible skill and effort to improve upon that first bit. While Star grew on me as the pilot continued — hey! Those songs are catchy! — this first outting did not inspire a whole lot of confidence.
It seems as if Fox has been trying to brand Lee Daniels in the same way that ABC has branded Shonda Rhimes. In advertisements for Star, Daniels' name is write large, while Empire, his most-watched creation, is done up considerably smaller. And Star, co-created by The Whole Truth's Tom Donaghy, certainly fits into the Daniels mold: He tells stories that often aren't put on screen, buoyed by affable actors, and hurtles through so much plot, it's a wonder there's still story to tell after the pilot is over (the football player/love interest is someone I'm supposed to care about, I guess?)
Star isn't as immediately eloquent as Empire felt on its outset — which is saying something considering Empire, even in its pilot, felt like it could explode into ridiculousness at any moment — for a couple of reasons. Both follow the tenets of tales already told, but Empire's updated A Lion In Winter is an easier formula to follow than the messier story of the emergence of fame. Like Dreamgirls on speed, Star follows its own tropes: the rebellious rich girl who rues her upbringing despite its privileges, the natural talent who is both fueled and hampered by her demons, and the charismatic leader who outshines them all based on that innate "It" factor.
That latter trope is one of Star's biggest problem: Jude Demorest, who plays the titular Star, isn't Cookie Lyon. She affects a ridiculous accent (she's in Pennsylvania but sounds like she's from Queens in an attempt to come off as hard) and attitude that is cartoonish and never grounded in Taraji P. Henson's talent or likability. I believed Cookie Lyon when she discusses her past successes and genius, I didn't believe Star through her own bullshit swagger. It's the Smash problem: Just because we're told a person is deserved of fame because of some intangible quality doesn't actually mean they are. We first meet Star at a foster home in Pittsburgh that she breaks loose from so she can meet up with rock and roll royalty/Instagram buddy Alexandra (Ryan Destiny) and reunite with her sister Simone (Brittany O'Grady), who Star saves from sexual assault by stabbing Simone's foster father in the back as if it won't arouse suspicion when Simone flies the coup immediately afterward.
G/O Media may get a commission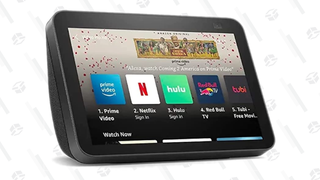 I could deal with the ludicrous accent up until this point, if only because you have to respect Daniels for putting often untold stories — the foster system — onscreen, even if it is for a certain shock value. But there's no way to recover from a literal back stabbing in the first third of a show when little has been established beyond a few characters. Especially when the script is saddled with such lines as, "I killed that man for us, now we can focus on our dream." Our dream! But, also I know how this song goes: A show that starts out as high octane as Star does can't sustain itself. It needs to keep getting flashier and bigger and with each game uppage, any semblance of a cohesive story is lost in favor of the next big twist. Or a Bob Fosse-esque strip club number that I'm still not entirely sure where I loved or abhorred.
And that's where an actor as assured as Henson comes into play, giving the show a strong core to return to. Enter Queen Latifah as the Carlotta, Simone and Star's godmother, who promises to put the trio up in exchange for some light labor; and Benjamin Bratt as Jahil, the sleazeball manager who sees potential in the trio of comely young women. There's a reason the showdown between Jahil and Carlotta was one of the show's more compelling moments, it's because Latifah can pull of lines like, "My father always said to me, you need three things in life … he said you needed your bible, your word, and your gun," while pulling a small pistol from her purse. She's got the natural charisma that Demorest doesn't have. But this show isn't about Jahil and Carlotta.
But then again, no one tunes into a show like Star for plot coherence. I want to be dazzled by shiny outfits and see tragedy acted out in the soapiest of fashions. That's the reason that out of all of the girls, I'm most drawn to the off-the-rails O'Grady's Simone, who is melodramatic and crazy in that scarily dream-like way.
Like Empire, Star has to walk a fine line between being fun and being entirely stupid. Empire is great when it allows it itself to be funny, to crack its uber-dramatic facade for a few jokes every now and again, and Star can be that way too. The girls' first performance at the open mic night let's us see that for a hot second. "Get ready for Alexandra, Simone and Star. Or as their initials spell out: ASS," was one easily the pilot's best line because it stopped the show from taking itself so goddamned seriously.
Unlike Empire, Star doesn't have a strong first showing that initially proves that there is brilliance hiding somewhere underneath the posturing.