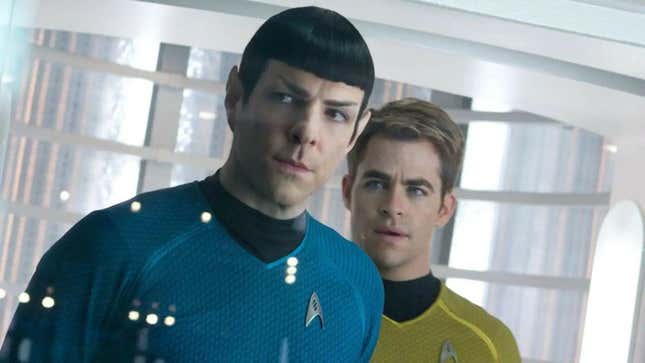 Let's be clear what we're talking about here. Star Trek IV: The Voyage Home is an untouchable masterpiece and the best of the Treks, blending character-based comedy and Shatner-Nimoy hamminess with big ideas, in a screenplay that rather brilliantly features no major villains or firefights, sustaining suspense solely with a ticking-clock element. Nobody wants to mess with that one. It's Star Trek 4, the proposed sequel to 2016's Star Trek Beyond, that needs to go.

Anna Faris and Toni Collette on leading vs. supporting roles
Look, a lot of people would have loved to see a Quentin Tarantino-scripted Star Trek movie set entirely on a gangster planet. It could be fun, but it sounds like fan fiction rather than mainline Star Trek. As far as enticing Chris Hemsworth to return as a freed-from-transporter-suspended-animation George Kirk to team with his son, that sounds more like an excuse for a Hemsworth-Chris Pine buddy movie than a specifically George and Jim Kirk one. If Kirk's dad had been played by someone less famous, nobody would be clamoring for that.
There's also the thorny issue of Chekov, played by the late Anton Yelchin. Do you just casually kill him off between movies? Is Chekov as a character important enough to begin the movie Wakanda Forever-style, and build the rest of the story around loss and grief? Brushing it off does Yelchin a disservice; making it a huge deal grants the character more power over the story than he ever had before.
Diminishing returns with the Star Trek movies
But these are relatively minor issues compared to the major one: the so-called Kelvin timeline movies have no compelling reason to exist anymore. They began, just like the Andrew Garfield Amazing Spider-Man movies, as a way to maintain the IP. When Viacom and CBS split, dividing the movie and TV studios, Paramount had 18 months to make a Star Trek movie or lose the rights forever (or so it seemed at the time). With no clear appetite for a Next Generation reunion, Paramount went all in on the prequel notion, brilliantly incorporating Leonard Nimoy to make it a sequel and a reboot told in an alternate timeline. As such, it would not interfere with whatever CBS wanted to do with the main timeline on TV.
G/O Media may get a commission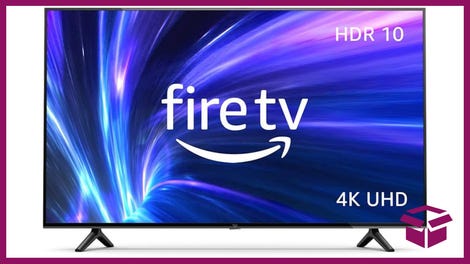 42% Off
Amazon Fire TV 50" 4K Smart TV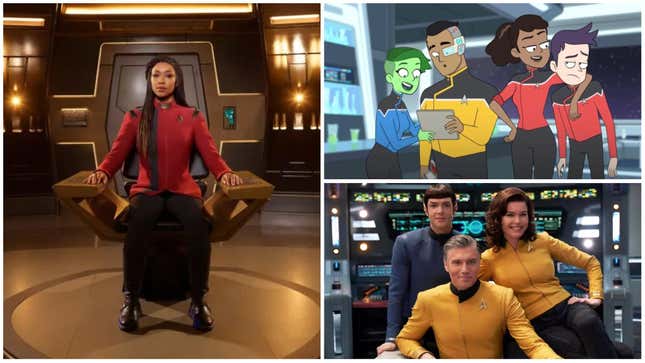 While the two entities remained separated, we got Star Trek: Discovery on TV, which cast its own young Spock, and redesigned the Klingons to be bald and more alien looking. The Kelvin movies continued with diminishing returns: Into Darkness made the calamitous mistake of trying to literally remake The Wrath of Khan, while Beyond reused both J.J. Abrams' Beastie Boys obsession and the "aliens who used to be human" conceit.

Then, in 2019, CBS and Viacom re-merged. All of Star Trek came back under one corporate umbrella. And just like Star Wars in the age of Disney+, Trek found that TV shows which gave fans the stories and the characters they wanted were a better bet than movies trying to please everybody. Discovery moved a bit more back in line with existing lore while traveling forward in the timeline; Picard and Prodigy brought back beloved veterans Patrick Stewart and Kate Mulgrew; Lower Decks smartly grabbed Rick and Morty's Mike McMahan for his ability to bring humor and deep-cut references to universe-building; and Strange New Worlds brought back classic episodic style, with the adventures of Pike and Spock, just before the Original Series' time period.
The Trek timeline is finally moving forward
That new Star Trek movie fans would really want? It's already here, and it's called Star Trek: Picard season three. A full-on reunion of The Next Generation cast, similar to how The Motion Picture brought back the first cast, it's longer than a feature would be, and a bit slower paced in order to spread across 10 episodes. Yet it never feels compromised by budget: with starship battles, planet-hopping, deep cuts and surprise cameos, it's a worthy "final" adventure that, in the first six episodes screened for press, is better than any of the Next Gen cast's actual movies.
Star Trek, at long last, is actually moving its prime timeline forward, which is better than Star Wars is managing to do. Thanks to Disney deciding that all comics and novels count as canon now, they avoid doing anything beyond Episode IX, lest they risk contradicting what the next movie director may do, and it hamstrings them as far as what's left that's allowable (mostly the period between the original trilogy and the sequel trilogy, which J.J. Abrams frustratingly left as a big, mysterious gap). For Trek, with Discovery so far in the future that it won't affect anything, the timeline in which Picard and Janeway still exist is finally allowing the larger story of the Federation to progress.
Strange New Worlds has a Spock and a Kirk, so going back to the Kelvin versions would feel redundant at this point. That said, even Andrew Garfield's Spider-Man was welcomed back eventually, and one day, perhaps fans will be ready for Star Trek: No Way Home. As Spock says, there are always possibilities. Yet just as nobody's calling for Garfield and his emo Spider-verse to replace Tom Holland, most true Trek fans prefer the universe they've been watching since the 1960s. As a rights-placeholder, the Kelvin movies proved a surprisingly fun thought experiment. Now it's time to continue letting the real Trek, the one that started on the small screen and is currently its best self on the small screen, carry the torch for the beloved franchise.