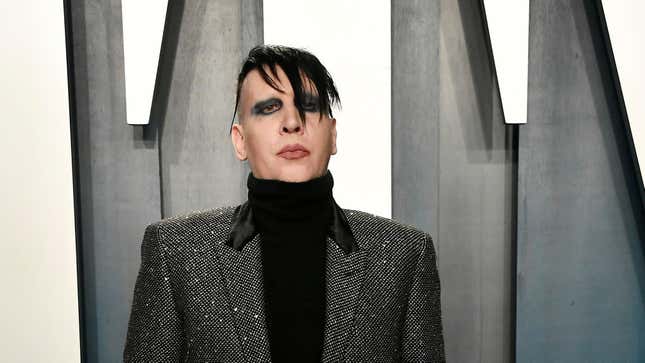 A sexual assault lawsuit against Brian Warner—a.k.a. Marilyn Manson—has been dismissed without prejudice in a California court, with the Los Angeles Times reporting that the judge dismissed the suit because the accuser, model Ashley Morgan Smithline, fired her attorney in October and did not name a new one by the time of a December deadline. Since it was dismissed without prejudice, though, the suit can be re-filed at any point over the same allegations.
Smithline had accused Manson in 2021 of sexually assaulting her multiple times in 2010, with the LA Times story saying that her suit included an instance where Manson allegedly "put a pillow over her face and used a knife to cut her shoulder, inner arm, and stomach" as well as another instance where he allegedly cut his name into her and broke her nose. Manson has denied the allegations, saying they were together for less than a week and that, "there are so many falsehoods within her claims that we wouldn't know where to begin to answer them."
Pitchfork has shared a statement from Manson's attorney in light of this dismissal that not only frames it as a win for Manson but as an indication that Smithline is choosing to back down in lieu of being "manipulated by others who are trying to pursue their own agendas." Here's the full statement:
We thank and commend Ashley Smithline for dismissing her claims against Brian Warner without seeking or receiving anything in return. Ms. Smithline has refused to be manipulated by others who are trying to pursue their own agendas against Mr. Warner. We wish her well and will continue to work to assure that a significant price will be paid by those who have tried to abuse our legal system.
Manson is still facing a sexual assault lawsuit from actor Esmé Bianco, and he has filed a lawsuit against accuser Evan Rachel Wood (who said in 2022 that she is "very confident" and "not scared").