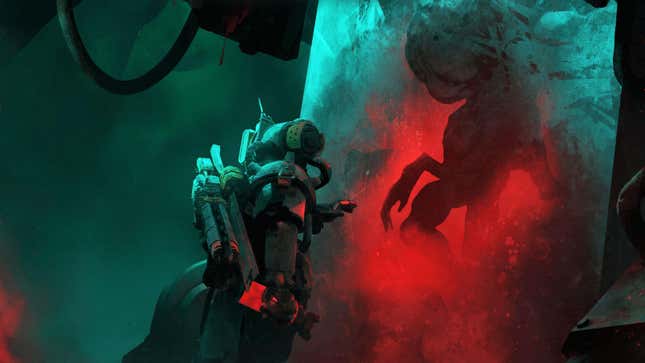 Every Friday, A.V. Club staffers kick off our weekly open thread for the discussion of gaming plans and recent gaming glories, but of course, the real action is down in the comments, where we invite you to answer our eternal question: What Are You Playing This Weekend?
Young Mazino talks "Beef," needle drops, and karaoke
---
My Tube Baby is happy with me right now; three more people just died trying to get into my house.

I open up Meet Your Maker's Build menu to investigate the carnage, loading into the outpost I built a few nights earlier. It's a "Normal"-rated challenge, which means it contains only about a dozen traps, total; I built it in part because if I give myself more space, I end up creating stupidly big killboxes that get automatically slapped with the game's "Brutal" difficulty tag.
Looking over the kill icons, I see that, as expected, most raiders are dying in the initial hail of bullshit that greets anyone walking in my front door, a combination of bolt traps, flamethrowers, and one nasty trap floor designed to catch anyone backpedaling away from the pain and dump them into something even worse. I'm happy to see that my exit traps caught a few more fishies, too, though; there's something gratifying about catching someone at their moment of triumph.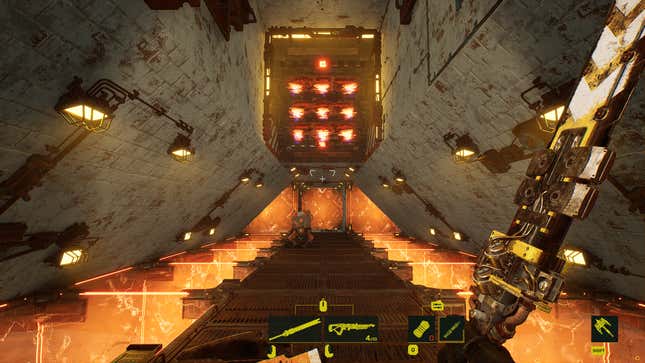 Meet Your Maker, the new game from Dead By Daylight creators Behaviour Interactive, encourages sadism-minded thinking like that. Set in a post-apocalyptic world where players harvest scarce "genetic material" in the hopes of creating a cure for some nebulous world-ending disease, the game tasks players with adopting a kill-or-be-killed mindset. Not by directly fighting each other, but by building trap-filled "outposts" for each other to run through, garnering more resources the more times you successfully send some hopeful raider right back to the cloning vats. Every dungeon you tackle is created by another player; part of the reason you're collecting stuff is so that you can have the resources to construct murder palaces of your own.
It's genius; the most fun I've had playing an online game in months.
The Things That Kill You in Meet Your Maker typically fall into two categories: skill challenges, and surprises. Both should be fairly self-explanatory: Skill challenges are rooms or scenarios that are genuinely hard to surmount, even when you know exactly what's in them—think a gauntlet of traps with a well-placed array of enemies on either side, harrying you from moment to moment. Surprises are the things that typically only catch you once—but they will probably catch you, that one time.
I'll admit to a weakness for the surprise branch of Meet Your Maker design, because they tie into a long-held thesis of mine about traps in video games, i.e., that the only real difference between a "trap" and a "joke" is that the trap kills you at the end. Otherwise, you're aiming at the same goal: A surprise introduction of the unexpected, usually coming from an angle you can't see. The best traps in Meet Your Maker fulfill this brief perfectly: They draw your eye in one direction, leading you to believe you know where the next hit is coming from … and then the bomb dropper you never saw coming says "Hello!"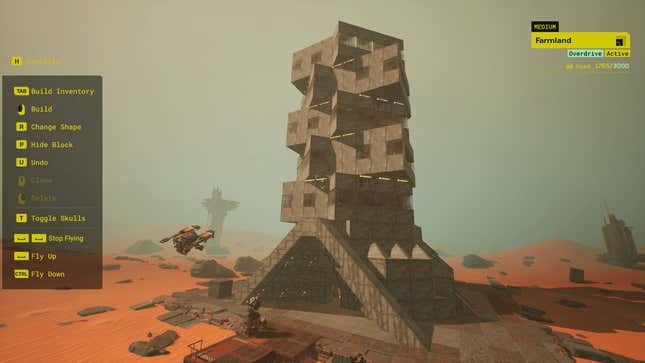 The laughter, the joy produced by these moments, is hard to discount. As is the joy of knowing, every time you load up a new outpost for a new raid, that some human being somewhere spent an hour or two actively trying to trick your brain as you attempt it. (The best part of outpost design, in my experience, is walking through a mostly completed base and asking myself, "What would really fuck me up right here?") By focusing entirely on traps, Meet Your Maker loses the freer expression of something like Nintendo's Mario Maker, which it resembles, if you squint, and wipe off some of the blood and dust. But it creates in its place a fascinating psychological exercise, a sort of arms race of evil ideas. One of the reasons you're encouraged to raid a lot of outposts, it becomes apparent, is that you're not just stealing genetic material for the big, loud baby you're keeping at home in a tube; you're also raiding for new ways to screw with other players.
There is, presumably, an upper limit to what can be done with the array of traps and monsters currently in the game; the long-term livelihood of Meet Your Maker will depend in part on Behaviour's willingness to expand that arsenal out. But two weeks after release (which came along with a very smart decision to bundle the PlayStation version of the game into Sony's Plus online plan), I'm still getting surprised pretty consistently; meanwhile, when I dip into base-building myself, I find myself brimming with bad ideas of my own. It's fascinating to watch a community form around a set of creation tools like this, and express itself entirely through the output in the game: I can't wait to see what beautiful horrors players will be rolling out six months from now.