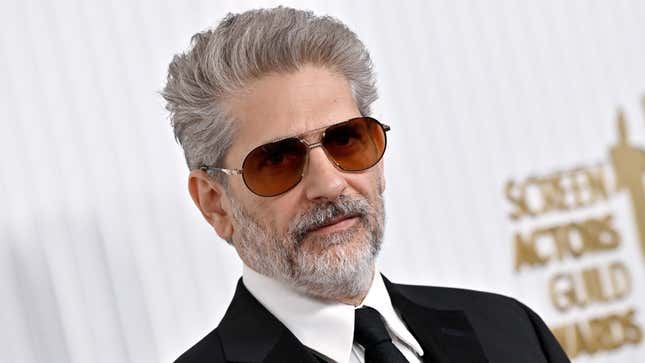 When I woke up in Bushwick on Monday morning, sticky from May heat and fresh off a Green Room-induced nightmare of being chased down my fire escape by Neo-Nazi punks, meditating on the interconnectedness of all things with Michael Imperioli wasn't in my schedule. In fact, awareness that Imperioli was hosting an hour-long, free Zoom meditation at 9 AM Eastern wasn't something I possessed at all. When Imperioli last visited The A.V. Club's New York office in December 2022, he was fresh off of portraying troubled, selfish, sex-addicted father figure Dominic di Grasso on The White Lotus season 2; months later, I hadn't done the work of separating fantasy from reality.
Our biggest questions for "Stranger Things Season Five"
In the third decade of his career, Tibetan Buddhism—and specifically, Tonglen meditation, a practice that focuses on "giving and receiving" in the name of liberating oneself from earthly selfishness and making room for compassion—has become intrinsic to Imperioli's life. He's also made it available to his fan base: for nearly three years, Imperioli has filmed public, free courses in the style of his own teacher, Garchen Rinpoche, whom he thanks in the description of every session. In the early days, he taught alone; now, he's often joined by his wife of 26 years, Victoria. After the sessions occur live on Zoom, Imperioli uploads recordings of them to his YouTube channel in full.
Monday's hour-long class—session 60 of Imperioli's "Meditation 103" course—begins with The Four Immeasurables, an intention-setting prayer recited together that highlights love, compassion, joy, and equanimity. It's then time for a 15-minute silent meditation, beamed to the internet from Imperioli's handsomely decorated New York apartment. The only things that ring above the silence are the occasional wailing siren and Imperioli's deep, measured breaths; when my eyes are shuttered for long enough, the consistent rise and fall is the only thing that reminds me he's still there. After the meditation, Michael cedes the floor to Victoria, who speaks to the tenets and goals of Tonglen at length: forgiveness, self-liberation, realization, and acceptance, to name a few. At one point, he asks Victoria to speak to anyone who might be "apprehensive and afraid" of grappling with suffering in the way Tonglen asks, fearful that "it might affect them negatively."
Grappling with forgiveness? Recognizing ego-driven pursuits? Dealing with difficult people (and in turn, dealing with being a difficult person)? Dominic di Grasso definitely could've used this course; Christopher Moltisanti could've too. There's something pleasantly paradoxical about watching a performer most recently known for playing an emotionally ravaged walking midlife crisis actively and publicly pursue healing; but the very notion of a paradox between a Real Person (Imperioli) and a Made-Up Person (di Grasso, Moltisanti) reveals how easily powerful parasocial relationships blossom in the internet age. Long story short: I didn't need a Sopranos burner Twitter to experience some whiplash seeing Imperioli in wooden mala prayer beads, discussing Ram Das and bowing his head in prayer.
Imperioli, for what it's worth, gets it. "It's hilarious that most of these people got to know me as this psychotic, murderous, drug addict, and now they want to sit and meditate with me," he told LA Yoga in 2022. "I mean, listen, fame is such a bizarre thing. If you can at least turn people on to something meaningful, something that may somehow be beneficial, that's good."
In our modern era of Reddit AMAs, Instagram Lives and TikTok tell-all challenges, the kind of celebrity interaction fans crave has taken on a different tone. Everyone wants to leer still, of course, but nobody wants to be so explicit about it: immersive observation trumps voyeurism, nine times out of ten. Gone is the early-00s appetite for upskirt paparazzi shots; post-pandemic celebrity fodder is about touting what kind of couples therapy you attend, what your mom did with your money as a child star, or the simple act of welcoming Architectural Digest into your home (refer to Imperioli's own apartment tour here).
Meditation is far from the only non-acting pursuit Imperioli has taken on in the last few years: there's his indie rock band, Zopa, and his series of novels. But as he sits in silent meditation, as unfazed by the intermittent sirens wailing outside his window as the invisible collection of students on the Zoom, something especially endearing is at play here, a certain level of intimacy (however mitigated by the distorting grain of the internet). Sure, you could cry proselytization or exotification, but if there's one thing Imperioli doesn't come across as, it's bad faith. Throughout the session, it remains apparent: this is his practice, his daily life pursuit, and he has chosen to open his doors to the public.
At the end of the session, Imperioli and his wife initiate a Q&A; questions range from his favorite books to indigenous spiritualities (which Imperioli humbly admits he hasn't explored, citing the dangers of becoming a "spiritual shopper.") He's thoughtful and honest—at one point, he calls meditation "very easy to learn, but not easy to master." He encourages a new attendee, who reveals this was their first time ever meditating, to keep at it and keep up with practice: Imperioli promises they hold a review session that breaks down Tonglen meditation, in full, at least once a month.
When asked about indigenous traditions, Imperioli muses on a quote from author Dan Millman that feels applicable beyond spirituality: "If you desire to dig a well to reach water, your efforts are more fruitful if you dig one 100-foot-deep hole than if you dig ten holes, each 10 feet deep." Given his career spent embodying men who dig themselves into countless, gaping holes of oblivion, there's something poignantly heartening about joining Imperioli himself, the man behind the mythos, as he seeks water from a deeper, more substantive well.