If I've seemed hard on this new round of Will & Grace, it's probably because I love too much. I was a big fan of the original, and was disappointed that this new version seemed like a mere shadow of what came before it. The first episode really rubbed me the wrong way, as did several that followed.
"Friends And Lover" is the episode I've been waiting for. I not only just liked it, I LOL'ed so many times. I was so impressed I had to check and see if it was written by a (fairly) new W&G writer, and it was: Suzanne Martin (who co-wrote "How To Succeed In Business Without Really Crying," so far my least favorite episode), a sitcom vet who has written for shows from Ellen to Frasier. This episode is so full of so many zingy one-liners, that adhere so closely to these beloved characters (perfect example: Jack thinking the ice-bucket challenge was to aid the ACLU) that the episode was just a whirlwind. Twenty-two minutes went by like a blink.
But even these many great lines were aided in no small way by the add of Nick Offerman as Jackson Boudreaux. I was pretty much sold as soon as Will announced that the name of Jackson's show was Extreme Bread (perfect). Offerman (Megan Mullally's real-life husband, as I'm sure every A.V. Clubber already knows) completely committed to playing the sexually charged celebrity chef and had wonderful chemistry with both Eric McCormack and Debra Messing. Honestly, he was so heated up, he probably would have had amazing chemistry with a hat-rack. His delivery was wonderfully magnetic, as were his seemingly personal but overwhelmingly vague pickup lines: "You are so you, aren't you."
A major milestone that tells us this Will & Grace is different from Will & Grace V.1: As the titular pair themselves put it, this is a first. Will and Grace have never slept with the same guy before. As Grace puts it, sexuality is more fluid now, with fewer hard and fast lines—so the fact that the two hooked up with the same person unknowingly is hilarious, but fortunately makes much less of a ripple than it would have in 1998. This particular relationship complication also nicely ties into the two's lame Netflix evening that kicks off the episode: The pair tried to go out and be adventurous, and were quickly met with their own limits for adventure. Not that they shouldn't get off of the couch more, but we can all rest assured that a Will and Grace threeway will never happen.
G/O Media may get a commission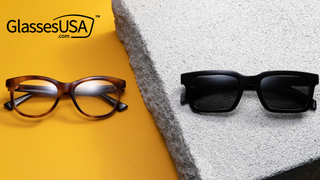 60% off frames
GlassesUSA.com Back to School Sales
The Jack and Karen subplot shouldn't have worked—it was almost literally one-note—but did thanks to the matchless energy between Sean Hayes and Megan Mullally. Pretty sure that the "Trucks For Tykes" earworm jingle was a shoutout to this particular one:
But that's not even the greatest shoutout of this plot. It's the throwback to this classic Jack and Karen slap fight:
This new slap fight ramps up even that slapstick classic in sheer intensity.
Perfectly, the episode ends with Jack and Karen running into Jackson in the waiting room. Karen turning down her real-life husband's advances because he's just not her type, again, should have been too spot-on to work. But the line was so well-delivered, it was irrepressible, cemented by the face that Karen makes to Jack afterward.
Chemistry and energy are maddening intangibles, but when a veteran sitcom is lacking one or both, it's painfully obvious. But when those elements are firing, there's nothing better in the TV comedy world: "Friends And Lover" had both energy and chemistry in full force. Maybe the new W&G just needed a few bumpy episodes to even itself out; holding my breath now to see what the rest of the season will hold.
Stray observations
What do you think Grace was looking for at the start of the episode streaming on the TV? Doctor Who?

I sadly can relate to "shame pizza." Either Tombstone or Home Run Inn.

"Breadmaking. Lovemaking. What's the difference? Nothing. We need both. And we knead both."

Also noteworthy: Karen and Jack both have skewed perceptions about Will and Grace's closeness: Karen thinking that sleeping with a guy who slept with Jack was Grace getting one step closer to her ultimate goal (Will); Jack being surprised that Will slept with Jackson because "you usually go for more effeminate men like Grace."

I would have the exact same reaction to the news of Riverdale's cancellation.

This week in "Do I hate Grace's outfit as much as Karen would?": Although most of Grace's outfits this week consisted of enviable comfort-wear (like those cute pajama pants at the beginning), she had on a hideous blouse at the cooking class, fortunately covered up by apron. And what was that nebulous fuzzy animal skin she had thrown over her shoulders at the coffeeshop? Karen's animal-print trench coat, on the other hand, was to die for.

Next week: Molly Shannon returns to hopefully keep up the awesome guest-star momentum.