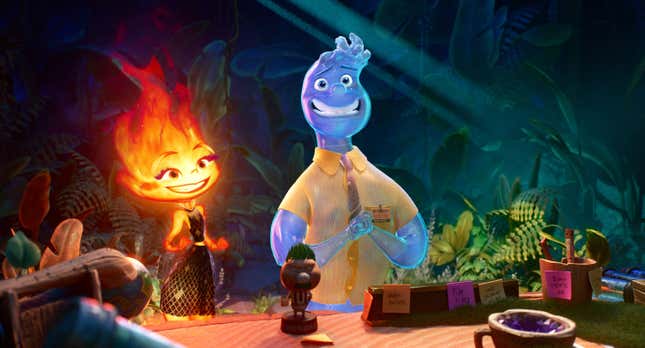 The Cannes Film Festival wrapped up today with one last big world premiere, with Disney rolling out Pixar's next film, Elemental for those who didn't opt to ditch on the festival early to beat the proverbial traffic. But the film—about a fire lady and a water man who find love in a city inhabited by representations of the classical elements—is getting lukewarm reviews from critics.
Take THR's write-up, which accuses the film of feeling like it was made by "an algorithm putting together a perfect Pixar movie," i.e., "entirely predictable." Deadline targets the film's humor, saying in its review that, "There just isn't a line or a situation that would make you laugh out loud," and stating that, "There are bits that are just plain dull." Variety: "The whole scenario seems forced: so much world-building to tell a story better suited to flesh-and-blood human characters." The Radio Times refers to the film's plot as "basic," and while it gave a tepid-leaning-positive review overall, the outlet notes that the film doesn't take its themes as seriously as it could.
(Most critics did agree that those basic ideas were pretty interesting, at least: The film centers on an immigrant community of Fire people working to establish their own identities in a version of New York City largely controlled by a majority population of Water folk, with a relationship between a young Fire woman, played by Leah Lewis, and a Water guy, played by Mamoudou Athie, at its center.)
One place pretty much everyone who's seen this thing was positive about, though, was the film's visuals, which are routinely described as visually dense and gorgeous. At the very least, it's enough to make us glad Disney's not dumping the studio's output straight to streaming anymore; Elemental lands in theaters on June 16.