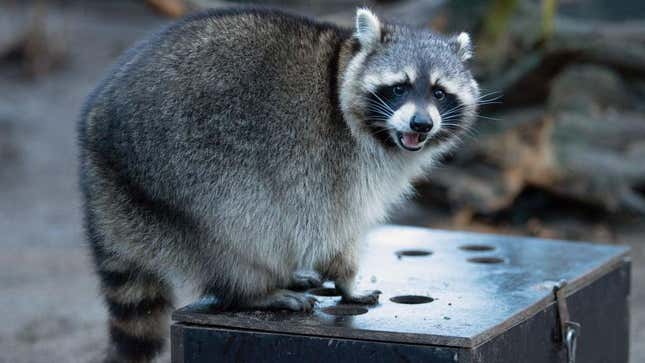 Raccoons are resourceful animals. After their natural homes were largely demolished by urban development, the bandit-masked creatures carried on, adapting to a post-apocalyptic ecosystem and triumphing over it, largely by breaking into even our best-secured trash bins to grow fat and content on human food scraps.
Sharon Stone made a fraction of what Michael Douglas did for "Basic Instinct"
One woman in British Columbia has decided to reward this admirable tenacity by making it possible for nearby raccoons to get something to eat without resorting to dumpster diving and four-legged acrobatics. She has, to our delight, set up a raccoon drive-thru from her kitchen window and documented visits from its patrons on TikTok.
@theraccoondrivethru, which describes itself as "the 1st ever Raccoon Drive thru," consists of a whole lot of videos where local raccoons come on by the window to munch on whatever leftovers are being offered that night. The most recent clip shows newcomers warily helping themselves to a selection of Goldfish crackers, Cheetos, and pizza, the two diners hesitant in trying to figure out if they should trust in the kind of luck that's made their situation possible.

G/O Media may get a commission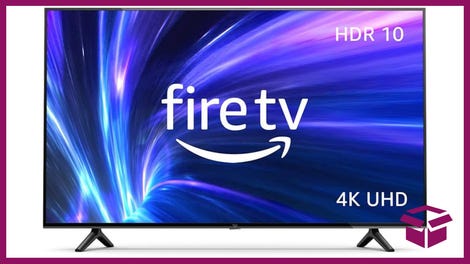 42% Off
Amazon Fire TV 50" 4K Smart TV
Other videos demonstrate the drive-thru working as intended. One shows a pair of confident raccoons happily demolishing a row of grapes while another sees a visitor take down a bowl of cat food.

As part of the account's work, humble scientific discoveries have also been made, like the fact that raccoons seem to prefer scrambled eggs to dry Froot Loops when given a choice between the two. (This is not to say they're above leftover cereal if it's the only item on the menu.)

Another groundbreaking clip shows that raccoons don't just dislike bowls of spaghetti, but will actually retreat in fear after touching the noodles.

Sure, it probably isn't great that this drive-thru teaches neighborhood raccoons not to fear humans or that they should expect a steady source of food from a kitchen window. Ultimately, though, you really can't argue with any process that results in videos like a raccoon washing its adorably freaky little hands in a bowl of water or following up a snack with an impromptu porch bath.

[via Boing Boing]

Send Great Job, Internet tips to gji@theonion.com