Here's what's up in the world of TV for Monday, January 18. All times are Eastern.
Top pick
Crazy Ex-Girlfriend (The CW, You make the time… a.m./p.m.): Yes, we're making the top pick a show that isn't even on with an episode—new or otherwise—tonight. But Rachel Bloom won a Critics' Choice Award last night (to go with her nice, shiny Golden Globe Award), so we're going to endorse Crazy Ex-Girlfriend again. And again. And then again. You're annoyed, we know. But we're actually quite annoyed that you still refuse to watch good television. This is TV Club—it's righteous annoyance on our part. Come on! Pretend it's Fargo if you have to. Just consider this all a fear you need to face:
Also noted
Supergirl (CBS, 8 p.m.): Whoops, Toyman's escaped from prison. So those of you who still haven't warmed to Winn "Nice Guy" Scott, good luck on your journey when his daddy issues come into play. On the bright side, Henry Czerny plays Toyman, and that's something we should have realized we needed during Revenge. Wait, we're sorry: REEEEEEVEEEENGE! You can take it from here, Caroline Siede.
The HALO Effect (Nickelodeon, 8 p.m.): The HALO Effect is a "brand-new pro-social docu-series" from Nickelodeon, which is making its debut on the perfect day: Martin Luther King Jr. Day. The show will air monthly, and "each 30-minute episode will highlight a teen who is making a positive change in their community and inspiring others to do the same." In tonight's premiere, "a teen focused on helping kids who don't have beds prepares for a pajama fund-raiser."
WWE Monday Night RAW (USA, 8 p.m.): At this point, we're fairly certain everyone on the WWE main roster is out with an injury—especially the ones who vehemently deny being injured—so please stay tuned for three hours of… Um… Good luck, Kyle Fowle.
G/O Media may get a commission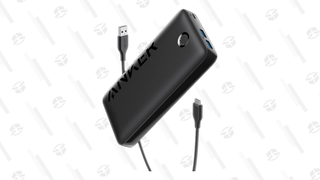 20% Off
Anker 335 Power Bank
War & Peace (A&E/History Channel/Lifetime, 9 p.m.): This is the premiere of a four part miniseries event that is airing simultaneously on three different networks. But it didn't just win Critics' Choice and Golden Globe Awards, so "Also noted," it is. But yes, War & Peace: Russia! Passion! Romance! Russia! Aristocrats! War! Peace? Russia. War & Peace is considered in some circles—you know, circles that would want this to be the top pick—to be "the greatest novel ever written." Will that translate to a miniseries on A&E, History Channel, and Lifetime? A cast of Gillian Anderson (some show cannibals and another about aliens, which Alex McCown wrote a pre-air review about), Paul Dano (Love And Mercy), Lily James (Pride And Prejudice And Zombies), James Norton (Happy Valley), and Jim Broadbent (Iris) sure hope so. Molly Eichel's pre-air review of the miniseries can't hurt either.
Elsewhere in TV Club
Look up, for pre-air reviews.
What else is on?
Clarence (Cartoon Network, 5 p.m.): Is it strange that any mention of Cartoon Network series Clarence just makes us think of "#ClassicJarles"?
Lego Nexo Knights (Cartoon Network, 5:30 p.m.): Lego Nexo Knights, on the other hand, has no such effect on us.
The Bachelor / Bachelor Live (ABC, 8 / 10 p.m.): "The stunning departure of Lauren, L.B., who refused Ben's rose, set the Bachelor back on his heels momentarily, but there are 17 women, who are anxious to spend time with him. Lauren B. and Ben soar in a bi-plane to a secluded spot where a hot tub waits, as well as a romantic dinner followed by a private performance by Lucy Angel, one of the Bachelor's favorite music groups." Wait, there are two L.B.s? Why is The Bachelor so complicated? Also, considering the fact that Lucy Angel appears to be a band that solely exists to be on reality shows (such as HGTV's Interiors Inc and AXS TV's Discovering Lucy Angel), we're going to call B.S. on them being one of the Bachelor's favorite music groups.
Just For Laughs Starring Howie Mandel (The CW, 8 p.m.): Just for laughs and nothing else.
Kids Baking Championship (Food Network, 8 p.m.): Why is the episode titled "'Hot' Chocolate" and not just "Hot Chocolate"? What is wrong with you, Food Network?
MasterChef (Fox, 8 p.m.): Celebrities! They cook too, you know. Especially if they're celebrities on Fox television shows. "Celebrity Competitors Include Supermodels Gigi Hadid and Devon Windsor; Brooklyn Nine-Nine's Terry Crews and wife, Rebecca Crews; The Last Man On Earth's Boris Kodjoe and wife, Nicole Ari Parker; and Empire's Kaitlin Doubleday and Ta'Rhonda Jones; as well as MasterChef Winners Luca Manfe, Christine Ha and Claudia Sandoval; and MasterChef Junior Season Four Contestants Addison, Amaya and Zac." We told you. And also supermodels.
Superstore (NBC, 8 p.m.): "JONAH ACES THE CLOUD 9 EMPLOYEE TRAINING TEST WITH A PERFECT SCORE." Oh hey, Jonah is actually good at something! Of course, Amy isn't pleased, but when exactly is Amy ever pleased with Jonah? We promise this show is actually funnier than we're making it sound.
Love & Hip Hop (VH1, 8 p.m.): T-B-A! T-B-A! T-B-A!
Telenovela (NBC, 8:30 p.m.): Superstore goes small, Telenovela goes big. Well, by nature, Telenovela always goes big—but it doesn't always go natural disaster big. "After the entire cast has been dieting for a bathing suit scene, they get stuck together on set when a hurricane hits Miami." We usually just hallucinate food when we're dieting for our bathing suit scenes, but a hurricane is an interesting choice.
Vanderpump Rules (Bravo, 9 p.m.): "Leis, Liquor And Lies." Nah, we're good.
Scorpion (CBS, 9 p.m.): "Sun Of A Gun"? That doesn't make any damn sense, Scorpion.
The Biggest Loser (NBC, 9 / 10 p.m.): "CONTESTANTS VIE FOR CHANCE TO RECONNECT WITH LOVED ONES AT HOME." It's so interesting to see The Biggest Loser devolve into straight up bullying its contestants.
Hit The Floor (VH1, 9 p.m.): And now we're officially at the third season premiere of VH1's Hit The Floor. One time we accidentally watched part of this show, and Dean Cain and Jodi Lyn O'Keefe were having an argument. It was a very strange mash-up of different ends of the '90s.
NCIS: Los Angeles (CBS, 9:59 p.m.): "The team investigates the murder of tech entrepreneur turned venture capitalist who secretly developed a daemon, a background computer program that allows for undetectable data collection." Isn't this more of a Scorpion thing? Or, you know, a CSI: Cyber thing? Come on, CBS procedurals. At least pretend.
House Hunters / House Hunters International (HGTV, 10 / 10:30 p.m.): "Cleveland Doctors Need Home Before Baby Arrives" and "Haunted By A Hurricane On Grand Cayman Island." 1. Those Cleveland doctors are procrastinators and should feel bad about this last-minute house hunting. 2. These episode titles are cries for help.
Teen Mom OG (MTV, 10 / 11 p.m.): "Never Say Goodbye" and "A Closer Look," you say? Literally no one needs a closer look when it comes to any iteration of Teen Mom. In fact, we're going to break a cardinal rule (as of right now) and say goodbye.
Fameless (TruTV, 10 / 10:30 p.m.): "From the mischievous mind of comedian and actor David Spade comes Fameless, a genre-busting prank show about how far real people will go for a moment in the spotlight. Each week, the series features a group of unsuspecting desperate-to-be-famous individuals who believe they've been cast on a reality show. However, unbeknownst to them, they are really filming a parody with improv actors creating over-the-top scenarios that steadily increase the absurdity and ridiculousness of each situation - testing the patience of everyone NOT in on the joke." So it's The Joe Schmo Show, right? "Mischievous" Joe Schmo?
Watch What Happens Live (Bravo, 11 p.m.): It's these people:
Sports, sports, all type of sports
High-School Basketball: Mater Dei vs. Oak Hill Academy (ESPNU, 1 p.m.)
NBA Basketball: Pelicans at Grizzlies (ESPN, 2:30 p.m.)
Barclays Premier League Soccer: Swansea vs. Watford (NBC Sports, 2:55 p.m.)
High-School Basketball: Sierra Canyon vs. Montverde Academy (ESPNU, 3 p.m.)
NBA Basketball: Magic at Hawks (FSN, 5 p.m.)
High-School Basketball: High Point Christian Academy vs. Chino Hills (ESPNU, 5 p.m.)
College Basketball: Syracuse at Duke (ESPN, 7 p.m.)
Women's Basketball: Tennessee at Notre Dame (ESPN2, 7 p.m.)
College Basketball: Texas Tech at TCA (ESPNU, 7 p.m.)
College Basketball: Loyola (Md.) at Boston University (CBS Sports, 7:30 p.m.)
NHL Hockey: Penguins at Blues (NBC Sports, 8 p.m.)
NBA Basketball: Warriors at Cavaliers (TNT, 8 p.m.)
College Basketball: Oklahoma at Iowa State (ESPN, 9 p.m.)
Australian Open: First-round play (ESPN2, 9 p.m.)
College Basketball: Hampton at North Carolina Central (ESPNU, 9 p.m.)
NBA Basketball: Rockets at Clippers (TNT, 10:30 p.m.)
NBA D-League Basketball: Idaho at Los Angeles (ESPNU, 11 p.m.)
In case you missed it
Bob's Burgers: "Tina, take it easy!"