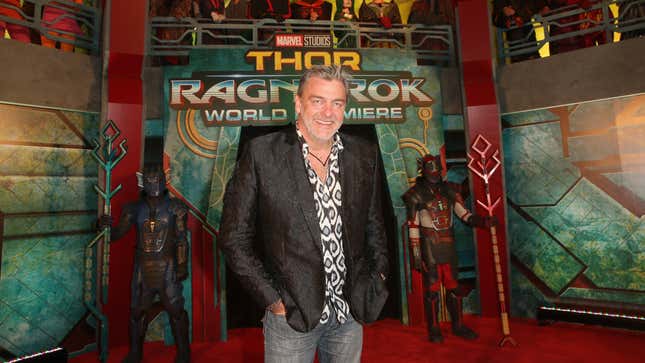 There comes a time in every actor's life when they must decide whether or not they are willing to replace Kevin Spacey in a movie. For Ray Stevenson, that time is today.
Per The Hollywood Reporter, Stevenson will take over for Spacey on the historical drama 1242: Gateway To The West. Spacey exited the project last year amid sexual assault charges in the U.K. He pleaded not guilty to the five charges against him, including four counts of sexual assault, writes The Hollywood Reporter. Recently, a U.S. jury found Spacey not liable for sexually abusing Anthony Rapp in 1986. He still has a total of 12 sexual-offense charges in the U.K.
"The film is looking simply EPIC and will be very well positioned due to Ray Stevenson's amazing role in RRR, as well as the political background of the war between Russia and Ukraine," Carlos Alperin of Galloping Entertainment, which is selling the global rights to the film, told The Hollywood Reporter.
No stranger to costume epics, having recently come off RRR and Thor: Ragnarok, Stevenson will slot in as Cardinal Cesareani. Here is the synopsis:
When Genghis Khan's army invades Europe in 1242 it doesn't expect that a Hungarian castle and a canon will stop it. When the Kingdom of Hungary's army was annihilated by the Mongols at the battle of Mohi, only the castle of Esztergom now stood in the Mongolians' way of invading the rest of Europe. Khan Batu, the grandson of Genghis Khan, reaches the walls of Esztergom with his invincible troops. The castle's defenders, led by Eusebius, the Canon of Esztergom, and a Spanish mercenary, Captain Simon, are preparing for the final battle. The sudden arrival of Cardinal Cesareani, the Papal Legate, coinciding with the Mongol Lunar New Year celebrations and the mystical practices of Eusebius, combine to offer the defenders a small glimmer of hope.
Previously, Christopher Plummer replaced Spacey in Ridley Scott's All The Money In The World, which was released around the time that sexual assault allegations against Spacey emerged. Plummer received an Academy Award nomination for the role, making him the oldest nominee for acting in Oscar history.