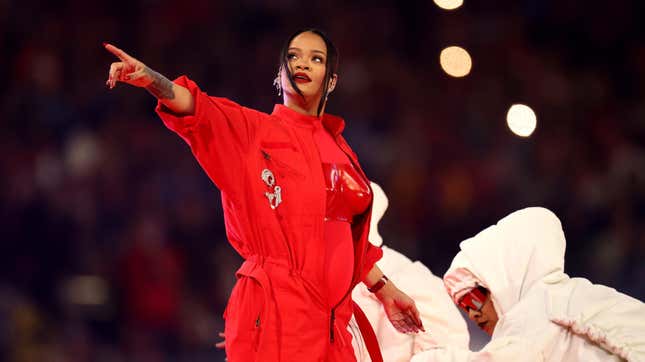 As a musician, Rihanna's greatest strength—the thing that most sets her apart from her peers—has always been her catalog. Other artists may be better singers or dancers, but, besides Mariah Carey, no living artist has more number-one hits than Rihanna. It makes sense that Team Rih would try to cram as many of these songs into her 13-minute Super Bowl Halftime Show set as possible—unfortunately, the trip down memory lane came at the expense of other kinds of showmanship.
Kenny Loggins on "Playing With The Boys" and "Danger Zone"
Rihanna opened the set high above the field, standing on one of many eye-popping floating stages, powering through her anthemic "Bitch Better Have My Money." This was easily the best moment of her performance, and the stage stunned visually. Plenty of other artists have recently taken to the sky during their time at the Super Bowl, but none used the space in such a deliberate way. Rih flashed a smirk with all the cockiness we've come to expect from someone who's dubbed herself "Bad Girl Riri"—a welcome reminder of what we've missed in the past seven years without a Rihanna album.
From there, it was back down to Earth and a jaunt through many of Rihanna's biggest hits—the 13-minute set saw just as many songs. Before the show, Rihanna shared that she had gone through at least 39 different versions of the setlist, and did her best to compress her 17-year career into the slim time between quarters.
This is no small undertaking, but the set certainly could have benefitted from taking some time to breathe. It's a fool's errand to even try to nod to all of Rihanna's hits, and the attempt came at the apparent expense of other performance elements we've come to expect from the Super Bowl after years of Beyoncé, Katy Perry, Lady Gaga, Shakira, and J.Lo taking the stage. Aside from an additional coat in the last minutes of the set, there were no costume changes. The transition from "Run This Town" to "Umbrella" would have been a perfect opportunity to bring out someone like Jay-Z, but Rih opted to go it alone.
G/O Media may get a commission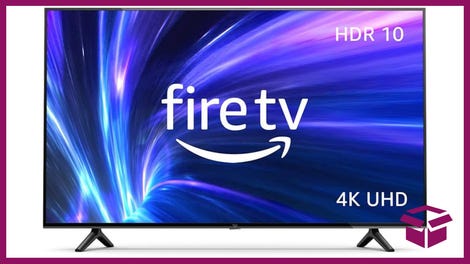 42% Off
Amazon Fire TV 50" 4K Smart TV
Of course, Rihanna really has nothing to prove at this point in her career. Fans don't flock to Rihanna because she performs like Lady Gaga or Shakira—she's Rihanna, the woman with 14 number-one singles that date back to the second Bush administration. She's the woman who defines what it means to be effortlessly cool, so it would have been out of character for her to dance like Beyoncé or J.Lo (and she is, in fact, pregnant again, according to her rep, so that was probably out of the question anyway).
Ultimately, the reminder of Rihanna's past only further reminded everyone where she is now. Yes, she is one of our greatest living pop stars, but she's also a mogul and a mother. So what if she seems a little disinterested in playing pop star—she clearly has other things that matter more to her. Even if she never actually puts out that next album, she has a songbook that hardly anyone, living or dead, can touch.