Welcome back to AVQ&A, where we throw out a question for discussion among the staff and readers. Consider this a prompt to compare notes on your interface with pop culture, to reveal your embarrassing tastes and experiences, and to ponder how our diverse lives all led us to convene here together. Got a question you'd like us and the readers to answer? E-mail us at avcqa@theonion.com.
This week's question, courtesy of reader Colleen: What music do you like to work out to? I like to run but I find that the majority of the music I like is not good running music. To me, exercise music sort of has to be upbeat and poppy, but not cheesy, which (for me) seems like a hard mix to find, and most of The A.V. Club staffers seem pretty reliable when it comes to recommending tracks.
Donna Bowman
Not cheesy? Colleen, I beg to differ. A workout is exactly when you do want cheesy music. See, the overexposed I Love The Eighties or Super Hits Of The Super Seventies mixes sound dreadful piped into the grocery store or stuck in traffic because they're swallowed by the crappy, pedestrian ambiance. Pipe those tunes into earbuds, fill up your headspace with huge sounds, and the same tunes are nothing short of awesome. You don't need to be a slave to the optimum beats-per-minute; trying to keep your footfalls timed to the backbeat can be distracting, and it's a losing battle in any real-world terrain. Even ballads can provide plenty of energy for a workout. What you really have to avoid is music that's too thin or ephemeral. You want to get wrapped up in the soundtrack, you want to be able to recontextualize your running as part of a kick-ass training montage. Think Motown; think arena rock; think power pop. My favorite running playlists include Stevie Wonder, Matthew Sweet, Michael Jackson, disco, Prefab Sprout, Talking Heads, and Tom Petty. What do they all have in common? When you run with them, you feel like you are running in an all-encompassing bubble of sound, and there are plenty of dynamic surges to sweep you forward.
Claire Zulkey
I don't know if I'd go so far as to say I'm a runner, but I do an impression of one a few times a week. The problem with running is that when it sucks, it really, really sucks, which is why good workout music is important to me. I have an ever-growing playlist dedicated solely to working out, since a certain song one day might be just the thing to get you sweating but the next day it could make you want to quit and go get a taco. I find a mix of poppy beats and a touch of aggression are the perfect way to keep me moving. And guilty pleasures? Hell yes.
G/O Media may get a commission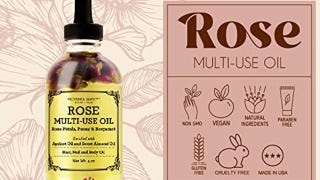 Provence Beauty Rose Multi-Use Oil
Goldfrapp, "Ooh La La": It makes me feel like I'm jogging in a sexy fashion show.
Girl Talk, "Hands In The Air": Tag Team + Big Country makes me happy even though "happy" is sometimes the last thing I want to be when I'm working out. More what I'm feeling is "fuck that shit," which is also repeated in this song. You've got it all! (Also: Girl Talk's "Here's The Thing" and "In Step")
Britney Spears, "Womanizer": I may lose my AVC credentials for this, but Britney has made some great workout music.
Beastie Boys, "Sounds Of Science": This is a song where you need to wait a little bit for the payoff, but I think it's worth it.
Cyndi Lauper, "She Bop": This got me across the finish line at my first 5K. I guess because I couldn't wait to go home and masturbate.
Outkast, "B.O.B.": This has been powering my workouts for almost ten years and has yet to let me down.
Blur, "Girls and Boys"
The Clash, "Police On My Back": Perfect for runners.
Wolfmother, "Woman (MSTRKRFT Remix)"
DMX, "Party Up (Up In Here)": This is for those who need aggression for their workouts. I sometimes mouth the lyrics to this when I run so I've inadvertently threatened to slap strangers on the lakefront path with my dick and the mic.
Elvis Costello, "Pump It Up"
Gary Glitter, "Rock And Roll Pt. 2": It might be terribly clichéd, but I love it. It makes me think of attending Bulls games during the glory years, which makes me think of winning and fun. (If you want the exact same beat but by someone other than a child molester feel free to substitute "I Kissed A Girl" by Katy Perry or "Ooh Ooh Baby" by Britney Spears.)
Garbage, "Cherry Lips"
Jay-Z, "Big Pimpin'": Important—this song must happen near the end of your workout, sort of when you want to quit, because it will reassure you that you're a pimp in every sense of the word, bitch, and pimps don't quit.
Pink, "So What": So what?
Nathan Rabin
I am all about multi-tasking, so since I started doing "Nashville Or Bust," I've devoted many an evening to riding the recumbent bike and reading a biography of a country musician while listening to their music on my iPod. I can't say Merle Haggard makes for good workout music. Bob Wills And The Texas Playboys, on the other hand, provides a terrific soundtrack: Wills' entire ouevre is a high-energy, super-fun, crazy-energetic aggregation of jazz, country, swing, and pop. Other than Wills, my workout music of choice is Young Jeezy, especially his crazy underrated 2006 album, the aptly titled The Inspiration, which is full of Bob Wills-style ad-libs and infectious street anthems.
Steven Hyden
I'm a pretty big coward, but I've often said that if I ever did have to go to battle, I'd want to hear "Baba O'Riley" at full blast right before I was dropped behind enemy lines. There's something about the swagger of Roger Daltrey, the slashing guitar of Pete Townshend, the driving bass of John Entwistle, and the balls-out insanity of Keith Moon that gets me in the proper headspace for kicking the living shit out of anything in my way. Since working out is only slightly less enticing than killing people, it's no surprise that I tend to exercise a little longer and harder whenever Who's Next is kicking my eardrums' asses. Don't cry, don't raise your eyes, it's only 30 more minutes on this goddamn exercise bike before I can pass out in the shower.
Steve Heisler
Recently, I've been making an effort to work out with a trainer (albeit a cheap yet still badass YMCA trainer), so my music selection consists of whatever's playing at the gym, usually a radio tuned to some hilariously outdated hits station—Vertical Horizon, anyone? I bike a lot, but am afraid to have headphones on when I'm in traffic. So that leaves the rare times I jog nowadays, when if I'm not piping in whatever music I just got, I like to opt for shorter songs, which make me feel more accomplished. When all else fails, I turn on The Strokes' Is This It, because not only does it have a driving guitar line throughout (good to pace myself against), but it's an album I'm quite familiar with—meaning I can easily tune it out and slip into what real runners call "the zone" and what I call "avoiding the pain after, what, has it been only 3 minutes?" Recently, I found another album that works wonders: Eccentric Soul: Twinight's Lunar Rotation, a collection of awesome soul tunes put out by the Chicago-based archivists at Numero Group. Those songs are upbeat, catchy, and best of all, short.
Josh Modell
When I was doing relatively long-ish runs, I would deliberately listen to mellower music in order to keep my pace down—Death Cab For Cutie's Something About Airplanes was always a good one. But here's a better story: In high school, we had to run 1.5 miles in 12 minutes in order to pass some sadistic gym unit or other. I remember trying a few times and not quite making it, and then eventually getting fired up by The Sugarcubes' "Cowboy," which is this weird, sinister, kind of insane song that builds its way toward Einar Orn (the singer not named Bjork) shrieking "I'm! A! Weird! Cowboy!" in his weird Icelandic accent. I crossed the line at something like 11:58, so if I ever need to run fast again, that's the song I'll probably consult; it's tough to sit still to.
Zack Handlen
It's rare that I get a chance to agree with one Steve and contradict another in the same post, so when I see an opportunity, I grab it; "Baba O'Riley" is without question one of the coolest things to listen to while running, and I actually like the kind of breathless feeling I get listening to comedy albums on the jog, especially Patton Oswalt, for some reason. I think I've gone through My Weakness Is Strong a couple of times on the track already, and I'm still not tired of it. (Other non-music hits include various audiobooks and episodes of House.)
My iPod experienced a series of meltdowns recently, so my original jogging playlist is lost to the ages, but I remember it was a bunch of random songs that were all up-tempo and loud and made me grin like even more of an idiot than usual. I have really happy memories of listening to the main theme from John Williams' Raiders Of The Lost Ark score while hitting the last lap of a three-mile run. The sound levels were always wrong, so that track was louder than anything else around it, which meant that when as I was grinning, I was wincing too—but that's probably appropriate. The loudness just made me run faster, like I could somehow get away from my headphones if I went fast enough. And I remember the playlist would peak with The White Stripes' "Fell In Love With A Girl," to drain every last drop from the endorphin rush. There was Elvis Costello in the mix ("Radio, Radio," I think), and Me First And The Gimme Gimmes, and Tomoyasu Hotei's "Battle Without Honor Or Humanity." I should probably try and put that list together again. With winter coming, I'm going to need all the good vibes I can get.
Sean O'Neal
My initial answer to this question—"gangster rap," with an emphasis on the "-er," because I am perilously white—was deemed too broad to be acceptable. So I'll try a different tactic, starting with "gangster rap" as my base, then telling you everything from that genre that I always skip while trying to undo the weekly damage I sustain by making my living in front of a computer. I cannot work out to:
Songs about smoking weed, because it reminds me that I am working out, when I'd rather be smoking weed, not working out. Songs about selling weed, on the other hand, are a-okay.
Songs about having sex. I'm always paranoid that one of those slippery iPod earbuds will fall out, and then the girl trying to achieve yogic alignment next to me will hear that Ol' Dirty Bastard—and by extension, me—would like some pussy, preferably for free.
Songs about how hard it was growing up in the projects and such. I'm trying to pretend like I'm a badass here and hope that someday my arms get the message, so let's stick to making money and slapping other people's mouths with your dick while I'm on these free weights, please. (Except Notorious B.I.G.'s "Juicy" and Ghostface Killah's "Grew Up Hard." Those can stay.)
Songs in which anyone (but usually Jay-Z) spends more than five seconds announcing that the listener probably didn't expect him to do a song as good as this, but he's about to do it, so you should listen to it as soon as it starts, which it will any second now. I don't have the stamina to wait like that, man.
Songs about how much rappers love their mother, because we don't need to talk about personal stuff right now. In fact, pretty much anything positive just makes me wish we were having a chat over a nice iced mocha instead, and that's the reason I have to work out in the first place.
Leonard Pierce
First of all, Colleen, I think it's adorable for you to assume that all of us here at The A.V. Club work out at all. Personally, I think jogging is the product of a deranged imagination; the man who invented it dropped dead of a massive heart attack in his early 50s, and good for him. The only circumstance under which I would run is if a bear was chasing me, and even then, my money is on the bear. In fact, I think working out in public is for sex perverts and the hopelessly vain, and anyone who spends more than an hour per week exercising is missing out on a nap that they will later regret having not taken.
That said, I was once an amateur athlete, and recently, I have embarked on what is certain to be a futile attempt to postpone death for a year or so, on the advice of my physician. So this subject is not as foreign to me as I wish it were. As with most sports, the secret to good workout music is rhythm and timing; it must have a fast enough tempo that you don't fall into a coma, and it has to last long enough that it gets you through the routine. Since my workouts tend to involve weightlifting rather than cardio, and focus more on developing my ability to hurt people than on making myself look presentable, I also focus on angry, aggressive stuff like gangsta rap and thrash metal. The tempo is usually sufficient to keep me from straining anything, and the focus on hailing Satan and slayin' suckas keeps me in the hostile frame of mind I need to sustain in order to not just give up, go home, and eat pizza while watching DVDs. There are also a few staggeringly long tracks that I rely on because once they're over, I get to quit: Orthrelm's "OV," the live version of Earthless' "Blue/From The Ages," and Aesop Rock's "All Day." At the risk of sounding like a corporate shill, the latter is a piece of music commissioned from Ace by the Nike Corporation and intended specifically to be the soundtrack to a workout, and it fulfills that purpose with shocking efficiency. Plus, when it fades out, I know I get to drink three quarts of Gatorade! It's my reward.
Emily Withrow
Here's the thing: I have a very hard time not matching my movement directly to rhythm. I catch myself bobbing along to the cheesy, demographically targeted songs piping over the speakers at clothing stores, walking in time with street performers, or chopping vegetables to what's on my iPod. This makes me stupid on Guitar Hero because I can only strum on the drum beat, and means working out to music is a science. So once I hook into an album that matches my pace on the cardio machines, I stick with it for quite some time. Most recently, it's been Yelle's Pop-Up, Lykke Li's Youth Novels, or M.I.A.'s Arular. The theme here is female vocalists who promise to kick your ass, break your heart, and generally look hot in the process—a kind of treadmill mentality. (And before you judge my beats per minute, you should know that sometimes I put the resistance all the way up to level six.) This stuff isn't standard for me; the only female-fronted album in regular non-cardio rotation is Portishead's Third. But it makes me feel awesome when in reality I'm suspended on an elliptical machine alongside a bunch of other sweaty jerks, first thing in the morning, looking out at a gray parking lot. When I'm lifting weights, I usually go for a more preposterous playlist because it keeps me laughing to myself. This includes Modest Mouse's "This Devil's Workday" or jumpy Tom Waits tracks, mainly because I imagine them to be the soundtrack burly and brawny circus freaks' heyday.
Jason Heller
In an A.V. Club blog a couple years back, I extolled the virtues of the "walking song"—those leg-pumping tunes that serve as both motivation and metronome while walking to and from work (which is pretty much the only thing remotely resembling "working out" that I have done or will ever do—and I've got the flabby little chicken arms to prove it). The songs I chose back then included "Apache" by The Sugarhill Gang, "Heart Of Hearts" by !!!, and The Clash's version of Toots & The Maytals' "Pressure Drop." Over the past two years, however, I've picked up a couple more tracks that are perfect to jam on the iPod while ambling along: the sultry "Her Strut" by Bob Seger And The Silver Bullet Band, during which I imagine I'm a stripper sashaying down the sidewalk; Barbara Acklin's breezy soul classic "Am I The Same Girl?", the instrumental version of which (i.e., the Beastie Boys-sampled "Soulful Strut" by Young-Holt Unlimited) is far better known; and The Cramps' plodding, knuckle-dragging "Human Fly." One song that made me wish I did work out, just so I could do some heavy cardio to it: Company B's absurdly bouncy club hit from 1987, "Fascinated." I can almost imagine the sweatiness. Now, where did I leave that can of Pringles?