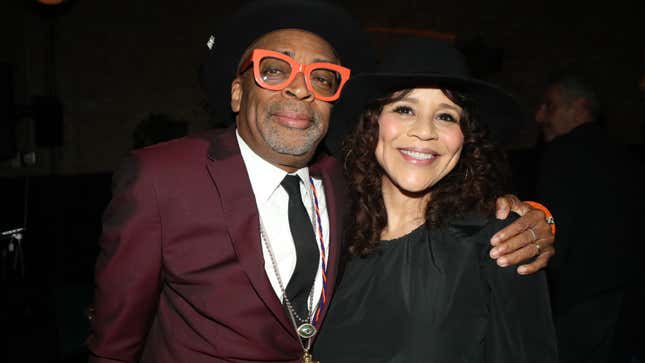 Take it from the definitive judge herself: Rosie Perez and Spike Lee are good. Although decades-old comments Perez made about working with Lee on 1989's Do The Right Thing have long drawn speculation on bad blood between the two, Perez addresses the question head-on in a new interview, emphasizing that she and the director who discovered her in a nightclub have maintained a fast friendship.
Meagan Good on Harlem, Shazam, and Helen Mirren
"In our cancel culture, some people need to be canceled," Perez opines to Variety's Tatiana Siegel. "And when I was telling the story, people were ready to cancel Spike Lee and cancel me for saying something. And I was like, 'You know what? This is getting out of hand.'"
The story Perez refers to is one she shared with The New York Times in 2000, during an eerily prescient roundtable regarding on-camera nudity and sex scenes. During the conversation—where Perez spoke with Sarah Jessica Parker, Debi Mazar, Sarita Choudhury, and more—Perez discussed a scene in Do The Right Thing where Lee's character Mockie rubs ice cubes on Perez's character Tina's nipples. According to Perez, the topless shot is cropped to exclude her face because she was crying during filming—she called the experience "horrible."
"With Do the Right Thing it was like, 'Now I'm the object, here's the shot,'" Perez said at the time. "And the reason why I cried was not so much because I felt violated as because I was angry at myself, because I wanted to say: 'Say something! Get up!' ... I felt like I violated myself."
Looking back, Perez doesn't recant anything she described about Do The Right Thing: as she puts simply, "It happened." But the years have been kind to her and Lee's relationship— according to Perez, they were able to candidly work things out with each other without losing their friendship.
"We discussed it, we made up, we hugged it out, and we're still friends to this day," Perez says. "And sometimes people need a chance to say, 'I'm sorry.' For a man of [Lee's] stature to say 'I'm sorry' is huge. But that's why I don't like to talk about it—because people get too crazy."