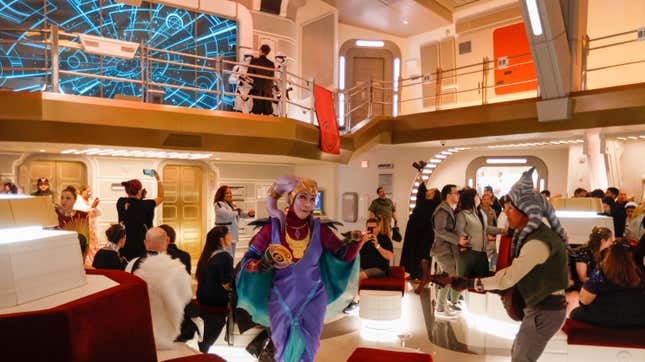 Who can say, in the end, why Disney's Galactic Starcruiser hotel experience only lasted for a year and a half? (CNBC reports today that Disney has confirmed that the interactive Florida hotel will be sending fans on its final 48-hour "voyage" this September.) Was it simply too esoteric a concept, offering, as it did, an interactive "choose-your-own-adventure" style Star Wars experience for fans to immerse themselves in? Was it just bad timing, coming as it did while the hotel industry was still reeling from the effects of the pandemic? Was it the fact that it was championed by Bob Chapek, the now-former CEO whose rise out of Disney's parks division, and into the company's top seat, was significantly less meteoric than his abrupt departure a few years later?
Or, hey: Was it the part where Disney was charging $5,000 per couple for a two-night fake cruise filled with Star Wars-themed improvisers desperately trying to get you to play pazaak with them?
Our suspicion is that it might have been that last one, although we are not—as our parents continually throw in our faces—big-budget science fiction hoteliers. In any case: Although Galactic Starcruiser got some decent reviews from people who actually got to experience it—after reportedly working out some early bugs that popped up in press reports—it was still marketing to an incredibly tight niche: Star Wars fans so into the idea of fully dropping themselves into the First Order-Resistance conflict that they'd spend the price of a decent used car to get it.
Disney broke the news of the good ship Halcyon (that was the fake space cruise ship's name) being scuttled earlier today, as it gears up for its celebrations of a hundred years of the company's existence. (Of which, Galactic Starcruiser is now going to add up to about 1.5 percent of its total existence—unless you add in the seven or so years of development Disney reportedly did on the concept.) And, like, nobody's saying that an immersive hotel experience isn't a cool idea, or that we wouldn't have tried it ourselves, in a circumstance where literally every other survival need we might conceivably drop five grand on was already covered. But the idea that there were enough deep-pocketed Star Wars fans out there to keep this thing rolling indefinitely is just baffling; the best we can hope at this point is that more of this immersive material continues to make its way out to the Disney parks themselves, for a slightly wider sort of consumption.