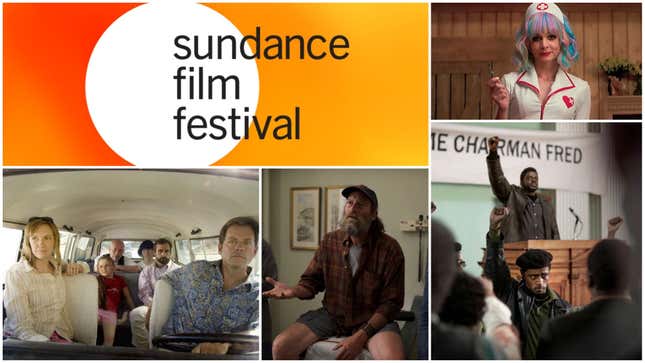 For the better part of a quarter-century, the Sundance Film Festival has served as a kingmaker. A who's who of independent filmmakers who went on to success and acclaim, often within the Hollywood studio system, received their big break in the theaters and screening rooms at Park City, including Kevin Smith, Quentin Tarantino, Robert Rodriguez, Todd Field, David O. Russell, Steven Soderbergh, Darren Aronofsky, James Wan, and Ava DuVernay.

Because of that track record, Sundance enjoyed a long stretch of unquestioned dominance as the primary trendsetting film festival in the United States, and arguably all of North America. While Toronto curated a heady blend of international fare and buzzy world premieres every fall, Sundance used its annual January perch to propel movies deep into the calendar year, and beyond.
The last half-dozen years or so, however, have felt different for Sundance. Even before the COVID pandemic, the theatrical marketplace for American independent films was changing (read: cratering). Financial hits became smaller, and further between. With streaming services, and the open firehose of (often algorithm-approved) "couch content" they provide, more demanding or offbeat fare faces longer odds when it comes to drawing viewers out of their homes and into theaters.
The question for Sundance, then, is what becomes of a robust brand most associated with maverick thinking or unconventional storytelling at a time when consumers' relationship to that type of material is changing? The answer is a film festival that can still set an agenda and help chart the future of a healthy American film scene, but one that does so in a different way.
While some movies (even quite good ones) never escape the festival bubble, it wasn't long ago that many Sundance titles would secure theatrical distribution and dominate the arthouse marketplace, setting up reliable patterns of conversation for serious adult filmgoers. Some were, of course, bigger box office hits than others, but from Little Miss Sunshine and The Kids Are All Right to Whiplash and Manchester By The Sea, Sundance always had a heavy say in awards season jockeying.
Cinematic baubles to attract subscribers
Now, many Sundance movies, even those featuring well-known stars, receive either primarily or exclusively digital releases. In a hyper-competitive streaming market, these films are viewed in large measure as "investments"—cinematic baubles with which to lure (and keep) new platform subscribers.
Accordingly, instead of a discrete theatrical window, or even a buzz-building platform release, conversations may take place on social media, as films are picked up (and then championed and attacked, in rinse-and-repeat fashion) by people who view them on their own schedule. The awards potential of a Sundance premiere is still there, but the pickings feel slimmer, and the communal thrall is much more slight and subdued.
Years ago, for example, Sian Heder's CODA might have crashed or soared commercially, but it would have definitely been positioned as a feel-good theatrical crowd-pleaser opposite noisier genre fare. Your aunt and uncle, who see only maybe three or four films per year, would have heard of it.
Instead, coming out of the virtual 2021 Sundance festival, CODA was acquired for a whopping $25 million by Apple, which then steered the film to three Academy Awards, including a Best Picture victory, despite the movie grossing less than $2 million worldwide in a very limited theatrical run.
If the post-festival math doesn't support theatrical releases of fairly conventional fare like this, what chance do more adventurous movies have of leveraging their Sundance slot into a breakthrough on a massive scale and entering the mainstream cultural conversation? The answer: virtually none.
To some, this lack of consistent breakthroughs means the Sundance imprimatur is waning—or even facing a death spiral. But while the curation of stories being told sometimes renders the festival's programming its own clichéd and inward-looking sub-genre, in some ways one of Sundance's core strengths—identifying and elevating strong authorial voices—is arguably bolstered by tough new economic conditions.
A bigger springboard for emerging talent
Streaming has helped amplify a rich and diverse array of new storytelling voices, and allowed passionate fandoms to spring up around them. Instead of serving as a commercial launchpad for specific films, the most useful view of the festival might be as a springboard for exciting emerging cinematic talent, both on and behind the screen.
Sundance remains a place where a world premiere truly means something for the careers of filmmakers, opening doors of opportunity for everyone from Dee Rees (Pariah), Sean Durkin (Martha Marcy May Marlene), and J.D. Dillard (Sleight, Sweetheart) to Chinonye Chukwu (Clemency), Lulu Wang (The Farewell) and Lee Isaac Chung (Minari).
Other directors who have enjoyed recent success with Sundance debuts or breakthroughs include Alma Har'el (Honey Boy), Florian Zeller (The Father), Emerald Fennell (Promising Young Woman), Janicza Bravo (Zola), Clint Bentley (Jockey), Shaka King (Judas And The Black Messiah), Ninja Thyberg (Pleasure), Chloe Okuno (Watcher), Cooper Raiff (Cha Cha Real Smooth), Nikyatu Jusu (Nanny), John Patton Ford (Emily The Criminal), and Jamie Dack (Palm Trees And Power Lines).
Additionally, Sundance's U.S. and World Documentary competition slates, unparalleled in both quality and depth among major festivals, have consistently provided variety as well as intellectual and emotional heft to a swelling nonfiction sector that's otherwise obsessed largely with re-tilling the soft earth of true crime.
How people are watching movies is changing—and will continue to change. But with several generations of accrued goodwill, Sundance remains a goal for many aspirant creatives. And as long as that stays true, the festival will continue to provide that same injection of vitality into the Hollywood bloodstream, launching important new storytellers. The path itself, though, will be different.