The A.V. Club's picks for the top TV of 2017 carry with them a hint of escapism: otherworldly settings, larger-than-life characters, lavish costumes, talking horses, kitchens straight out of an interior designer's wildest fantasies. Whatever could we be trying to escape from? And could we reasonably expect our glowing rectangles to whisk us away from the worries of the everyday when even the show about Pope Jude Law I and his prized pet marsupial carried eerie echoes of Donald Trump's political ascent?
The truth is, the real world and TV land couldn't stop bleeding into one another this year. The striking wardrobe of the first streaming series to win an Outstanding Drama Emmy was adopted as protest garb. Late-night talk show hosts drove the conversation about public policy. Shootings led to an edit on American Horror Story and a rescheduling on The Carmichael Show. The farcical MacGuffin supposedly driving the actions of a dimension-hopping mad scientist caused pandemonium at McDonald's nationwide. It could all feel a little infantilizing at times, but even the glibbest "Feels like we're living in the Upside Down/The Bad Place/Black Mirror, huh?" is just a sign of someone trying to process the chaos that helped inspire those fearsome fictions in the first place. And besides, these parallels do have their limits: Sexual assault apparently only bars one from the Oval Office if someone is pretending to be the president on Netflix, not Hannity.
But even those whose priorities should preclude them from watching hours of cable news on end and blaring the Empire Carpet jingle across Air Force One must admit that there's too much television to pay attention to, and too much of it remains stubbornly exceptional. Even the reboots were good this year: There's another season of zombie X-Files waiting for us in 2018, but one of that show's biggest influences re-emerged, stronger and stranger than ever, from the woods of 2017. What year is this? One in which movie-skewering jokes began issuing anew from the Satellite Of Love, just a few clicks away from a syndication staple reborn with a new urgency, relevancy, and refreshing lack of a predatory superintendent.
In the immortal words of that show's theme song, this is life, the one you get, so go and have a ball—any of the 20 programs below would be a good starting point. It's not all self-destructive TV hosts and regretful spies: There's also professional wrestlers, conflicted attorneys (of the singing and non-singing variety), and dicks—so many dicks. Escapist or no, this is some damn fine, forking good TV.
---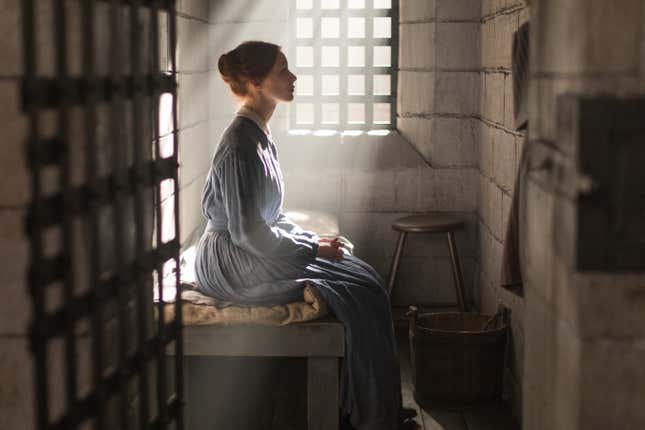 The real power of Alias Grace is lightly shrouded by a period drama that takes place in 1840s Canada—which could be a slightly musty premise for all but hardcore history buffs. But the women at the core of the story—both the fictional ones on the screen and the real-life ones driving the miniseries—work in deft flashbacks to unfold both a murder mystery and an eerily familiar-looking patriarchy that robs women of their bodily autonomy and humanity. Mary Harron's direction is straightforward but calculating, particularly in a hypnotic scene in the final episode that, as Kayla Kumari Upadhyaya wrote in her review, uses "simple, intimate" camerawork to instill fear. The titular Grace is played by Sarah Gadon in an astonishing performance, with the viewers never sure of how manipulative or earnest she really is as she tells her version of events to a psychiatrist who's trying to help secure her release from lifelong imprisonment. In just six episodes, screenwriter Sarah Polley distilled Margaret Atwood's source material into a gripping, terrifying story about class warfare, religious austerity, and most importantly, what it really means to believe women. Historical drama has perhaps never been so relevant. [Laura M. Browning]

---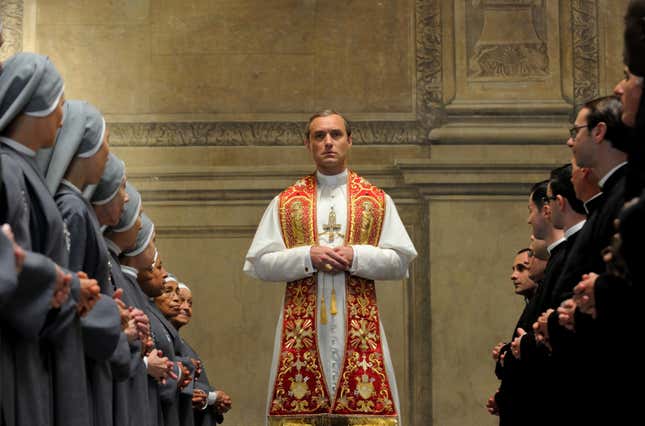 It was the marketing campaign that launched a thousand memes, an HBO offering earning the unbridled scorn of the internet on the basis of a ridiculous title, an absurd premise, and a seemingly stern tone. The Young Pope itself proved to be even more ridiculous in execution—completely to the show's benefit. Much as the titular pontiff, Lenny Belardo (Jude Law), flew in the face of Catholic convention, The Young Pope was everything you wouldn't expect from a prestige drama, a surreal and self-aware affair that replaced pretensions of subtlety with a rich sense of humor bordering on camp. At any point, its strangeness could have fallen apart, but writer-director Paolo Sorrentino held the unlikely enterprise together with a true craftsman's hand, his gorgeously considered shots giving equal weight to the sacred history of the Vatican and the kangaroo randomly hopping through its gardens. And it was all driven forward by a marvelous performance from Law, who managed to wring every possible interpretation out of Lenny's actions. Was he a true believer obfuscating to keep his enemies off track? An agnostic who doubted the Holy Spirit he ostensibly represented? The greatest hypocrite to take St. Peter's throne since Rodrigo Borgia? The Young Pope kept viewers constantly guessing, and managed to make the guessing infinitely more amusing than any snide tweet. [Les Chappell]

---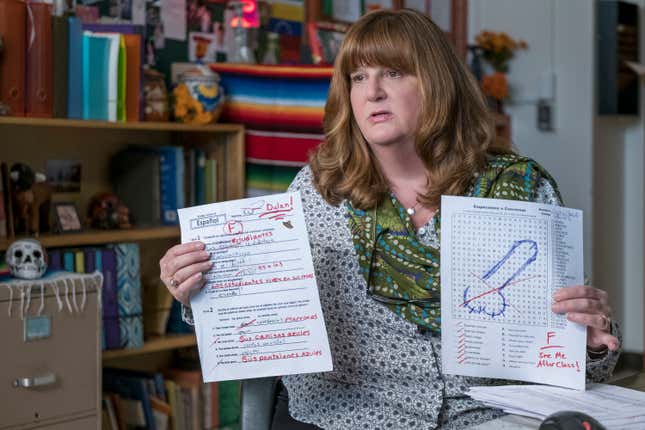 In an era when TV shows increasingly rely on word of mouth, American Vandal found its audience on a wave of "I cannot believe I'm so invested in a show that's about finding out who spray-painted a bunch of dicks on some cars." As awkward as it is to articulate that premise, the show's strength is the fact that the dicks are an embellishment at best. Yes, American Vandal tells some very good jokes revolving around its absurd crimes—peaking with the 3-D rendering of an alleged handjob—but what makes the show so effective is that it uses those jokes to build characters we love to hate, grow to respect, or find ourselves reevaluating when the story reaches its conclusion. With an impeccable attention to detail and absolute commitment from its young actors, American Vandal manages to transform a sophomoric parody of true-crime documentaries into a new benchmark for capturing what it means to be a high school student in the 2010s—better than another, much-buzzed-about Netflix series on the same subject. [Myles McNutt]

---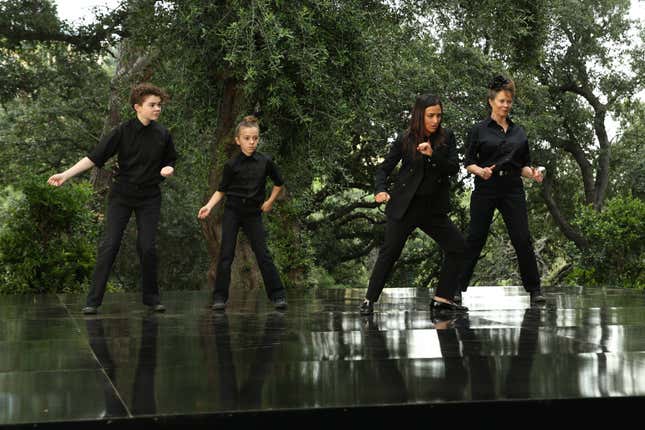 There's a ghostly aspect to the second season of Pamela Adlon's Better Things. Absent ex-husbands, doomed romances, and most importantly, generations of women loom over everything this season, from a getaway to the beaches of Canada to the living room that acts as a funeral parlor for an impromptu, living eulogy. All of these ghosts inform Sam Fox's relationships, be it the way Adlon's onscreen alter ego balances comforting her daughters while also refusing to shade them from the disappointments of life (and specifically men), or the way she begins to heal the wounds of her fractured bond with her mother. Better Things understands that you are a product of your experiences and that those experiences don't suddenly stop once you're an adult. You're constantly learning and adapting, and it's difficult and frustrating, especially when you're responsible for raising decent humans, but that doesn't mean you stop showing up. Rather, you surround yourself with the right people. When a romance fizzles out or an ex bails yet again, you turn to those people who will always be there for you, a move that's in no way a sign of weakness. The second season of Better Things is a remarkable look at the way one woman holds a family together, but it's also a stirring ode to the patchwork families we create on our own, the ones who never stop showing up when we need them most. [Kyle Fowle]

---
16. GLOW (Netflix)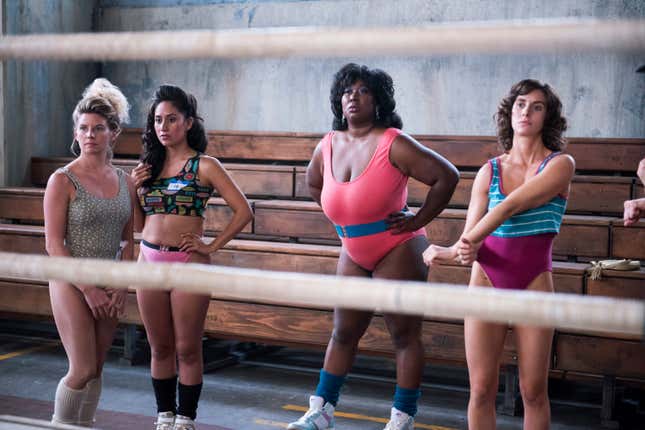 When Ruth Wilder shows up at an audition for a women's wrestling show, she brings all the know-it-all ambition of an aspiring Hollywood actor, smugly dreaming up a complex backstory for a character who just needs to know how to take a back drop. Played by Alison Brie with true vulnerability, Wilder joins the fictionalized Gorgeous Ladies Of Wrestling, a real-life pro-wrestling promotion from the late '80s. Netflix's "inspired by" version of GLOW's origins can be lighthearted and fun, but it's also filled with women who are in need—of love, attention, jobs, money, support. Trying to find those things among a dozen misfit women, led by a pitch-perfect Marc Maron as their down-on-his-luck director, leads to predictably funny scenes, but also a lot of suffering, both in and out of the ring.
The personal feud between Ruth and her former best friend, Debbie Eagan (Betty Gilpin), makes for some of the show's more heartrending moments, but it also indirectly leads to a wonderfully straightforward abortion scene, the likes of which are rarely seen in pop culture. GLOW is explicit but matter-of-fact about the lives of these women from only a generation prior and all the forces working against them. There's a woman whose father and brothers were all professional wrestlers, but they won't let her participate; there's women of color who are forced to play to hyper-exaggerated stereotypes; and even a cash-strapped medical student. In spite of or because of that, it's also a warmly funny show with plenty of laughs. GLOW's spandex-clad friendships and neon-lit heartaches are practically perfect entertainment. [Laura M. Browning]
---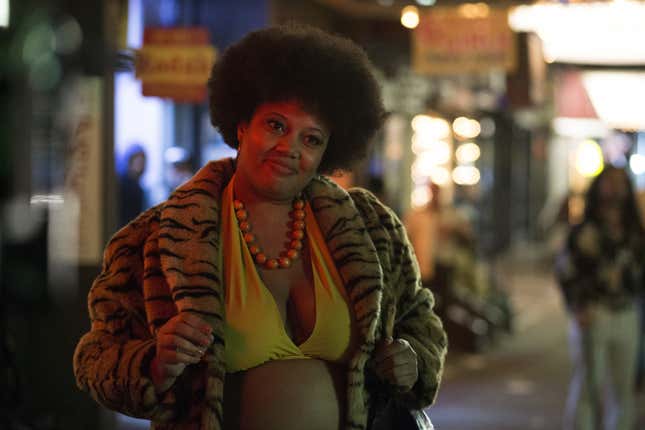 At a time when new voices flood an ever-changing media landscape, it's downright refreshing to watch television veterans showcase their well-honed craft on a proper scale. The Deuce felt so fully formed right out of the gate because co-creators David Simon and George Pelecanos knew exactly what they wanted to say and exactly how to say it without even a minor stumble. Following the rise of pornography in the early 1970s, The Deuce uses the sex industry as a microcosm for the nascent detrimental effects of late capitalism—the spread of gentrification, the rise of automation over human labor, the government's co-option of mob interests for public policy, and as always, systemic institutional dysfunction. Yet like all Simon projects, The Deuce never once feels like a lecture, but rather an entertaining glimpse into the past during a time of massive social upheaval, when sexual freedom broke through to the mainstream like a wrecking ball (though, the first season convincingly argues, stratification persists even when the culture slowly welcomes the marginalized and the downtrodden). Aided by career-best performances from James Franco and Maggie Gyllenhaal, not to mention a hall-of-fame supporting cast that includes half a dozen Wire alums, The Deuce presents a panoramic view of a zero-sum world, complete with winners and losers who don't know where they stand. Most importantly, the series always feels indebted to the unique rhythms of daily life, in which misery never exists without joy, and struggle without celebration. [Vikram Murthi]

---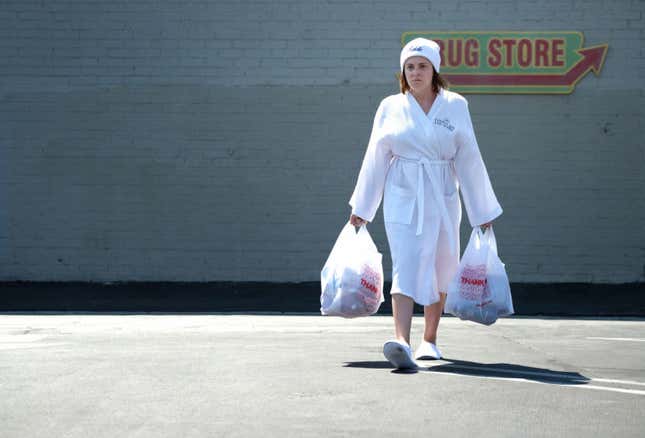 In the back half of Crazy Ex-Girlfriend's delightful second season, manic pixie dream lawyer Rebecca Bunch (Rachel Bloom) and her ride-or-die work wife Paula (Donna Lynne Champlin) gain leverage in a legal proceeding by digging up corpses in a darkened cemetery. And the extracurricular exhumations were a minor plot point, entirely unrelated to Rebecca's larger plot to cuff her childhood crush, Josh Chan (Vincent Rodriguez III).
It's tough to imagine a musical comedy getting much darker after an episode involving grave vandalism, but Crazy Ex has done exactly that in its bruising third season. Bloom and her co-creator, Aline Brosh McKenna, promised from the outset that they would take the show's title seriously and mine the pathos out of Rebecca's wacky rom-com mischief. So when season two ended with Rebecca vowing revenge after Josh jilts her at the altar, there was nowhere to go but down, and season three is leaning hard into the aftermath. Crazy Ex has never been a carefree show, but it's gotten especially poignant as Rebecca's downward spiral tightens into a helix, culminating in a suicide attempt on a commercial flight. Yet somehow, the show continues to pull off its strongest depictions of mental health struggles and its tightrope act as one of television's best comedies. And the songs are as amazing as ever, including the weirdly prescient "Let's Generalize About Men" and "Strip Away My Conscience," the show's long-overdue riff on Fosse-style sexy jazz. No other show does this many things this well. [Joshua Alston]
---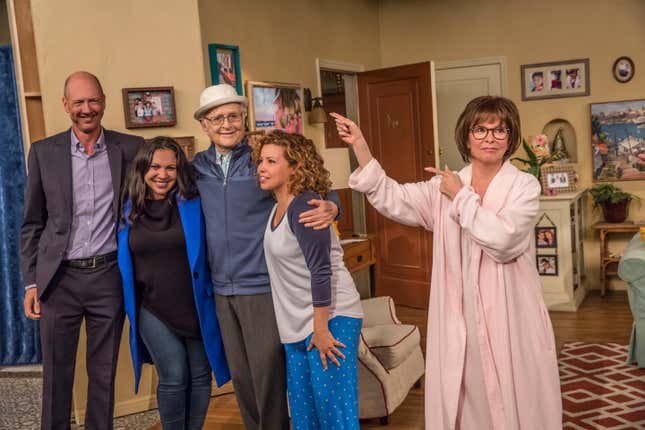 There's no question that family-oriented comedies can still fare well in a landscape that's lately been dominated by prestige dramas and antihero tales—just look at Black-ish and Jane The Virgin. But Gloria Calderon Kellett and Mike Royce's reboot of Norman Lear's One Day At A Time faced exceptional odds: Not only is its multi-cam format increasingly falling out of style, but the choice to have a predominantly Latinx cast seemed to be gilding the issues-oriented lily. (Sleazy super Schneider was a whole other can of worms.) But Netflix's gamble has paid off for viewers eager for greater inclusivity and those whose primary concern is incisive comedy. Justina Machado gives a warm and powerful lead performance as Penelope, the Alvarez matriarch and proud member of the sandwich generation. In a tweak to the original, she looks after her teenage kids (Isabella Gómez and Marcel Ruiz) and her vivacious mother (Rita Moreno, who salsas off with every single scene). There was even an elegant solution to the Schneider problem: In 2017, he's reborn as a clueless hipster living rent-free in the Alvarezes' building.
This multi-generational Cuban-American family fights, hugs, and eats together, as all TV clans should. But what pushes One Day At A Time past serviceable sitcom is smart and timely takes on everything from immigration to gentrification, from queerness to the wage gap. Every earnest half-hour has plenty of laughs and a point. But One Day At A Time doesn't just have its heart on its sleeve—it wears it like a badge. [Danette Chavez]
---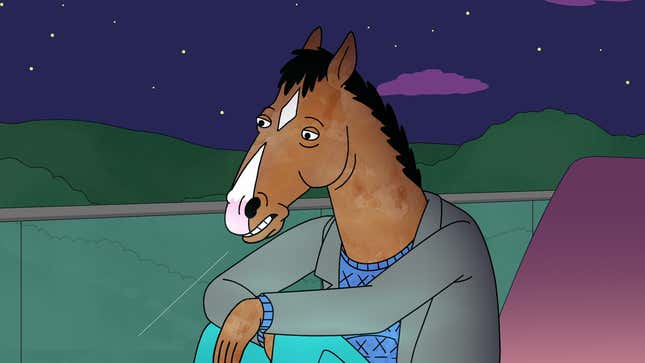 This year's sojourn to Hollywoo—land of depressive sitcom horses, existential ennui, and an ever-staggering volume of humorous, zoological wordplay—wasn't quite as devastating as years past, for good and ill. But what season four of BoJack Horseman lacked in heartbreak, it more than made up for in daring formal experimentation, blurring the line between "now" and "then" with two ambitious episodes—the overlapping "The Old Sugarman Place" and the era-jumping "Time's Arrow"—designed to illustrate how the past will always have its hooks in BoJack (Will Arnett); his mother, Beatrice (Wendie Malick); and everybody else unlucky enough to end up in their orbit.
Malick was just one member of an absolutely astounding guest star roster that lent its talents to BoJack Horseman this year, with other standouts including Andre Braugher, Jane Krakowski, and season MVP Aparna Nancherla, skirting the line between bitter and sweet as Hollyhock, a young horse whose mission to find the mother she never met sends her on a collision course with BoJack's latest efforts to get his life on track. Meanwhile, the series ably maintained its ever-delicate balance between silliness, satire, and emotional depth, exemplified nowhere better than in Amy Sedaris' Princess Carolyn, a character who can toss off Variety Speak tongue twisters one minute, mournful reflections on her would-be motherhood the next, and still leave time to make procreation-focused love to the sound of Harvey Fierstein's gentle, encouraging tones. [William Hughes]

---
11. Review (Comedy Central)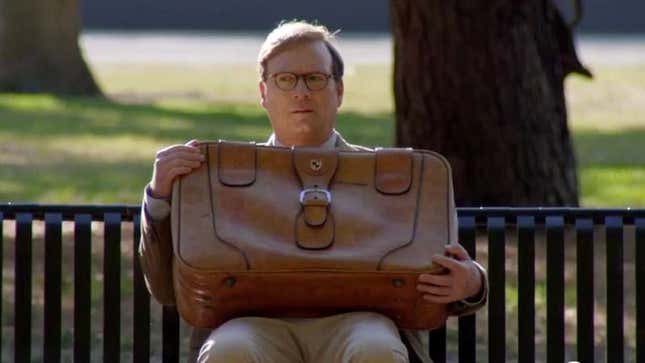 Andy Daly has made a scene-stealing career out of portraying ordinary-looking men whose outwardly affable decency imperfectly masks a yawning gulf of existential terror. In Review, Daly found his infernally perfect vehicle: Forrest MacNeil, the eternally game "life critic" whose decision to evaluate every possible experience in service of the piddling reality show he's chosen as his path to immortality sends him hurtling—again and again—into a purgatorial torture chamber of his own devising—well, Forrest's devising and that of his peerlessly fiendish (or godlike) producer Grant, played through the series' three brief but excruciatingly hilarious seasons by the peerlessly inscrutable James Urbaniak.
In Review's third and final season, we witness Forrest MacNeil put himself not only in mortal danger—that's just a day at the office—but also in peril of his very soul (even if, as the show insinuates in its diabolically uncompromising finale, Forrest's ludicrous desire for transcendence through evaluation may be all the soul he possesses). Like another show found elsewhere on this list, it is sitcom as deceptively perilous morality problem, and if the decidedly earthbound Review doesn't posit a literal hell lurking under Forrest MacNeil's feet, the idea that we are the authors of our own petty, laughable damnation is somehow more frightening. [Dennis Perkins]
---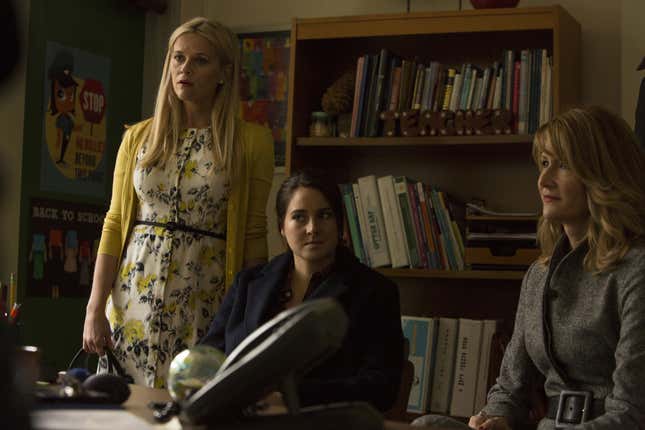 HBO's adaptation of Liane Moriarty's best-selling page-turner became a female-fueled series that offered so much more than a murder mystery. Big Little Lies went far beyond mom blogging to depict full-fledged, four-dimensional portraits of wives and mothers, from high-powered superwomen (Laura Dern and Reese Witherspoon) to affectionate introverts (Shailene Woodley) to Nicole Kidman's Emmy-winning portrayal of a woman whose marriage looks perfect on the outside but is actually a living nightmare.
Women so often get perfunctorily cast as the wife, the mother, the girlfriend, the sassy best friend. Big Little Lies proved that a production featuring multiple, multifaceted, impossible-to-describe-in-two-words women can not only be tremendously popular, but can also nab a cartload of Emmys. A second season based on a follow-up novella by Moriarty has just been announced, and our dread about a sophomore season possibly marring what had been a perfect package of television is only tempered by our glee that we will get to see these magnificent characters again. [Gwen Ihnat]
---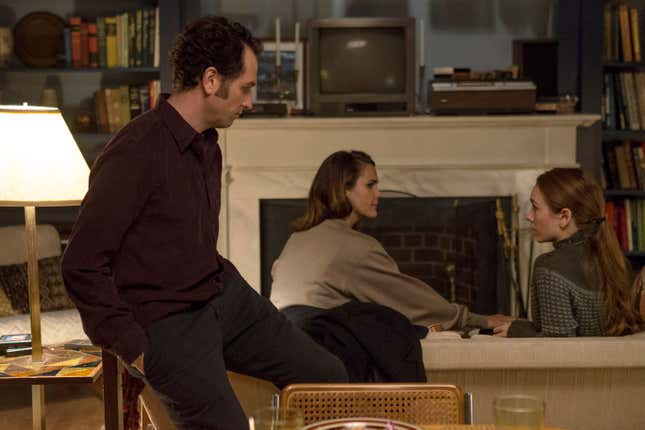 Under the campy fun of wigs and cowboy hats and Mail Robots, Soviet spy thriller The Americans is all about trust—including the creators' faith in their audience. That's never truer than in the fifth season, which opens in a strange town in a strange school with strange characters, then—just as viewers are regaining their bearings—cuts to Russia for a second dose of the unfamiliar. But it goes further than that: Showrunners Joe Weisberg and Joel Fields trust us to navigate the show's maze of relationships and intrigues without dialogue marking a path through them. They trust us to keep pace with its deliberate meditations and sudden brutalities. They trust us to feel the emotional impact of their musical cues, period-appropriate songs that would ring corny in clumsier hands. And especially in season five, they trust us to see the Jennings' missions, with their attendant masquerades, manipulations, and sacrifices, as a powerful metaphor for the vulnerability that is the price of any intimate relationship. In this season, where Elizabeth and Philip gain one hot-headed surrogate son and lose another, where their long-time partnership deepens into something more solemn, where they indoctrinate one child while overlooking another, where their closest friend and father figure leaves them, that metaphor is stronger than ever. The Americans trusts its audience, and for five season, it's earned back that trust tenfold. [Emily L. Stephens]

---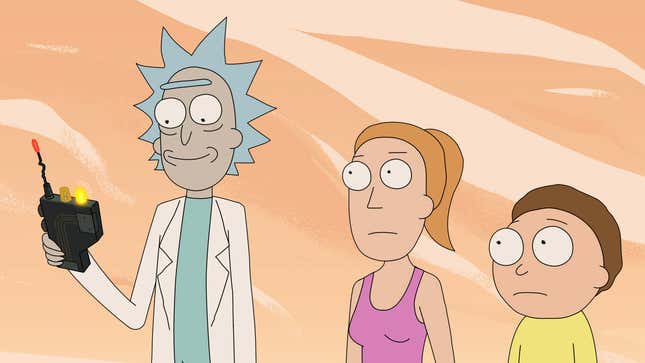 Don't blame Rick And Morty for the Szechuan sauce thing: It was a damn good joke in context, at once a perfectly executed callback, an absurdist narrative left turn, and a tightly framed pivot to horror-flick derangement. In the show's long-awaited third season, seemingly every joke lands like this, at once an outgrowth of Dan Harmon and Justin Roiland's labyrinthine plotting and a writers room brave enough to probe infinitesimal gradations of each character's psyche. The result is a show of uncommon emotional complexity, in which obsessions and self-delusions and long-buried dreams become the stuff of mordant wit and gut-punch pathos, with a certain aesthetic flair that Harmon never could've pulled off on Community.

It is a show punch drunk with the giddy possibilities of animation, cramming each episode with grisly Cronenbergian viscera and Ray Harryhausen creeps and verdant Jack Vance tableaux, with Roiland's free-associative performances left to tie things together. Ultimately, this ever-widening interdimensional scope is the reason the show is a cartoon, rather than its characters, who seem more devastatingly human with each episode. [Clayton Purdom]

---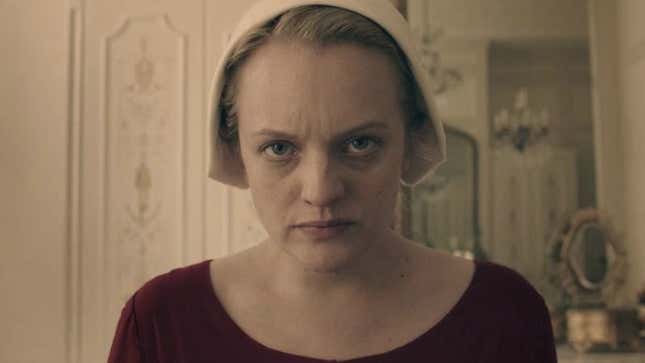 Elegantly written, superbly acted, and sumptuously shot, The Handmaid's Tale would be a standout even if its arrival hadn't coincided with a year marked by a conservative government battling ever more aggressively to eliminate women's rights—and, later, by the groundswell of assault and harassment stories finally being heard, if only for a certain demographic of women in certain spheres of influence. Coming in 2017, Margaret Atwood's horrific vision of total patriarchal control feels as timely as it does urgent.

And praise be to Elisabeth Moss, whose portrayal of Offred brought a hundred shades of subtlety to the eponymous Handmaid trapped in a life of childbearing and servitude. And she's not the only one: The TV adaptation wisely bulked up Atwood's novel by giving more time to other Handmaids and the complicated wife of the commander, as much an architect of the ultra-conservative society as her husband, but without his gain in status. It highlights the necessary nuance the show brought to the story—though not perfect nuance, as the show ignores race in the near-future world altogether. Still, it's a critical show for 2017. The fact that The Handmaid's Tale is so relevant is scary; the fact that the story is so well told is a godsend. [Caitlin PenzeyMoog]
---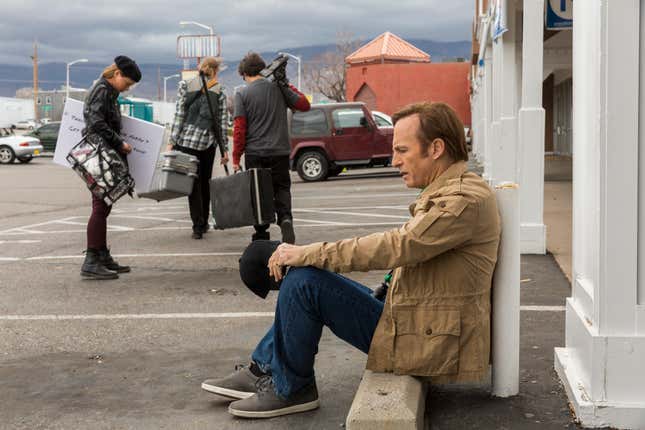 Why have we been in such a hurry to see Jimmy McGill transform completely into the fully crooked Saul Goodman? Better Call Saul has built a rich world for the character that Breaking Bad gave birth to and added an ensemble to that world that enriches it even further. Although Bob Odenkirk is the center of this universe as Jimmy/Saul, he's surrounded in season three by stories and people that populate one of the best dramas on TV. Jonathan Banks and Giancarlo Esposito built a whole underworld of backstory in season three, and Rhea Seehorn—as Jimmy's business partner and love interest, Kim Wexler—added layers to both her own character and Odenkirk's. But the story and actor that made it all click in 2017 was Michael McKean as Jimmy's brother, Chuck: Their battles both at home and in a harrowing court hearing were as tense as the show's interactions between drug lords. And Chuck, in his final fucked-up moments of life—his death wasn't explicit, but McKean said in an interview that Chuck is dead—might finally push his brother into the place where we first met him, broken and bad. [Josh Modell]

---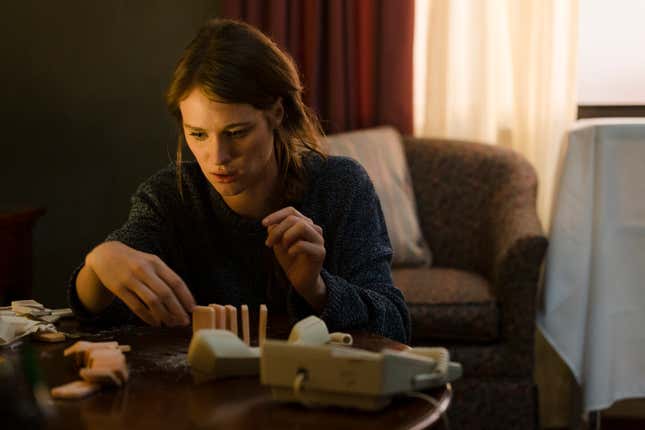 Over the course of its four seasons, Halt And Catch Fire indulged in many of the clichés of modern prestige TV: smug antiheroes, dim lighting, earnest music cues, sudden time jumps, the fetishization of failure, and the bringing together of characters just so they can be torn apart over matters of "trust." Somehow this low-boil series about the rise of the personal computer—and all its attendant industries, from video games to the internet—made those tired conventions feel fresh, engaging, and even relevant. Give credit to writing and performances that embraced the complexity of human motivations, revealing how our rigidly programmed modern technology was created by women and men driven by a combination of greed, spite, creative passion, and love.

But it also helped that Halt And Catch Fire converted its deep understanding of its characters into stories, rather than mere ponderous self-reflection. Cameron, Joe, Gordon, Donna, and John all kept moving forward, striving for "the thing that gets us to the thing," and with every choice they made, viewers understood exactly the obstacles they were going to create for themselves, and the ways they could—and couldn't—help each other. What other series could turn the death of a major character into an episode that showed just how much everyone else in the cast had grown? And what other show could turn the words "I have an idea" into a thrilling rallying cry? [Noel Murray]
---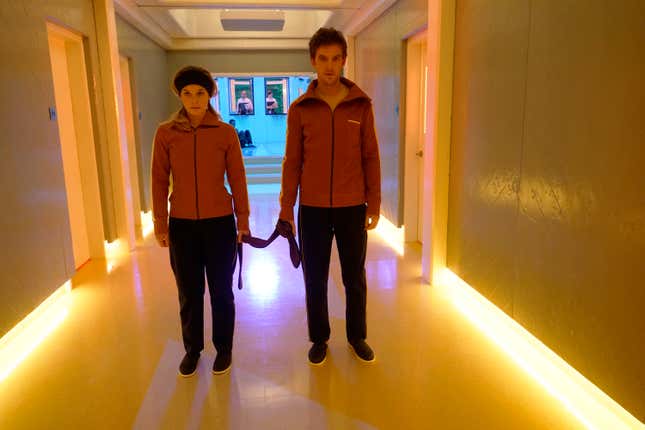 In a year full of outstanding dramas, dark comedies, and spooky sensations, Legion managed to be all of these things—and more. Like fellow X-Men-related highlight Logan, Noah Hawley's series is an inspired riff on superhero stories: David Haller (Dan Stevens) is arguably the world's most powerful mutant, but having the ability to destroy everything around him has just left him mostly devoid of human contact, save a wisecracking junkie (Aubrey Plaza) and a long-suffering sister (Katie Aselton). While trying to sort out David's warped reality—is everything, including his psychokinesis, in his head?—Legion blends elements of psychological thrillers, slasher films, and coming-of-age stories. The FX series also features some of the year's most spectacular visuals, from a freakout frozen in and dissected through time to a Plaza-led, Bollywood-inspired number.
Legion intentionally avoids dating itself with any specific period signifiers, which, combined with its kaleidoscopic cinematography and psychedelic soundtrack, makes the show swing from sensory deprivation to sensory overload. But Hawley's greatest trick—and he really goes for broke here—is that every single one of these choices is purposeful, leaving the audience on shakier ground than any season of his Fargo series. But what pulls us (and David) back from the brink is Legion's strong emotional core: Underneath the dazzling display is a search for love and meaning. It doesn't get much simpler, or better, than that. [Danette Chavez]
---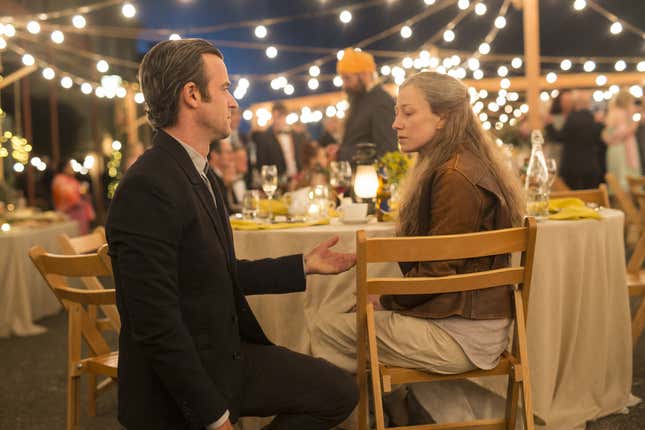 The fact that The Leftovers got to close out its third and final season on its creators' terms is something of a minor miracle—fitting for a show whose central themes often grappled with whether the idea of miracles even makes sense anymore in our modern world. The issue of faith, or the lack thereof, isn't an easy sell—for audiences or the channel trying to push a show about said issue—and the ratings never really bore fruit that rewarded the ambitious, edgy narrative Damon Lindelof and company set out to convey. But convey it they did, as the series told an indelible and emotionally searing tale of what it means to live in a world defined by loss.
The Leftovers is the kind of television that can be hard to sell people on ("It's a show about the pain of existence, but it's also funny, I swear"), but anyone who commits to its absorbing, involved world is rewarded with some of the most intellectually challenging and emotionally raw storytelling of this or any year. (Not to mention career-defining performances from Justin Theroux and Carrie Coon, among others.) Like Six Feet Under combined with the best aspects of Lost, it questions without the need for answers; and after a painful and bruising first season, followed by a rich and mysterious second, the last year of the series became almost transcendently moving. Like Twin Peaks, this is television that pushes the entire medium forward—a dazzling achievement that leaves you breathless in its final moments. [Alex McLevy]

---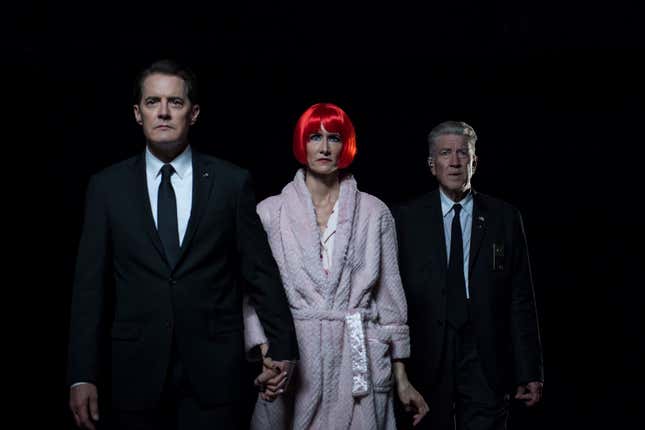 Sight And Sound kicked off a minor controversy by naming Twin Peaks: The Return as one of 2017's best films, vexing some who saw this as a snobby slight to TV as a medium—one precipitated by director David Lynch himself calling the Showtime series "an 18-hour movie." But wherever you land on that divide, the argument speaks to just how unlike anything else it was, even the original cult ABC show that spawned it. Each week, for several incredible months, Lynch and co-creator Mark Frost delivered a beguiling, bewildering hour of entertainment that confounded even Lynch's most devoted acolytes—not only deftly sidestepping any danger of spoiling Twin Peaks' mysteries by reopening them, but actually deepening and enriching them. As an amalgam of all of Lynch's filmmaking skills (and a curtain call for his most valuable players), The Return balanced moments of intoxicating dream logic with some surprisingly genuine emotional closure.
And even when the show dared to unspool an overarching creation myth behind Laura Palmer's murder, or even as it answered some of those tantalizing questions that have lingered since 1992, in the end it only provoked dozens more, before leaving everything elliptically open-ended with a cliffhanger finale that, like its predecessor, guarantees fans will be poring over its puzzle pieces for another quarter-century to come. The Return was the most audaciously told story of the year; it defies all categorization. (Though for the record, it's TV). [Sean O'Neal]

---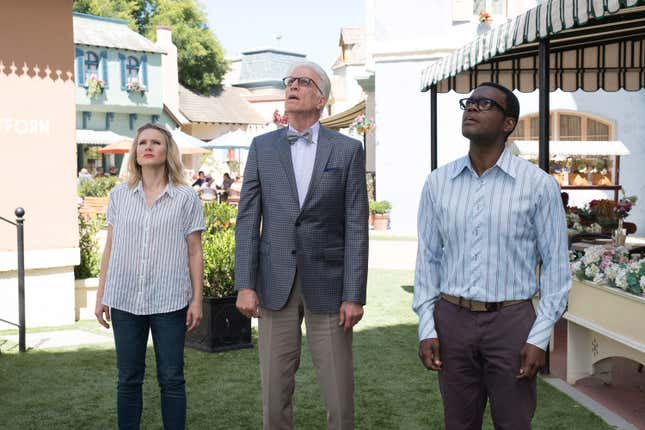 Michael Schur's phantasmagorical sitcom burst onto the scene in 2016 like a runaway column of shopping carts ready to carry a self-proclaimed selfish ass to her ultimate, unmerited reward, but its premise always posed a troubling question: Where can The Good Place go once it's biggest secret is out? By the time the first-season finale aired in the early weeks of 2017, the show had answered that question several times over; it delivered its definitive retort in the form of a menacing cackle and a snap of the fingers from Michael (Ted Danson). The Good Place would, like its spiritual predecessor Lost, have to go back. And then it went back, and went back, and went back, forming a loop that doubled down on the first season's devilishly funny head fake and crystalized The Good Place's status as a supreme being among thoughtful TV shows that are also sort of about the process of making thoughtful TV shows.
But that's just the Lonely Girl Margarita on the side of the never-ending shrimp cocktail that is The Good Place's gang of dead screwups and after-life flunkies, inhabited by a once-in-a-lifetime cast that commands attention even when it's sharing the frame with a half-dozen or so go-for-broke pudding puns. If nothing else, The Good Place deserves show-of-the-year honors for so joyously, humorously, and compassionately depicting the struggle to live morally and ethically in an ever-evolving hellscape overseen by lava monsters and their thin-skinned, petty-tyrant colleagues. It earns this distinction by doing all of that while also making good on its first-season leap of faith, mounting a production as ambitious as "Dance Dance Resolution," challenging its writers to come up with dozens of fake restaurant names, boasting six lead performances worthy of award-season consideration, and changing the big question hanging over its head. Now that it's biggest secret is out (and out and out and out), where can't The Good Place go? [Erik Adams]