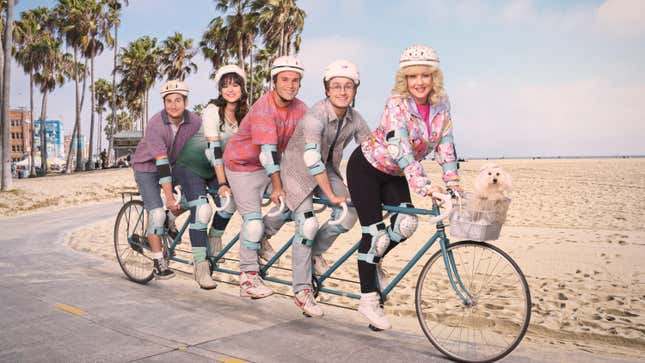 It's the end of an era. Or, sort of, the end of two eras: both the fictional "1980-something" of The Goldbergs and the real-life sitcom's reign over primetime television. On Thursday, it was announced that the series, which stars Wendi McLendon-Covey, Sean Giambrone, Troy Gentile, and Hayley Orrantia, would conclude with the tenth season, currently airing on ABC.
Wendi McLendon-Covey on the final season of "The Goldbergs," her favorite episode of "Reno 911," and more
"It's been an honor to be part of The Goldbergs for the last decade. I'm really proud of what we accomplished with the show, and I'm so lucky to have had such a rewarding experience. I will miss my TV family and every last crew member," McLendon-Covey, The Goldbergs' on-screen matriarch and one of the show's executive producers, said in a statement (per Deadline). "Thanks to our brilliant writers for giving us thoughtful story arcs year after year, and for being so collaborative. Thanks to the best EPs in the business. And thanks to all our fans (the Goldnerds) for being so sweet and supportive. My heart is full… But I definitely hope I never see another pair of shoulder pads for the rest of my life."
The comedy, about a quirky Jewish family from Philadelphia's suburbs, frequently paid tribute to nostalgic '80s iconography, referencing bands like The Clash, shows like Perfect Strangers, and many, many films such as Ferris Bueller's Day Off (featuring an appearance from Charlie Sheen). The series proved successful enough that it spawned its own short-lived spin-off, Schooled, set in the '90s.
But the flagship show also faced scandal in recent years, killing off its patriarch Jeff Garlin at the top of the tenth season after he faced an investigation for misconduct. (Bryan Callen, a regular on Goldbergs and star of Schooled, also left the show amidst sexual assault allegations.) The series also lost another core cast member when George Segal, who played the family's beloved grandfather, died in 2021.
The Goldbergs has long been reliable in the ratings for ABC, but even that has declined over this season. Going out on its own terms, the show will join a number of other major series wrapping up this year, including Succession, Ted Lasso, The Flash, A Million Little Things, Riverdale, and another rare 10-season network series, The Blacklist, among others. The Goldbergs series finale airs on May 10; after that, Abbott Elementary will officially become television's reigning Philly-based sitcom.