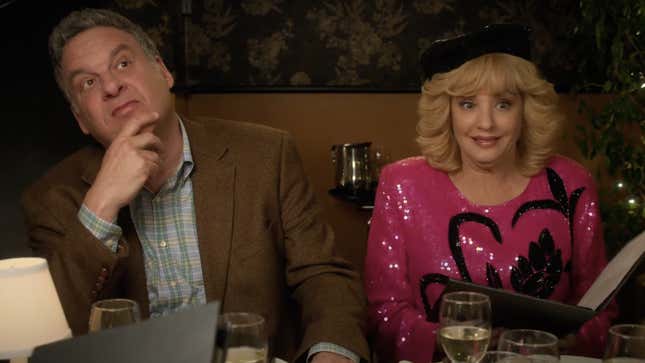 When The Goldbergs ends with its 10th season later this year, it will be without patriarch Murray (Jeff Garlin). A main character in the previous nine seasons, Garlin was infamously written off the show after investigations into misconduct on set. And according to his former television wife Wendi McLendon-Covey, his exit couldn't have come fast enough.
Wendi McLendon-Covey on the final season of "The Goldbergs," her favorite episode of "Reno 911," and more
"That was a long time coming, and that it finally happened it was like, 'Okay, okay. Finally, someone is listening to us,'" McLendon-Covey revealed on Andy Cohen's SiriusXM show. But she declined to speak about the behind-the-scenes issues any further, saying, "I'm exhausted by that topic and the PTSD of it all. … I feel like the less people know about that, the better. No one, no one benefits from knowing anything."
In 2021, sources for Vanity Fair claimed that the HR investigation into Garlin's behavior stemmed from "a pattern of verbal and physical conduct on set that made people uncomfortable," including inappropriate language and unwanted hugs. Garlin denied wrongdoing (characterizing it as miscommunication or difference of opinion about comedy), though he confirmed that the investigation had gone on for three years.
Small wonder, then, that McLendon-Covey would see his departure as "a long time coming." That she references the situation as "listening to us" suggests she was among those who had brought complaints of his behavior, though it's unclear whether she was subject to it herself. Garlin's exit was reportedly a mutual decision (per Variety), and McLendon-Covey herself previously tweeted that "it's hard to incorporate someone who doesn't want to be there and wants to leave mid-scene" when the show was still CGI-ing Murray into scenes.
The show eventually killed Murray off for good, a decision the star clearly welcomed, though she acknowledges it was a risk. "We had lost George Segal in real life, and then to have to go through another loss on a sitcom, you can't keep asking your audience to mourn people," she explained to Cohen. "That's not why they tune in."