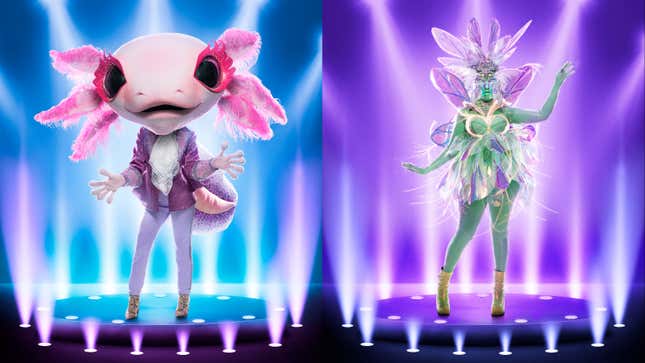 Another Wednesday, another installment of Fox's The Masked Singer—and thus also another installment of that bit where the show's audience literally bays and chants for its performers to be unmasked, which is, genuinely, never not a little unnerving to us. Specifically, tonight's episode of the singing competition saw the unmasking of two of the show's season 9 competitors, The Fairy and The Axolotl, which also meant their eliminations, because they don't let you keep singing on this one unless you have a mask on your face.
Anthony Hopkins has figured out what we all knew about Marvel movies
Let's start with The Axolotl, if only to ensure that our salamander-based spellcheck is still working. They were the first to fall to the power of Country Night, after all, getting eliminated off of a performance of LeAnn Rimes' "Can't Fight The Moonlight." Thus the reveal that the woman inside the lizard was WWE star Alexa Bliss, who made headlines earlier today by revealing a skin cancer diagnosis she recently received. (That didn't come up on the show; it's just a lot of Alexa Bliss headlines for a single day.) In her exit interview, Bliss expressed her stage fright at singing, saying she cried before coming out to perform, but was happy to push herself outside her comfort zone.
Afterwards, the Fairy (who'd previously performed Bonnie Raitt's "Angel From Montgomery") was forced to go up against The Macaw in a rendition of Shania Twain's "That Don't Impress Me Much," the song in which Shania Twain proves herself exceedingly hard to impress by several things (car ownership, rocket science) that are objectively impressive. And when the Ding Dong Keep It On Bell tragically failed to ring—an actual sentence fragment that you were forced to read, and potentially derive meaning from—The Fairy was unmasked, revealing former 21 Jump Street star Holly Robinson Peete. (A.k.a. former The Talk star Holly Robinson Peete, and also a whole bunch of other credits; Holly Robinson Peete is a veteran performer, is the point.)
And, hey, here's a fun fact: Peete's father was Matt Robinson, the first actor to play Gordon on Sesame Street. Which, as Peete discussed during her exit interview tonight, adds a nice little note to last week's Sesame Street Week, which the Fairy performed in. (The audience agreed, with a requisite "Awwww.") But sweetness can't beat the cold, hard facts of elimination, and so Peete was ultimately destroyed by the terrifying beak of The Macaw—as we all someday shall be.