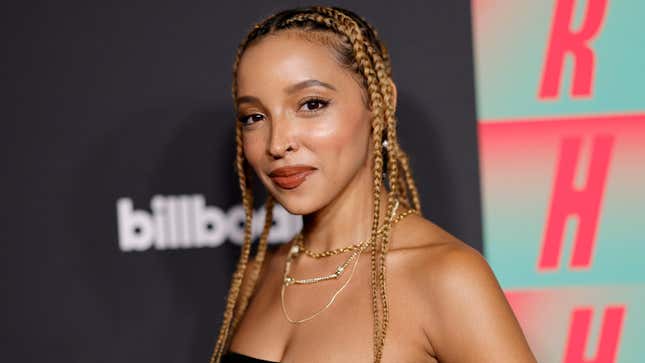 Young women starting out in the music industry are often subject to the wits and wills of the powerful (usually) men above them, as we've seen time and time again from Miley Cyrus to Britney Spears to even the few episodes of HBO's ill-fated The Idol. Tinashe's story is no different, unfortunately, as she recently opened up about feeling forced to work with some unsavory characters under her first contract with record label RCA.
Selena Gomez vows never to become a meme again
In a new interview with the Zach Sang Show (via Variety), the "Talk To Me Nice" singer was asked about early tracks she recorded with known abusers Chris Brown and R. Kelly (titled "Player" and "Let's Be Real Now" respectively).
"You think I wanted to [do those songs]?" the pop star responded to Sang's questions with a guffaw. "I literally block out that R. Kelly song from my mind—I forget that it even exists," she continued. "That is so embarrassing. That is so unreal that I even have a song with R. Kelly."
"I was so young too, which is crazy because I feel like I did that song when I just signed to that label. I was probably like 20," Tinashe elaborated, to which Sang suggested that she must have "lack[ed] a lot of control in that situation... if any."
"You do, one thousand percent," she answered. "Especially when it comes to singles. Like for example that song with Chris, that was a song that… we all wanted it to be this big moment—this big single. So I feel like in [the label's] mind, they were like 'You need the support.' And [Chris] was like their biggest artist that they had on rhythmic radio at the time."
Still, as Variety notes, "Player" failed to make any sort of real chart splash when it came out. "I was like, 'Well, this is a pop song so I really don't feel like we should put Chris on it like that. I don't like that. That doesn't compute to me,'" Tinashe recalled. She has since left RCA and signed on with Ricky Reed's Nice Life Records, through which she just released her EP, BB/ANG3L. She's also one of the few celebrities not to self-eject from Fox's Stars On Mars, so it seems like things are going better for the pop star in general nowadays.
You can watch Tinashe's full interview below: