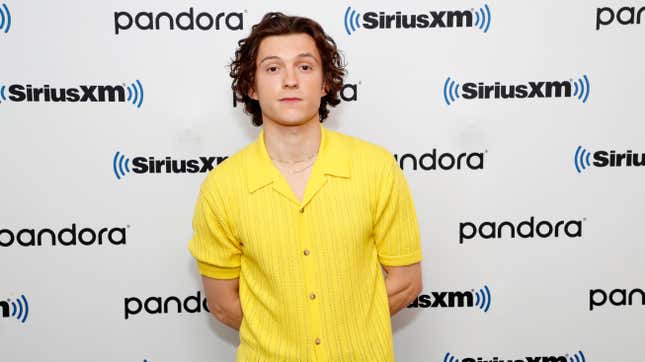 Tom Holland confirmed this evening that development on a fourth film centered on his version of Spider-Man is in the works—or, at least it was.
The A.V. Club's weekly film round up
Per Variety, Holland was doing the red carpet rounds for his new Apple TV+ show The Crowded Room, which unkind people might describe as Holland's latest attempt to convince the world he can play creepy murderers, bank robbers, and more, just as easily as he plays fresh-faced superheroes or gives an elaborately impressive lip-sync performance. Conversation, naturally, turned to the Peter Parker of it all, which led the famously loose-lipped Holland to say this: "I can't talk about that, but I can say that we have been having meetings. We've put the meetings on pause in solidarity with the writers, There's been multiple conversations had, but at this point it's very, very early stages."
This isn't the first indication we've gotten that Holland's tenure in the role will continue past 2021's highly lucrative multiverse adventure Spider-Man: No Way Home. MCU mastermind Kevin Feige has previously stated (back in February) that he and the studio "have the story" for a return engagement, but indicated that no script had been penned yet. And Amy Pascal, who's been a producer on pretty much every Spidey-related movie since 2017's Homecoming—give or take a Morbius—made comments similar to Holland's at the premiere for new animated feature Across The Spider-Verse earlier this week, noting that, "We're in the process, but the writers strike, nobody is working during the strike. We're all being supporters and whenever they get themselves together, we'll get started."
Viewers will remember that No Way Home ended on a pretty weird storytelling note that could have served as an endpoint for Holland's tenure as the character; it looks like it'll instead be a jumping off point for a new set of adventures, presumably with a whole new supporting cast who hopefully won't get subjected to that dang amnesia magic that screwed up Peter's life the last time around.