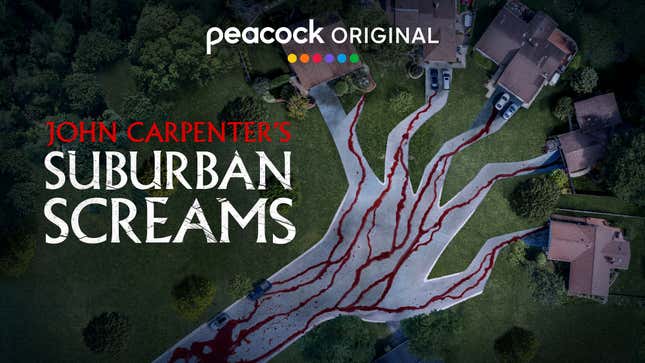 It's been a while since Master of Horror John Carpenter, one of America's best directors, has directed anything. As far as we know, Carpenter's been more than happy to play video games, make music with his sons, and compose the scores for new Halloween movies. He's never expressed an eagerness to get back behind the camera, but he's doing it anyway.
The A.V. Club's 5 last minute Halloween costume ideas
Peacock's upcoming six-episode series John Carpenter's Suburban Screams is taking an Unsolved Mysteries approach to anthology horror. Told through documentary-style and firsthand accounts of "true tales of terror" from American cul de sacs, Suburban Screams also features cinematic reenactments and at least one episode directed by the elevated horror hater himself. Plus, there's a trailer.
The trailer does live up to some of the "genre-busting" expectations Peacock promises. The show mixes talking head interviews, archival footage, local news pieces, and cinematic reenactments directed, at least in one case, by Carpenter. In addition to directing an episode and lending his name, Carpenter is also composing new music for the show.
Honestly, Peacock had us at "John Carpenter's." However, we do have some reservations about the format of this show, namely because it's not something we've seen Carpenter do before. Nevertheless, it's been an unlucky 13 years since he released a movie, 2010's The Ward, so we're not going to complain. Of course, this isn't Carpenters' first stab at television. He participated in the omnibus TV movie Body Bags, which also bore his name, as well as Showtime's Masters Of Horror series, contributing two episodes.
John Carpenter's Suburban Screams hits Peacock on October 13. Uh oh, Friday the 13th. Spooky!