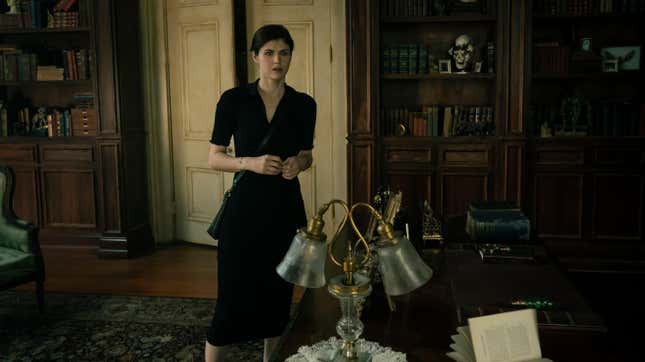 We're living in the age of the "expanded universe": Marvel, DC, Star Wars, The Fast & Furious, The Lord Of The Rings, and Harry Potter—take your pick. AMC entered the game with the Immortal Universe, based on the works of gothic romance master Anne Rice, in October 2022 with an adaption of the late writer's iconic novel, Interview With The Vampire. Rolin Jones' series proved to be a refreshing update of and tribute to its source material, equal parts compelling, sexy, intelligent, and—most importantly—very fun. Unfortunately, that's not the case for the second entry, Mayfair Witches.
Esta Spalding and Michelle Ashford's series is a paint-by-numbers take on the supernatural melodrama genre, working from a palette of dull grays and washed-out blues. Everyone involved seems to be sleepwalking through each plodding story beat. In its first five of eight episodes, Anne Rice's Mayfair Witches fails to create enough dramatic (or sexual) friction to work viewers up into a lather; it's a soap opera without any suds.
Based on Rice's 1990s trilogy, Lives Of The Mayfair Witches, the show follows a family of witches whose centuries-long entanglement with a mysterious, ageless spirit proves to be both a gift and a curse. The show centers on Dr. Rowan Fielding, played by Alexandra Daddario, who earned an Emmy nomination for her turn in the first season of The White Lotus. Like many a chosen one, Rowan has it all: she's a talented, beautiful neurosurgeon who learns she's a powerful witch to boot. Her latent powers manifest when she's feeling angry or overwhelmed. So, yes, shitty men who talk down to her tend to wind up with spontaneous brain hemorrhages. After the death of her adoptive mother, Ellie (Erica Gimpel), Rowan uncovers information pointing to the magical lineage hidden from her.
In search of answers, Rowan travels to New Orleans to seek out her biological mother, Deirdre Mayfair, played by Cameron Inman as a teen and Annabeth Gish as an adult. Her birth mom is the lens into the titular family—and what a fucked-up brood they are. Deidre grows up under the thumb of her controlling Aunt Carlotta (Beth Grant), who tries to pray the devil out of her niece. This leads her straight into the arms of said demon—a charismatic, malevolent spirit named Lasher (Jack Huston). There's also Mayfair patriarch Cortland (Harry Hamlin), who hangs mainly on the fringes, oozing vague Southern menace. The other major player is Ciprien Grieve (Tongayi Chirisa), a new character created for the show. As an agent of a secret society that investigates "the unexplained," Ciprien is sent to watch over Rowan, acting as her protector and guide.
Mayfair is hungry to pull the audience into Rice's realm of sexy witches, decaying mansions, and sultry nights, but the show feels inert. There's little sense of place or mood here, even though it's set in the Big Easy, and the vibe is horror-romance. This is a world of bland, beautiful characters who stand around in tasteful outfits, carrying on stilted, humorless exchanges that tell us little about who they are as people. Even the villains don't get to do much more than murmur threats and deliver dry exposition.
The few promising setups—a seduction at a second-line funeral parade, a witch hunt in 17th-century Scotland—don't go anywhere very interesting. And despite the show's subject matter, feats of magic are thin on the ground. Witchcraft has always been a potent subject for horror, whether claiming power, losing control, liberation, subjugation—or hell, even pure cackling, spell-slinging aesthetics. But Mayfair never finds its arcane focus.
Most of the actors get lost in this vaguely defined reality. Daddario does little to breathe life into Rowan, who feels more like a collection of descriptors than a human being. (She's the kind of character who prompts lines like "She's different than the others" and "You know you're special, don't you?") It's hard to root for this hero when Daddario plays her as a cipher, little changing beneath her icy blue eyes whether she's furious, amazed, or heartbroken. Huston falls short as the series' big bad, failing to convey Lasher's supposedly irresistible charm and malice. As Ciprien, Chirisa has the thankless task of being the third point of this less-than-compelling love triangle; but you get the sense he could do much more with his character if he had decent material to work with.
Thankfully, one person in Mayfair understood the assignment: character actor extraordinaire Grant, who plays Carlotta as a high-camp villain, all hissing sadism and pious zealotry. If only the creative team had adopted this kind of go-big-or-go-home approach. Sadly, the show never conjures enough atmosphere to transport us anywhere beyond the couch.
---
Anne Rice's Mayfair Witches season one premieres January 8 on AMC and AMC+.