Delayed for nearly a year thanks to injuries that star Dylan O'Brien incurred during filming, Maze Runner: The Death Cure landed in first place at the U.S. box office this weekend with a slightly disappointing $25.3 million. But the real story, on this last Monday in January, is the ongoing success of two unexpected wide-release blockbusters, both of which opened six weeks ago, on December 20, and have held strong to the charts ever since, defying expectations.

Jumanji: Welcome To The Jungle, which slipped to second place after three weeks at the top, remains the sleeper smash of the season. It debuted just five days after The Last Jedi—a release strategy many assumed would result in doom for the belated sequel. Instead, Jumanji has endured, rising to first place, remaining there for most of January, and continuing to draw new viewers. The $16.4 million it made over the last three days—a fall of only about 15 percent from last weekend—counts as one of the biggest sixth weekends ever. At a gigantic $338 million domestic, it's now just two Sam Raimi Spider-Man films away from becoming Sony's biggest hit of all time. We've had to mention the movie so many times in this weekly assessment that we're finally running out of Guns N' Roses jokes! The film's success is proof, however, that when you're high, you never, ever want to come down.

Meanwhile, if you've got the money, honey, The Greatest Showman's got your disease, too. Like Jumanji, the Hugh Jackman musical went wide right after Star Wars; it looked like a flop in that first weekend, grossing just $8.8 million on a budget 10 times that size. One weekend later, though, The Greatest Showman doubled that intake, and it's hung around in the top five ever since, losing as little as 10 percent of its audience week to week. The $9.5 million it managed since this past Friday landed the film in fourth place, while bringing its domestic total to $126.4 million—just shy of what La La Land ended its theatrical run with a year ago, and that musical had a lot more Oscar love on which to capitalize. Honestly, the better comparison is probably Titanic: Although Jackman's big-top spectacle won't come within spitting distance of that all-time smash, its pattern of success is very similar, expanding its audience after a seemingly underwhelming debut and showing comparable repeat-business longevity.

Will the new Maze Runner experience a similar bounce back? Don't bank on it. Like the third Divergent film, which effectively killed the chances of a fourth Divergent film (on the big screen, anyway), The Death Cure didn't open as well as its predecessors, falling $7 million short of The Scorch Trials' debut and $9 million shy of what the original grossed out of the gate back in 2014. Perhaps the unplanned one-year delay shaved away interest levels, as some of the target audience aged out of the YA demo or simply forgot about this reasonably well-received series. Or maybe there's just too much else to see right now, during this award-cycle catch-up month.

Exceeding most predictions, Hostiles expanded into wide release with $10.2 million, sandwiched between the aforementioned surprise success stories of the 2017-into-2018 season for a third place finish. The film's better-than-expected performance is a testament, perhaps, to the drawing power of Christian Bale, since this somber, very long Western didn't receive any Oscar love on Tuesday to parlay into box office capital. Incidentally, eight of the nine just-announced Best Picture nominees are still in theaters, with only last summer's Dunkirk not eligible for a box office boost. Of that group, nomination leader The Shape Of Water experienced the greatest spike in patronage, though mostly because it expanded into 1,000 more theaters, adding $5.7 million in the process. In non-Oscar-related news, the controversial Padmaavat made $4.2 million on 324 screens, which is officially the best opening ever for a Bollywood film in North America. That debut should keep the film in theaters (including a few IMAX venues), meaning that interested viewers can still taste the bright lights, but they won't get there for free. (Last one, promise.)

G/O Media may get a commission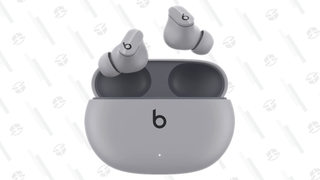 For more detailed numbers, visit Box Office Mojo.