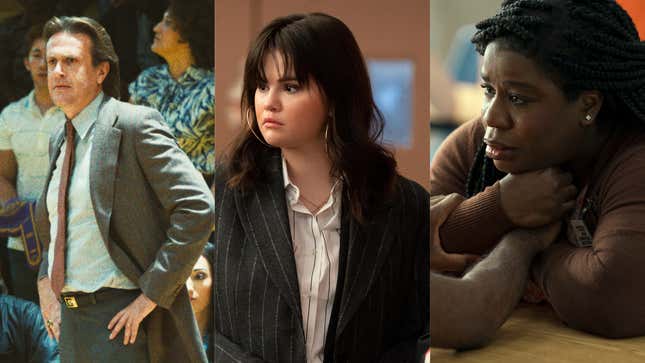 Welcome to What's On, our weekly picks of must-watch shows. Here's what you need to watch from Sunday, August 6 to Thursday, August 10. All times are Eastern. [Note: The weekend edition of What's On drops on Fridays.]

Mick Jagger says The Rolling Stones could give $500 million to charity
---
The biggies
Winning Time: The Rise Of The Laker Dynasty (HBO, Sunday, 9 p.m.)
Max Borenstein and Jim Hecht's Winning Time: The Rise Of The Lakers Dynasty returns for a 10-episode second season. Executive produced by Adam McKay, it charts how the Los Angeles Lakers became a juggernaut in the '80s with stars like Magic Johnson and Kareem Abdul-Jabbar. (The real players, however, have criticized how the show takes liberties with all the behind-the-scenes drama.) The ensemble includes John C. Reilly, Rob Morgan, Adrien Brody, Jason Segel, Quincy Isaiah, Tracy Letts, and Jason Clarke. The A.V. Club will recap the show weekly.
---
Only Murders In The Building (Hulu, Tuesday, 12:01 a.m.)
The podcasting trio of our dreams is back with Only Murders In The Building season three. Charles (Steve Martin), Oliver (Martin Short), and Mabel (Selena Gomez) have a fresh case to solve when the star of Oliver's new Broadway musical drops dead onstage (as seen in the season-two finale). Of course, they decide to investigate and air out everything in a brand-new podcast. While this season moves away from the Arconia ever so slightly, the show boasts the addition of cast members Meryl Streep, Paul Rudd, and Ashley Park. The A.V. Club will recap the show weekly.
---
Painkiller (Netflix, Thursday, 3:01 a.m.)
Painkiller is a fictionalized TV show that dramatizes how Purdue Pharma played its part in the country's rising opioid crisis. The six-part series is based on Barry Meier's book and boasts a cast that includes Uzo Aduba, Matthew Broderick, Taylor Kitsch, Dina Shihabi, West Duchovny, Sam Anderson, Tyler Ritter, and Ana Cruz Kayne. The A.V. Club's review publishes on Thursday.
---
Hidden gems
Ladies First: A Story Of Women In Hip-Hop (Netflix, Wednesday, 3:01 a.m.)
To celebrate 50 years of hip-hop, Netflix drops a four-part docuseries that celebrates the women who've contributed to the genre. The episodes feature MCs like Queen Latifah, Yo-Yo, Remy Ma, Latto, and Saweetie, as well as commentary from journalists, record label executives, and stylists.
---
Love In Taipei (Paramount+, Thursday, 3:01 a.m.)
Based on Abigail Hing Wen's novel Loveboat, Taipei, this rom-com follows Ever Wong (Ashley Liao), whose parents surprise her with a trip to Taipei for the summer, where she falls for two attractive but wildly different boys (Ross Butler and Nico Hiraga)—all while navigating her passion for dancing and her folks' sky-high expectations.
---
More good stuff
Zombieverse (Netflix, Tuesday, 3:01 a.m.)
What's a new week on Netflix without an entertaining South Korean show? Zombieverse is a reality series that takes things to the extreme in Seoul, where a group of "survivors" search for food, water, transport, and shelter during a "zombie apocalypse." They're given tasks to complete to earn the supplies they need. And if they're "bit," they're out.
---
Strange Planet (Apple TV+, Wednesday, 12:01 a.m.)
Dan Harmon brings Nathan W. Pyle's graphic novel Strange Planet to life as an animated series. The Apple TV+ show is set in a whimsical world of pinks and purples, where blue-colored creatures examine the absurdity of everyday human interactions. Season one consists of 10 episodes, with a voice cast that includes Danny Pudi, Hannah Einbinder, Lori Tan Chinn, Tunde Adebimpe, and Demi Adejuyigbe.
---
Mech Cadets (Netflix, Thursday, 3:01 a.m.)
Daniel Dae-Kim and Ming-Na Wen lead the voice cast of Mech Cadets, an adult animated series set 50 years after an alien invasion destroyed the planet. In the show, a group of teenagers put their differences aside and band together to stop another apocalyptic event from ending humanity. The A.V. Club's review publishes on Thursday.
---
Can't miss recaps
Reservation Dogs (FX on Hulu, Wednesday, 12:01 a.m.)
And Just Like That... (Max, Thursday, 3:01 a.m.)
What We Do In The Shadows (FX, Thursday, 10 p.m.)
---
Arriving now
The Chi (Showtime, Sunday, 9 p.m., season six premiere)
High School Musical: The Musical: The Series (Disney+, Wednesday, 3:01 a.m., season four premiere)
---
Ending soon
See It Now: The History Of Black Television (CNN, Sunday, 9 p.m., season one finale)
Housebroken (FOX, Sunday, 9 p.m., season two finale)
Star Trek: Strange New Worlds (Paramount+, Thursday, 3:01 a.m., season two finale)