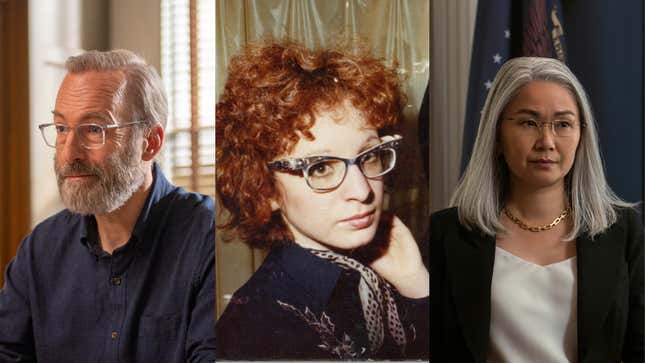 Welcome to What's On, our weekly picks of must-watch shows. Here's what you need to watch from Sunday, March 19, to Thursday, March 23. All times are Eastern. [Note: The weekend edition of What's On drops on Fridays.]

---
The biggies
Lucky Hank (AMC, Sunday, 9 p.m.)
AMC and Bob Odenkirk can't stay away from each other. After Breaking Bad and Better Call Saul, the actor leads Lucky Hank. Based on a Richard Russo novel, the show follows Odenkirk's Hank Devereux Jr., an English professor at Railton College who loves to poke fun at his fellow academics. Hank suffers a midlife crisis that makes him question his life. Similarly, his wife Lily (Mireille Enos) faces a career crisis, making them reevaluate their longtime relationship. Diedrich Bader, Suzanne Cryer, and Cedric Yarborough co-star. You can read our interview with Odenkirk about why he chose Lucky Hank after Saul and The A.V. Club's review of the show.
---
All The Beauty And The Bloodshed (HBO, Sunday, 9 p.m.)
If you missed the Oscar-nominated documentary All The Beauty And The Bloodshed, now is your chance to stream it. The film delves into the fall of Purdue Pharma's Sackler family, the opioid epidemic, and the work of activist and photographer Nan Goldin. Here's an excerpt from The A.V. Club's review:
Laura Poitras' film about photographer Nan Goldin is interesting because it is essentially two films in one that, at the end, combine to create a full picture of its subject. It is extremely clever and deeply moving, and winningly gets at the essence of Goldin's current and past work, without straining too hard to ape her style. The movie, which won the top prize at the Venice Film Festival (extremely rare for a documentary) is among the best of the year in any category.
---
The Night Agent (Netflix, Thursday, 3:01 a.m.)
In Shawn Ryan's thriller The Night Agent (based on Matthew Quirk's novel of the same name), Gabriel Basso stars as FBI Agent Peter Sutherland, who is thrown into a Russian conspiracy about a mole at the highest levels of the United States government. To save the nation (because of course the burden falls on him), Peter begins a hunt for the traitor while working with a terrorized CEO for some reason. The cast includes Oscar nominee Hong Chau, Luciane Buchanan, D.B. Woodside, and Sarah Desjardins.
---
Hidden gems
Waco: American Apocalypse (Netflix, Wednesday, 3:01 a.m.)
The infamous Waco, Texas, standoff between the government and cult leader David Koresh has been explored numerous times in pop culture. (And that's not going to stop any time soon.) Tiller Russell's three-part docuseries Waco: American Apocalypse examines the 51-day siege that led to 86 deaths with never-before-seen material and realistic CGI visuals. Brace yourself for interviews with one of Koresh's spiritual wives, the last child released from the compound alive, and members ATF tactical team who witnessed the shootout.
---
Digman (Comedy Central, Wednesday, 10:30 p.m.)
Andy Samberg and Neil Campbell have teamed up for Digman!, an animated comedy with a pretty fun cast. The ensemble includes Samberg along with his Brooklyn Nine-Nine co-stars Melissa Fumero, Joe Lo Truglio, Marc Evan Jackson, and Maya Rudolph, as well as Tim Robinson, Tim Meadows, Guz Khan, Mitra Jouhari, Paul Rust, Kyle Mooney, Harvey Guillén, Cole Escola, and Edgar Wright. Oh, and the show chronicles a group of archaeologists who are basically big-name celebrities in their version of the universe.
---
More good stuff
We Lost Our Human (Netflix, Tuesday, 3:01 a.m.)

Ayo Edebiri and Ben Schwartz lead Netflix's interactive animated series, We Lost Our Human. The special allows audiences to experience the story from the perspective of a self-involved cat named Pud or a loving, hyperactive dog called Ham. They wake up to find that all humans have disappeared from Earth and venture out to meet other bizarre creatures and save the universe.
---
Restaurants At The End Of The World (Nat Geo, Tuesday, 10 p.m.)
Nat Geo's new cooking show Restaurants At The End Of The World puts global chef Kristen Kish at the center. Kish travels the world searching for small but successful restaurants, exploring how local purveyors, farmers, and herders work with the kitchen crews, managers, and chefs to run these eateries in remote locales.
---
Race To Survive Alaska (USA, Tuesday, 10 p.m.)

In the reality competition series Race To Survive Alaska, eight teams of outdoor athletes try to overcome the extreme Alaskan wilderness for 40 days for a $500k prize. Please enjoy it from the comfort of your warm home and couch.
---
Can't miss recaps
The Bachelor (ABC, Monday, 8 p.m., season 27 premiere)

Perry Mason (HBO, Monday, 9 p.m.)
The Real Housewives Of New Jersey (Bravo, Tuesday, 8 p.m.)
Ted Lasso (Apple TV+, Wednesday, 3:01 a.m.)
The Mandalorian (Disney+, Wednesday, 3:01 a.m.)
Top Chef (Bravo, Thursday, 9 p.m.)
Party Down (Starz, Friday, 9 p.m.)
Shrinking (Apple TV+, Friday, 12:01 a.m., season one finale)
RuPaul's Drag Race (VH1, Friday, 8 p.m.)
---
Arriving now
Call The Midwife (PBS, Sunday, 8 p.m., season 12 premiere)
Sanditon (PBS, Sunday, 9 p.m., season three premiere)
The Real Housewives Ultimate Girl Trip (Peacock, Thursday, 3:01 a.m., season three premiere)
---
Ending soon
Mayor Of Kingstown (Paramount+, Sunday, 3:01 a.m., season two finale)
Your Honor (Showtime, Sunday, 9 p.m., series finale)