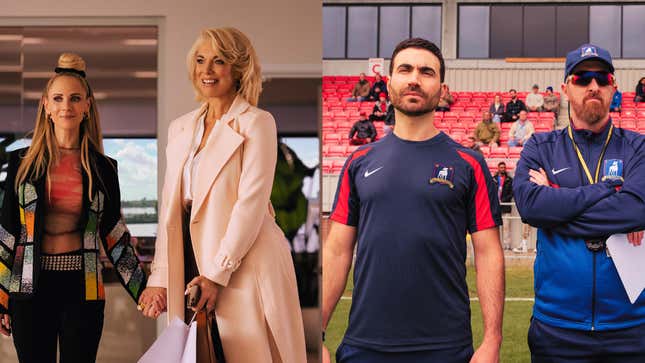 Ted Lasso's third season was discombobulating. In 12 protracted episodes, the Apple TV+ comedy lost sight of what once made it charming. The drawn-out plots, unnatural character choices, and confusing pace limited the show's impact. Ted Lasso's trademark warmth became borderline insufferable by the time the unnecessarily lengthy finale arrived, because that warmth often felt forced instead of nuanced. Season three had a few bright spots like Jamie Tartt (Phil Dunster), but in hindsight, Ted Lasso's third season mostly just inched toward series co-creator and Jason Sudeikis' exit.

The season finale, "So Long, Farewell," is a 74-minute roundabout way for Ted to bid adieu to the team he called home for three years. Coach Lasso's departure was understandably emotional—he got a surprise performance and a sweet airport goodbye (not unlike The Office, huh?)—but also inevitable. As Ted reminds Trent in his note, this was never about him. Is that true? We don't think so. Ted Lasso weirdly tried to tell the audience that the show wasn't about its titular character. However, that missive of kindness and asking for help falls flat by the end because none of it is earned, especially as the episode tries to ambiguously and poorly pass off a flash forward as Ted's dream. It's all real, though.
The narrative choice to leave things up in the air in "So Long, Farewell" indicates that Ted Lasso might return in some form. Is it a fourth season? Is it a Richmond-centric spinoff with a different title? It's hard to say. The bigger question is: Should it even return without its lead? TV shows have survived main stars exiting to varying degrees. Despite a talented ensemble, Ted Lasso has run its course based on the underwhelming season. But it's a huge hit and an awards magnet, so Apple TV+ is keeping everyone on the edge of their seat.
"So Long, Farewell" provided a conclusion, but even without Sudeikis—and with hopefully much more Bill Lawrence—Ted Lasso has the scope of returning to form. Ted, the character, was out of focus a whole bunch for this reason. There's a way to keep it going successfully, even though it doesn't have to. Here are a few ways Ted Lasso (or whatever the next Lassoverse show is) could do just that.