Alice, Darling's Simon Lowe (Charlie Carrick) has the body of an athlete, the charm of a salesman, and the English-accented, rarely raised voice of a romance-novel-ready sensitive guy. He'd never hit a woman, or force himself on one in the manner one associates with physical assault. Yet he's an abuser nonetheless, and perhaps a more insidious one than the kind of openly violent lout whose offenses are overt. He never beats the body, but he batters down self-esteem and manipulates empathy, leaving his girlfriend Alice (Anna Kendrick) so emotionally destroyed that he doesn't have to say or do anything; the fear of how he might react is enough to keep her on edge forever.
Like a constant gardener, Alice must tend to Simon's neediness around the clock. Heaven forbid she not respond to a text, or regularly send him a cleavage selfie for reassurance that she still wants him and still stays in starvation-shape for him. Ignore his neediness, and he'll convince her she's the abuser, failing to support him and deliberately sabotaging his life. She hurts her own body worse than he ever would, wrapping hair tightly around her fingers till they bleed. And there's a real question of what free will she has to say no to anything, from sex on down.
While the marketing sends mixed messages, this is not just a narrative of suffering. Most of it concerns Alice's attempt to escape, if only for a while, on a vacation with pals Sophie (Wunmi Mosaku) and Tess (Kaniehtiio Horn) to celebrate the latter's birthday. Knowing full well that a girls-only trip won't fly with Simon, who'll angrily claim she's choosing friends over him, she lies and tells him it's a business trip, a position she can better defend against his arguments without emotional investment. But it's only a matter of time before he finds out, and in the meantime, will Sophie and Tess realize what's going on with their friend?

Anyone who's known abuse victims would pick up on what Alice is sending out, even without foreknowledge of her story. She makes excuses, she tries to back out of everything, and when called on any of it, forcefully makes grand gestures of overcompensation, like suddenly and visibly stuffing her face to "prove" that she's not forced to be on a punitive diet. It's easy to see why some involved thought Alice, Darling was worth a one-week, awards-qualifying screening to see if Kendrick could score nominations. The acting is solid across the board, with Mosaku and Horn making the stalwart friends far from perfect, even a little needy in their own ways, and Carrick occasionally revealing the deep insecurity that fuels his terrible behavior—after a grand opening of his art show, he rages that "nobody" showed up, because the sizable crowd didn't include the important people whose approval he was craving.
G/O Media may get a commission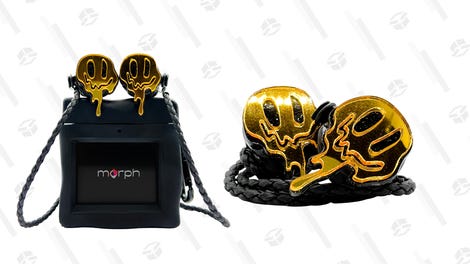 morph audio
Morph Earphones
One might expect great work with actors from director Mary Nighy, whose father Bill is himself an awards favorite this year. Unfortunately, Alanna Francis' script is overloaded with clichés that could easily deter awards voters. Character named Alice to denote that she has fallen down a metaphorical rabbit hole? Check. Footage of her swimming underwater, suggesting she's psychologically drowning? As predictable as the eventual, inevitable follow-up of her emerging from the water to symbolize rebirth. Female friends singing loudly along to the car radio to blow off steam? Yep. Faces reflected in the light of fireworks to indicate a moment of spontaneous joy? You know it. All that's missing is a montage of trying on different outfits, but editor Gareth C. Scales doesn't seem like the type who's down for that—he's more expert at showing us how Simon manifests in Alice's head at all times, even when he's nowhere nearby.
To the extent that the movie is a thriller, it pulls that aspect into the final act, when Simon shows up in person again, pushing his luck by being himself in front of Alice's friends. It's only then that everything comes together, making Alice, Darling feel like a sort of emotional revenge flick. If you're going to put an audience (via the main character) through the wringer, the catharsis had better be worth it. Earlier in the film, Nighy introduces a subplot about a local missing girl that's meant to awaken Alice to parallels with herself; it never really amounts to much, but the suspenseful elements featuring Simon absolutely do.
As a frequent director of TV and of shorts, but a first-time feature helmer, Nighy feels like she's finding her way in a new format. She's got the hard part down, pulling off effective emotional beats even when the story seems to be operating on screenwriting 101 paradigms. All that remains is to find a script that's up to the rest of it.
(Alice, Darling opens nationwide on January 20.)