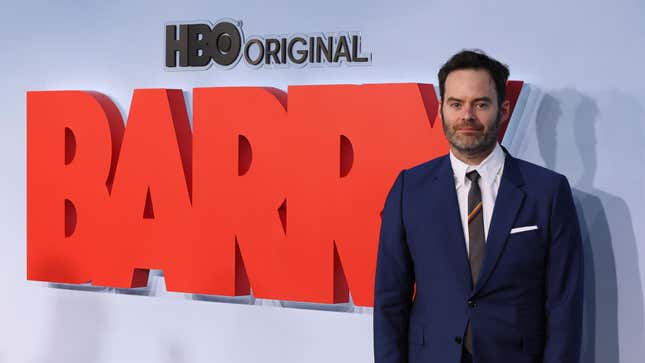 Here's a dispatch worthy of John Krasinski's defunct Some Good News, originating from an anonymous Instagram account publishing IATSE stories. (It's like DeuxMoi for film and television production workers.) Many of these stories shed light on poor working conditions that run rampant throughout the industry, except for one recent viral post about how Barry creator, director, and star Bill Hader is a really good dude.
On the red carpet with the cast of Pixar's "Elemental"
"The series finale of Barry is now wrapped, and I'd like to share some thoughts on my experience working with Bill Hader and his team," this anonymous IATSE guild member writes. "All of the actors have spoken about what a great director he is, but he's also great from a crew standpoint, and it makes me believe that people like him who worked as a PA will end up making the best directors."
The post continues, "He knows firsthand how much of a beating the crew can take when a director comes in ill-prepared. Bill worked extensively in prep and always came to set knowing exactly what he wanted. As a result, we worked the shortest hours I've ever worked in my whole career."
The anonymous crew member has plenty of praise for Henry Winkler as well, adding that Barry's "No Assholes" policy really paid off, "and it all comes from the top." Part of that, this person claims, is because Hader understands and appreciates every role on set from his time as a production assistant. Hader himself has discussed how being a PA influenced his directing style as recently as May of this year, in a conversation with The New Yorker.
"I'm really happy that I went this route, because it was nice, when I had my own set, to understand what everybody did. I had those jobs. I know what it's like when someone at the top is miserable and yelling and screaming. It just makes everybody's life miserable," the Saturday Night Live alum shared. "The crew and all these people, they have families and lives, and, yeah, they're being paid, but nothing's worth keeping someone up for twenty hours because you can't make up your mind. I've been in that situation of driving home on no sleep because the director was a perfectionist. It really ingrained in me how you treat a crew, how you treat people underneath you. It's a stressful place. But that doesn't mean you have to take it out on people."
Well, according to this IATSE stories post—which was later shared on Twitter and received tens of thousands of responses—Hader really stood by those convictions on the Barry set. "When you work for someone like that, it makes you want to do your best work," the crew member says. "Whether or not the show is your cup of tea, I am so proud to be a part of it, and it has undeniably proven that you can make an award winning show of the highest caliber and not kill your crew to do it. Take note!"