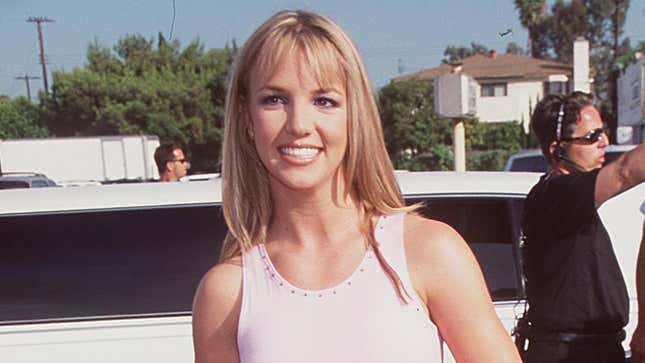 Britney Spears is not the subject of an impending intervention, according to Britney Spears. The rumor sprang from (who'd've thought) TMZ, which claimed her family (this time husband Sam Asghari, not her parents) are afraid for her life, that she's been taking some unnamed medications and "flying off the handle." An intervention was planned and called off; Spears instead met with a doctor and it "went well."
Except the tabloid report isn't true, according to the woman herself. "It makes me sick to my stomach that it's even legal for people to make up stories that I almost died … I mean at some point enough is enough !!!" Spears posted on her Instagram. "I'm probably going to have to stop posting on Instagram because even though I enjoy doing it, there's obviously a lot of people who don't wish me well !!! I'm honestly not surprised at all. … Again doing the best I can !!!"
She concluded on a pertinent reminder: "Again, the conservatorship has been over for almost a year … No folks, it's not 2007 … it's 2023 and I'm making my first homemade lasagna at home !!! I finally got my fireplace to work in my living room !!! As my hubby says it best: don't believe everything you read !!! All that love right back at ya !!!"
It's no wonder that Spears needs to point out that we are no longer in the aughts; the playbook is the same. Maybe the language has evolved—we'll call it a "mental health crisis" instead of "going crazy"—but the exploitation of a famous woman's wellbeing is all too familiar. The fact of the matter is that Britney-in-crisis is good for business. It was good for Jamie Spears, who used his 25-year-old daughter's troubles to assume vampiric control over her personal and professional life. And it was certainly good for the tabloids, which have essentially spun the Britney beat into its own lucrative industry.
G/O Media may get a commission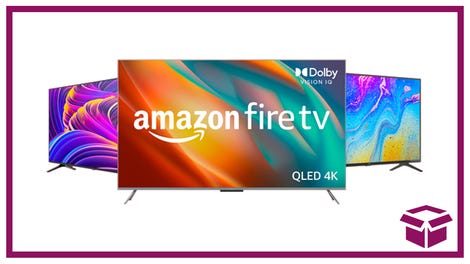 Ooh. stunning.
New Amazon Fire TVs
Hardly any media outlet is totally exempt from this implication, but perhaps none is more complicit in Spears' exploitation than Harvey Levin's TMZ. "Britney is gold. She is crack to our readers. Her life is a complete train wreck, and I thank God for her every day," Levin said in 2006 (via The New York Times). "Britney is Old Faithful" for luring in traffic, he shared in 2007, morbidly adding that, love her or hate her, "everybody wonders how it's going to end." Except it never has ended, and Levin and his company have continued to make money off of Spears' struggles for nearly two decades. Some fans have even speculated that TMZ has colluded with the pop star's family, mutually assuring and exacerbating an existing issue. All this to say, when stories begin circulating about Spears' mental health (particularly based on suspicious anonymous sources), it's worth asking: Who benefits from this?
Of course, the gossip rags aren't the only party to blame for continuing to cash in on the Spears train. The New York Times, several notches up from TMZ on the journalistic respectability scale, attempted to examine the media's exploitation of the star, but for Spears herself, the call may as well have been coming from inside the house. In the wake of the Framing Britney Spears documentary, she posted that she hadn't watched it in full but nevertheless "cried for two weeks" over it. "I have been exposed my whole life performing in front of people," she wrote. "It takes a lot of strength to TRUST the universe with your real vulnerability cause I've always been so judged… insulted… and embarrassed by the media… and I still am till this day."
Even her loyal fans bear some fault for the singer's current predicament. While the #FreeBritney movement may have helped end the conservatorship, supposedly well-meaning fans have now taken a paternalistic, overzealous interest in her welfare. "I love and adore my fans but this time things went a little too far and my privacy was invaded," Spears posted to social media last month after police visited her home in a welfare check reportedly called in by fans. Law enforcement "quickly realized there was no issue and left immediately," but the incident left her feeling that she was "being gaslit and bullied once the incident made it to the news and being portrayed once again in a poor and unfair light by the media." She concluded the message with a request for privacy, but a source told BuzzFeed News that these welfare checks are being called by fans "fairly often."
Spears can't enjoy the privacy of her own home without fans (see also: total strangers) violating her peace. She can't go out in public without the expectation of someone filming her and selling the footage to a tabloid to portray her in the worst possible light. A People source, picking up on TMZ's story, voiced reasons for the intervention that include her being "increasingly combative" and that she "has a lot of anger." If that's true—and it's a big if, coming from another anonymous tabloid source—could anyone blame her? The conservatorship may be over, but the unceasing, invasive attention of the world makes it so that Spears' life still isn't her own.
Spears said, in her 2021 court testimony, that she no longer trusts people after what she's been through with her conservatorship. People, in general, haven't done much to regain her trust. This is someone who takes pleasure in making lasagna (her first ever!) and getting her fireplace fixed, posting stream-of-consciousness reflections on her social media, and sharing videos of herself dancing. She no longer seems interested in the business of Britney Spears, yet the public won't let go. Will we ever be able to view her as a person—with respect for her privacy, her boundaries, and even her very reasonable anger—rather than a product? Will there ever be a day when we actually, finally, leave Britney alone?