What Are You Watching? is a biweekly space for The A.V Club's staff and readers to share their thoughts, observations, and opinions on TV shows new and old.

Netflix flexed its muscles more than ever in 2017, allocating $8 billion to develop original content and setting aside zero to no fucks for consideration of broadcast and cable networks (not to mention movie studios). The streaming company's not tethered to any kind of programming schedule either, which allowed it to effectively have "Christmas in July" by releasing Stranger Things midsummer.
Its more traditional counterparts have, if not exactly followed suit, then at least begun beefing up their offseason offerings. TNT in particular has some solid new dramas that are full of sexy grifters and drifters, but Claws has torn ahead of that pack. The series, from executive producers Eliot Laurence and Rashida Jones, sports a vibrant yet tawdry Palmetto setting, baroque plotting straight out of soaps, and an abundance of hard and curvy bodies. At the center of the drama is Desna (Niecy Nash), the owner of a nail salon that serves as a front for Uncle Daddy's (Dean Norris) drug business. Just when she thinks she's out and on her way to owning a high-end, completely legitimate beauty salon, she ends up involved in a murder, the subsequent cover-up, a brewing war between cartels, and the rehabilitation of one of her best friends.
At first glance, it's nothing to strain the brain and plenty to delight it. But the show's exceptional cast elevates it beyond guilty pleasure or idle summer viewing. I was mostly drawn to it based on Nash's involvement; as she's thoroughly proved in her many guest and recurring appearances, the Reno 911! alum deserves top billing.
Nash's co-star Norris slips into (and revels in) his role as a pansexual drug lord who runs a strip club for fun. But the real draw is the fierce foursome—fivesome, if Virginia (Karrueche Tran) ever gets her shit together—behind the fictional Nail Artisans shop. As Desna, Nash is the emotional center of the show; she juggles the most obligations, but she's far from saintly. The character is smart and loyal, but also flawed and grasping. And whether the scene calls for betrayal or a bid for redemption, Nash owns it.
But Desna—and Claws—knows she'd be nowhere without her crew of nail artists who could go perfectly painted toe-to-toe with the Ocean's 8 group. Jennifer (Jenn Lyon) is her oldest and closest friend, but their bond is repeatedly tested; Quiet Ann (Judy Reyes) is the strong, silent type who will steal your girl; and then there's Polly (Carrie Preston, in a standout role), the matching twinset-wearing charlatan who will end up with the deed to your house before long (though she'll probably invite you in for pie later). As long as we're talking about the Ocean's franchise and its spin-offs, Virginia is kind of the Linus Caldwell of the bunch—on the outside and itching for more.
G/O Media may get a commission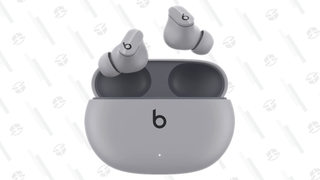 This dynamic drives the first half of the first season, which is currently available on the show's TNT website. Once the first murder goes down, the heist count goes up, until virtually everyone is struggling to keep their lies and enemies straight. But even with so much going story-wise, the characters remain consistent and the cast, consistently great. The Nail Artisans ladies face all these threats and shocking developments together, just as the cohesive core cast keeps the show from going completely off the rails (which is a very real possibility when anyone spends this much time in Florida). So when the show returns for its second season, don't be surprised if it has a better time slot. But if it should still debut during peak outdoor-festival season, you'll find yourself staying in regardless.