In addition to the 1985 compilation film That's Dancing!, the second volume of Warner DVD's "Classic Musicals From The Dream Factory" series offers three fine-but-unexceptional films directed by Norman Taurog, and three films directed by the maestros of the MGM musical: Stanley Donen, Vincente Minnelli, and Charles Walters. Two are Fred Astaire vehicles, paired up in the same DVD case: Donen's Royal Wedding and Walters' The Belle Of New York. The Walters film is a slip of nothing, with Astaire as a Gay '90s rake who seduces upstanding charity worker Vera-Ellen. But it's a sterling example of how Walters put his touch on every musical he directed, staging boisterous song-and-dance routines that have rooms full of people overcoming their troubles—and their baser impulses—by putting on happy faces and leaping about.
Royal Wedding, by contrast, is all about Donen piling on the gimmickry, using everyday situations and objects to make a gray world more fun. Astaire teams up with Jane Powell as a brother-sister act that tours England, falling in love with a pair of already-attached locals. But what everyone remembers about Royal Wedding is Astaire and Powell dancing on a rocking cruise liner, Astaire dancing around a gym with a coat-rack as a partner, and most memorably, Astaire dancing on the walls and ceiling. It's a shtick-filled movie, but every number is thought through, telling the story even better than the dialogue.
Vincente Minnelli's The Pirate is a more polished affair—perhaps to a fault. Judy Garland plays a Caribbean aristocrat about to be married to her town's mayor, but enamored of a legendary outlaw. Gene Kelly plays an actor who poses as the pirate to win her heart. The twisty plot grinds too slowly, but Kelly and Garland are game, and Minnelli exhibits all his trademarks: the overt theatricality, the larger-than-life color, and the undertone of gravity that grounds even the silliest bits of business in real frustration, fear, and melancholy.
Given the distinctive styles of the MGM directors—not to mention choreographers like Hermes Pan, Gower Champion, Michael Kidd, and Bob Fosse—it's too bad That's Dancing doesn't examine the studio's craftsmen in greater detail, analyzing what made them unique. But at least it gives over a good chunk of its running time to Busby Berkeley, who arranged scantily clad women on huge stages in geometric patterns, treating them more as props than people. Without stating it as such, the movie suggests that every director of musicals since—including Donen, Minnelli, and Walters—has had to deal with Berkeley's legacy, and either react against or affirm his vision of how to move people, literally and figuratively.
Key features: Vintage cartoons, shorts, and outtakes, a highly informative scholar commentary on The Pirate, plus a wonderful hourlong TCM interview with Donen on Royal Wedding.
G/O Media may get a commission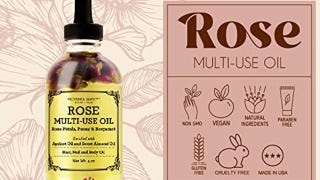 Provence Beauty Rose Multi-Use Oil