Welcome to Random Roles, wherein we talk to actors about the characters who defined their careers. The catch: They don't know beforehand what roles we'll ask them to talk about.
Yes, Justice Smith played D&D with "Dungeons & Dragons" castmates
The actor: It took some time for Craig T. Nelson to find his footing as an actor, having started his career in stand-up—alongside Barry Levinson, oddly enough—but after spending most of the '70s struggling to find a foothold in Hollywood, a role in the Levinson-written …And Justice For All. kick-started Nelson's career in a big way. The '80s found Nelson spending most of his time working on films, including a particularly memorable turn in Poltergeist, but he's since settled into several long-running TV series, including Coach and, most recently, Parenthood, now entering its fifth season.
Parenthood (2010-present)—"Zeek Braverman"
Craig T. Nelson: I was called about Modern Family, I went in and read it, and the guys wanted me to do it, but one thing led to another, it wasn't enough money, so I said, "No." The next thing you know, about a week and a half later, Parenthood came along. I read it and said, "Man, I'd like to do this!" It was a really good script, so… that's how it happened.
The A.V. Club: Did you have a familiarity with the original film?
CTN: I'd never seen it. I still haven't seen it. I just love what Jason [Katims, the executive producer] did. And the pilot was just something I really wanted to do. I just really liked it.
G/O Media may get a commission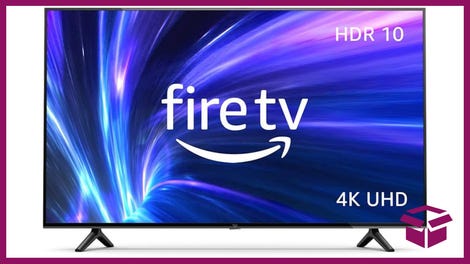 42% Off
Amazon Fire TV 50" 4K Smart TV
AVC: Were you fully prepared to jump back into the weekly series grind when the opportunity arose? Had you been looking for a full-time gig?
CTN: I was really kind of thinking I'd try to do movies as they came in. But then this came along, and… well, actually, the Modern Family thing kind of got me thinking about it again, and then Parenthood happened, and I decided to take it. Plus, it was a big cast, and the workload wasn't too… I didn't want to do a lead, really. I've had it with that. [Laughs.] That's way too hard.
AVC: How much input have you had in regards to your character?
CTN: A lot! It's been a really great little run. I mean, it's been one of my favorite roles that I've had.
AVC: As far as the development of the character over the course of the show, have you enjoyed the way he's evolved?
CTN: Sometimes. [Laughs.] Sometimes I haven't. You know, I've found it a little bumpy. But other times, it's right on. But that's the way it is. And some of the stuff I've bumped on wasn't necessarily bad or poorly written. It was just a piece of his character that I didn't necessarily think should be in there. But, you know, you make allowances for that kind of thing, and sometimes you're wrong about that. Just because you're bumping on it doesn't mean it's not right.
AVC: Is there any one storyline of Zeek's that you're particularly fond of?
CTN: Oh, there's been a lot of them. There really has. I can't… I don't want to pick just one out. I've really enjoyed playing just about everything I've been involved in. And that's rare, as I'm sure you know.
Alex: The Life Of A Child (1986)—"Frank DeFord"
The Fire Next Time (1993)—"Drew Morgan"
AVC: So how much of your husband-and-wife chemistry with Bonnie Bedelia was forged on The Fire Next Time?
CTN: Or before that, on Alex: The Life Of A Child. Yeah, this is the third time we've worked together and been married. We've known each other for years, so that was no problem.
AVC: Was she already cast before you came on?
CTN: No, afterward. But when she came on, that relationship was pretty easy to slide into.
Lohman And Barkley (1970)—actor/ writer
The Tim Conway Show (1970)—actor /writer
AVC: In trying to find the farthest flashback in your career, it appears that you started as a writer on The Tim Conway Show.
CTN: Well, yeah, I was, but my first job was actually before that, on a show called Lohman And Barkley. That was on KNBC, a 90-minute live show. That was '69 and '70, and… I think we got hired off of that show to go to Tim Conway, which was network.
AVC: Kevin Pollak mentioned that you'd been part of a comedy duo with Barry Levinson. What were the comedy stylings of Levinson and Nelson like?
CTN: It was really… [Starts to laugh.] It would be really free form. It was… The best thing I could compare it to, and this is a little presumptuous, but it would be Monty Python-ish. It had a kind of quirkiness and eccentricity that we brought to stuff, and it was not necessarily… it was more of an act. It wasn't a routine. We acted out a lot of different parts. Walt Disney meeting Mickey Mouse for the first time, with Mickey Mouse being a real character. It was a lot of fun.
AVC: Is any of that committed to film?
CTN: No. This was almost before film. [Laughs.] But I just loved working with Tim Conway, and the fact that he gave us an opportunity to go up not only in salary, but also in exposure, because we performed on the show, too. And Mike Ovitz was our agent, so… it was kind of cool. Getting to know Tim was great, but the guest stars he had… I mean, Joan Crawford? Lana Turner? Come on! And then getting a chance to meet Carl Reiner and Mel Brooks, to work with Ron Clark and Sam Bobrick… It was really a great opportunity.
Chicago Story (1982)—"Kenneth Dutton"
AVC: Chicago Story was your first time as a series regular, correct?
CTN: Yeah, that was a tough one, because I'd done Poltergeist, and I didn't realize at the time that, to get Poltergeist, there was a little clause in there that said that I had to do a series. And I never saw that and I wasn't aware of it. It was really quite interesting, though, because it was with Dennis Franz, and I got a chance to meet Kris Tabori, Richard Lawson, Danny Hugh Kelly, Molly Cheek… There were a lot of really great people in it. Eric Bercovici produced it, and Jerry London… I know he directed the pilot, anyway. I'm glad I did it, but I did it under duress.
AVC: By the time you'd finished, were you glad you'd done it?
CTN: Not really. [Laughs.] I had a great time in Chicago though. But, no, it was a bad experience, really. It was so restrictive and… I forget what they call it now, but it was a revolving scenario, where it was always moving between doctors, cops, and lawyers. I think there might've even been a fourth one.
Poltergeist (1982)—"Steve Freeling"
Poltergeist II: The Other Side (1986)—"Steve Freeling"
CTN: Jobeth [Williams], I'd worked with her on Stir Crazy, and she suggested me to Steven [Spielberg], and I went in and met with Steven, and… that's how that happened. It was great. You know, I didn't understand it at the time at all, but it was just such a really interesting time and a great part. But it was the advent of the computer age of graphics, so they hadn't really started to implement that yet, and ILM was just going from almost like a Ray Harryhausen way of doing things in a computer age. So it was right on the cusp, and it was fascinating to be around at that time, doing a film that required so many special effects.
AVC: Some things have been written about the clash between Spielberg and Tobe Hooper. Was there an active tension on the set?
CTN: No. Never. Uh-uh. Steven was prepping E.T., so he was getting ready to do that, but he was also executive producing and very involved with Poltergeist, so he was on the set, and they would share responsibilities. There was never any tension that I saw.
AVC: What were your thoughts about the sequel?
CTN: Well, I really liked the sequel. I mean, for me personally, it was kind of a vindication, because there were some personal things that I was going through (during the first film) that I was able to get rid of, so when I did the second one, it just felt like a great opportunity for me.
AVC: Was there ever any talk of you doing the third film as well?
CTN: Yep. I'd just had it. Two's good. [Laughs.]
[pagebreak]
The Return Of Count Yorga (1971)—"Sgt. O'Connor"
AVC: IMDB assures me that you were in Scream Blacula Scream. You don't know how much I'd like to believe that this is true.
CTN: No, I was never in that. I was in [The Return Of] Count Yorga, though. You know, there's some weird things on [IMDB]. They've got me changing my middle name! I've never, ever been Craig Richard Nelson. Ever! [Laughs.] My birth certificate says Craig Theodore. So I don't know where this stuff comes from. Not that matters, but there was another actor named Craig Nelson. And I had left the business for a while, and when I came back, because there were two of us with the same name, they made me take Craig T. Nelson. So that's why I use it. But, yeah, there's some weird stuff on that site.
AVC: Well, in that case, how'd you enjoy working on Count Yorga?
CTN: Oh, it was wonderful. Because Rudy De Luca, one of my writing partners, who still writes for Mel Brooks, and was a good friend of Bob Kelljan, who directed it, and Yvonne Wilder, who was in it, along with Mariette Hartley, Roger Perry, and David Lampson… [Starts to laugh.] Oh, it was really fun, man. It was really fun. I had split off from the team by then—Rudy De Luca, Barry Levinson, and I had been a team—and I had said, "No, I want to go be an actor. I want to do that, because that's what I do best, I think." And sure enough, while Rudy and I were doing that film, they got hired to do a show in England [The Marty Feldman Comedy Machine]. I wanted to do that so badly. So they went over there to do that, and I was so jealous.
The Incredibles (2004)—"Bob Parr / Mr. Incredible"
CTN: Oh, that was wonderful. Really, really great. It took a long time, but Brad Bird and the guys were, uh, incredible. [Laughs.] I mean, it was so much fun, and it was so hard, but I'm just glad I got the opportunity.
AVC: Pixar's said they're going to be calming down with doing sequels, but if they finally moved forward on The Incredibles 2, would you be up for it?
CTN: Sure! Absolutely. I loved doing it. I mean, it was very, very specific as far as how they wanted it done. But, actually, that's why it was so much fun.
The Devil's Advocate (1997)—"Alexander Cullen"
CTN: Oh, man. That one… oh, gosh, I loved that script. Tony Gilroy had written the script, and Taylor Hackford's such a great director. And it was my second film with [Al] Pacino. Mister Pacino. [Laughs.] He's such a great guy. I just was sorry that they didn't go ahead and shoot the script as it was written. It was even more haunting and really interesting. I mean, it works as it is, but I just think Tony Gilroy had written a fascinating script… and a very, very scary one!
…And Justice For All. (1979)—"Frank Bowers"
Wag The Dog (1997)—"Senator John Neal" (uncredited)
AVC: Did the fact that Barry Levinson wrote the screenplay have anything to do with you being part of …And Justice For All.?
CTN: Absolutely. Barry and Valerie Curtin, who co-wrote it with him. Yeah, because Barry told me to go in and audition for this part that they had written, and I didn't want to, I wanted to do something else. And he said, "No, you've gotta go in!" So I met Norman Jewison and Al Pacino, and the next thing I know, I'm doing the movie. When was that? 1980?
AVC: 1979.
CTN: Wow.
AVC: Time flies.
CTN: Yeah, it does. But that part… after that, it didn't stop. That was pretty much it for me, as far as getting things going.
AVC: As long as we're talking about Mr. Levinson, you're not credited for your role in Wag The Dog. Did he just call you up and say, "Hey, I've got another part for you"?
CTN: Yep. Barry just said, "Come on over and do this!"
Coach (1989-1997)—"Coach Hayden Fox"
CTN: I was going to go do a movie in Canada, and Barry Kemp asked me to come to this meeting. I thought, "You know, I haven't done comedy in a long time. I wonder…" And I read it and I liked it, and then I went to read for it for ABC, and they just didn't like me at all. So I said, "Well, look, that's fine." In fact, I left early. I just said, "You know what? You guys are not enjoying this, and I'm not really doing a very good job," and I left. And the next day, they wanted to give it to me. [Laughs.] So I said, "Okay," and we did it. We did the pilot, and then I think we actually did 13 shows before we ever even had a timeslot. By the time we got picked up, it was a whole new administration at ABC: Brandon Stoddard had left and Bob Iger had come in.
AVC: You obviously had a good comedic foil with Jerry Van Dyke, but how quickly did you guys find your chemistry?
CTN: It took a while. I mean, there were a lot of things to work out. There was the live performance aspect of it and how the characters would interact. But, you know, it's ever evolving. You just have to kind of make allowances. In the beginning, it was very tough, but slowly we got it, and then we really started having a lot of fun. Toward the end, it was like, come in, rehearse, and go home. Block on Thursdays and shoot on Fridays. It was pretty easy.
AVC: It's refreshing to hear you say that it took some time for the chemistry to come together. So many people say, "Oh, we had that chemistry right out of the gate!"
CTN: Oh, no. No, no. When we started, it wasn't fitting at all. I was having the most problems of everyone. Jerry was fine, Bill (Fagerbakke) was right on, but I couldn't get this guy. I couldn't figure out who he was. It was just really hard. It took a while. I'm really glad we had that time to work through it. Back then, you had the time. Now, it's, like, "It'd better be good from the beginning, and you'd better get the numbers right away."
Flesh Gordon (1974)—"The Monster" (uncredited)
AVC: You're not credited, but are you really the voice of the Monster in Flesh Gordon?
CTN: I am! It was two friends of mine. In fact, I still see one of them. He's not a friend anymore, really, but… Bill Osco, I don't know what happened to him. But, anyway, they were really porn producers. Soft porn. They used to come to The Comedy Store all the time, and Bill asked me to do this thing, and I said, "Yeah!" I needed the money. So I tried to do it as William F. Buckley. [Laughs.] It, uh, didn't quite work, because my impersonation wasn't exactly spot-on. But it was fun.
Mary Tyler Moore (1973)—"Charlie"
AVC: Your first proper sitcom role was in an episode of Mary Tyler Moore, wasn't it?
CTN: Yeah, I think so.
AVC: How was it to step out of stand-up?
CTN: Oh, it was great. So much fun. It was another case where they'd seen me at The Comedy Store. I think that's how I got it, anyway. That's where I met Georgia Engel for the first time, and, of course, Mary and Valerie Harper. I knew Valerie's then-husband, Dick Schaal. And I got to know some of the other people on the show including Ed Asner and Ted Knight, who I was a big fan of. Yeah, it was wonderful. I got a chance to meet Grant Tinker and Ed Weinberger. I got a chance to get to know Ed. It was in that real heyday of half-hour comedies.
The Osterman Weekend (1983)—"Bernard Osterman"
CTN: I had an office at Sunset Gallery, and… I don't know what I'd done at that point. I know I'd done …And Justice For All. and some other stuff. But I'm my office, playing rock 'n' roll, editing this documentary that I was doing, and this guy walks down the hallway, and he comes in and says, "Who the hell are you?" And I said, "Well, who the hell are you?" He says, "I'm Sam Peckinpah!" And I stood up, and I said, "Oh, wow!" [Laughs.] So I went over and shook hands with him. I'm wearing jeans and cowboy boots and had long hair. He said, "What do you do?" I said, "Well, I'm doing this documentary, but I'm an actor and a comedy writer." He said, "I want to talk to you." So we went down and got drunk together, and the next thing I know, I'm auditioning for Osterman Weekend.
AVC: How was the experience of actually working with Peckinpah?
CTN: Oh, God, it was phenomenal. Phenomenal. And it was with Rutger Hauer, John Hurt, Dennis Hopper, Meg Foster, Cassie Yates, Helen Shaver, Chris Sarandon… oh, my God, it was insane! [Laughs.] Sam and I got to be great friends. I was forever a fan of his. When he was very ill and dying, I spent some time with him. It was truly one of my most memorable experiences. You know, Sam Peckinpah was a guy whose heart had been broken, and a lot of it had to do with his own behavior, but underneath everything there was this guy who was not only brilliant, but also a really warm guy. But, boy, could he be tenacious and hard to work with. Oh, my God, he could get ugly. But there was that other side to him that kept you coming back for more.