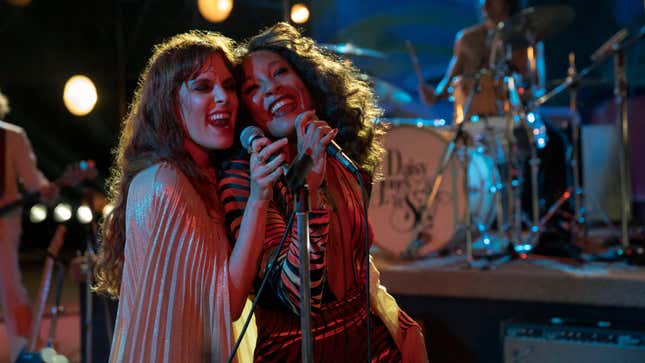 Riley Keough and Sam Claflin don't hold back in the Daisy Jones & The Six finale. As the rock stars Daisy Jones and Billy Dunne in Prime Video's music drama, they've been on a rollercoaster of emotions throughout the show, starting with their initial meeting—an intimate recording of "Look At Us Now" in episode three. That ride reaches its climax in episode 10 (airing on March 24), where they make a pivotal decision during a live performance of the same song in front of a huge crowd. He's married with kids, desperately trying to remain sober while fighting his attraction to her; she's hooked on pills and jumps into a toxic relationship to escape her feelings for Billy. They're a match made in hell, and they know it (ahem) all too well.
No, Riley Keough did not lock Priscilla Presley out of Graceland
In that final episode, "Rock 'N' Roll Suicide," Daisy and Billy confront their feelings after his wife, Camila (Camila Morrone), finally decides to leave him. (She catches them sharing a romantic hug in the previous episode.) It leads Billy straight to the bottle and later into Daisy's arms when they're in Chicago on tour. She senses his pain and realizes she has to let him go—except this dawns on her while they're performing at Soldier Field in front of 30,000 people. Daisy Jones has been building to this moment since it began: The '70s-set show, based on Taylor Jenkins Reid's novel, opened with a title card announcing Chicago as the band's last-ever performance.
At the peak of their success, Daisy Jones & The Six part ways also because keyboard player Karen Sirko (Suki Waterhouse) and guitarist Graham Dunne (Will Harrison) break up, and bassist Eddie Roundtree (Josh Whitehouse) quits the band—his main reason is basically "Fuck Billy Dunne." Their charged final performance is heightened by the looks exchanged between Billy and Daisy, which manage to raise pulses and break hearts.
The A.V. Club spoke to Keough and episode director Nzingha Stewart about the making of "Rock 'N' Roll Suicide," the challenges of setting up the Soldier Field performance, and the emotional payoff of the music.
The logistical maze of the Daisy Jones And The Six finale
Stewart (who helmed episodes six, eight, nine, and 10) tells The A.V. Club that she planned for the finale for months with her director of photography. "When I took the job, I hadn't read the book yet and had only gotten scripts for the show's first two episodes. My background is in music videos [for artists like Jay-Z, Missy Elliott, and 50 Cent], so I thought it would be a walk in the park. I didn't know Soldier Field was coming," she laughs. "It was a huge undertaking for everyone involved. We had to think of it on some level of shooting huge stunts or explosions." Stewart adds that they blocked scenes by placing toys like Lego men and miniature cars on her kitchen counter in New Orleans, where most of the series was filmed. "We had to make it look like a packed stadium, which the show hadn't done before on this scale."
The biggest challenge was closely tracking what was happening with the characters onstage, backstage, in interviews, and in their personal lives as everything unravels simultaneously in the final episode. "The credit goes to the writing here," she says. "I had to balance it with spectacle and scope. As a director, I wanted it to feel like the audience was watching a live show immersed in what was happening. That's why I chose to do those close-up shots." (Yes, those same ones that are now making their rounds on numerous fan-made edits online.)
While the characters go through inner turmoil (confessions, physical fights, sobs, and kisses), the band's musical energy never dwindles. Keough admits that the lengthy rehearsals were chaotic but rewarding. The cast shot all performances from the last three episodes in the same week and a half, near the end of the filming schedule. "We would film from 7 p.m. till the sun came up the next morning," she says. "We'd be on the stage, shoot the tracks for episode eight (when Daisy injures herself while she's high), then leave and change to come back for nine (when Daisy Jones & The Six go to Saturday Night Live) or 10. It was initially confusing; we had somebody write on paper what scene we were coming in or out of. And then we got the hang of it."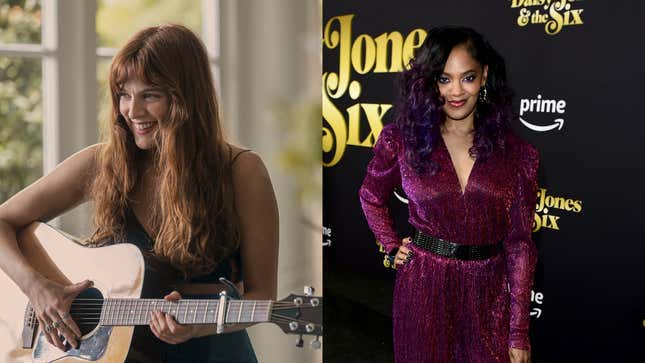 Crafting Riley Keough and Sam Claflin's onscreen magic
Daisy Jones' finale has maximum impact because Keough and Claflin's tense back-and-forth comes to a head. You've got lingering looks, a messy make-out session, brutal honesty, and tearful goodbyes. Amid the tension, Billy and Daisy perform for the crowd like nothing is wrong, doing a sexy rendition of "More Fun To Miss." He's standing behind her, breathing on her shoulder as they smile and sing through the same mic. It's more lighthearted than you'd think. "A part of that is Sam and me having fun with it. We would go so delirious during the nighttime shoots, so an aspect of it was real because we were losing our minds. It was easy to get in that vibe," Keough jokes.
Stewart said she saw both actors develop the potent chemistry required to sell the show. "You can tell they like each other as people and share a fun, almost brother-sister-like bond. I had to remind them, 'Okay, you're not Sam and Riley in the scene now,'" she says, noting they could feel her nerves when she joined in episode six. "They had a thing established, and I was the new kid, but once we trusted each other, the chemistry between the three of us as artists crucially started to work to achieve what we wanted to deliver."

How the finale culminates Daisy's whole journey
Before all hell breaks loose onstage in"Rock 'N Roll Suicide," Daisy is actually having a little fun. She's dressed in a glorious gold and white gown while performing, which Keough says was inspired by a Fleetwood Mac song. "It took a long time to finalize the right outfit. Nothing felt good as we tried things on," the actor explains. "And then one day on set, "Gold Dust Woman" comes on, and it felt like a premonition. I texted [costume designer] Denise Wingate, and she was onboard. She found a beautiful crochet, sparkly dress, and a cape to go over it."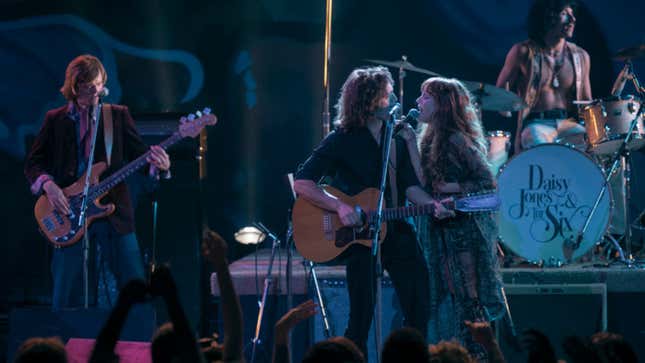 In this episode, Daisy performs for the first time with her best friend, disco singer Simone (Nabiyah Be). "I always say the worst thing Daisy Jones ever did to me was making me sing in episode two after Nabiyah, who is fucking phenomenal. I should be opening up for her," Keough says. They bust out "The River" at Soldier Field, a song Keough says is a blast to perform even though it leaves her out of breath. "However, the group favorite of the cast is 'Kill You To Try,'" she adds. "Something about the song works for all of us, and we have fun parts in it."

While Billy and Camila go through it after she confronts him about Daisy ("Tell me you don't love her," she asks, as he stares back), Karen and Graham end their relationship after he learns she had an abortion and didn't want a family. Daisy doesn't know the details, but she and Karen still share a tender moment onstage comforting each other. "I love these brief moments between them," Keough says. "She's been a stable person for Daisy to connect with since that first day in the studio, or when she's fighting with Nicky [Gavin Drea] and only sobs once she sees Karen. There's a mutual respect there."

The final heartbreak of "Look At Us Now"
While speaking about the central theme of the finale, director Stewart says it's about how Daisy realizes throughout the episode that she can't keep going like this. "I spend hours analyzing a script to narrow down the emotional event. Here it's delivered through subtext and nuance, which I've had experience with in my previous TV episodes [Little Fires Everywhere, Maid, and From Scratch]. I wanted to bring that out since so much is shared through gazes and how they're singing to each other. We chart their trajectory in every song to see the relationship unravel, which meant framing them close often enough."
The crux of the episode arrives during "Look At Us Now," a.k.a. the song that instantly shot the band to fame. But now it's marred with an unflinching sadness. Daisy recognizes that, without Camila, Billy will spiral into drugs and booze, a habit she's trying to escape. "Let's be broken together," he tells her, a notion she quickly rejects. So when they go to perform next, tears streaming down their faces, Daisy has a moment of clarity. She waxes poetic about peaceful love to their fans. Just before crooning to the lyric, "We could make a good thing bad," she looks Billy in the eye and mouths to him to go get Camila back.
"I think I chose when exactly to whisper 'Go' to Billy," Keough says. "I can't exactly remember the stage direction, but it felt right. We filmed different versions of the scene where I'm more upset or empowered because it's such an important moment for them." Keough notes that the previous nine episodes have slowly led to this (it's also a major book moment), but she only felt pressure to capture the nuance of Daisy and Billy as they quietly bid goodbye.
Stewart reveals her final cut of "Rock 'N' Roll Suicide" was sent in at a feature film length of two hours ("because it was the best thing I had seen") before it was edited down to 60 minutes. (#ReleaseTheStewartCut, am I right?) She does agree about the "Go" moment. "I'd love to take credit, but I think great directing is knowing when not to give a note if the actors are great. I knew I could also focus on the mammoth stadium set, the lighting, and the production design because I could trust them. Sam and Riley? They were on fire that finale week."