Last week, a couple of commenters took me to task for not spending any time on the big development dropped at the end of the episode: Rita is pregnant. But, my friends, this weekly recapping is a marathon, not a sprint, so I felt there would be other opportunities for Dexter (and myself) to ruminate over the ins-and-outs of a serial killer having a kid. At one point in tonight's episode, "Finding Freebo," I had to chuckle at the absurdity of Dexter and Rita listing "pros" and "cons" like any normal couple dealing with an unexpected pregnancy might. And the thing is, the moment is only half-ironic: Yes, Dexter is a serial killer, which is a big "con," but he's also making a legitimate stab (yuk, yuk) at normalcy. A child brings him closer to that.
So far, the pregnancy wrinkle is what's setting Dexter's third season apart from the other two; in other ways, the dynamic is closer to Season Two, with Dexter having a personal stake in a Miami Metro manhunt and doing everything he can to stay ahead of his colleagues. I'm not ready to declare that the show is running out of gas creatively, not when it continues to provide solid, tight, well-plotted hours like this week and last. But I'm a little worried that the closer Dexter gets to being human, he and the show are in danger of losing their edge. What we're seeing now—and last season, too—is a character hamstrung by a relationship that's demanding more from him and a crime that requires him to cover his tracks constantly. There's just no time to be the free-wheeling serial killer's serial killer that he is.
The bulk of tonight's episode deals with the hunt for Freebo, which starts with the identity of his dead girlfriend Teegan. Since Freebo could easily identify him, Dexter has to find him first, but that involves outsleuthing two different parties: Miami Metro, which is performing with annoying efficiency and competence under Angel's direction, and Jimmy Smits' Miguel, who is decidedly (and suspiciously) proactive in bringing his little brother's killer to justice. Dexter manages to stay ahead of the rest—barely—by getting her name and address first, but his cover-up attempts are only partially successful. He's able to kill Freebo, but not without Miguel (who has vigilante plans of his own) finding out about it; Miguel is grateful for Dexter's intervention, but there's clearly more to his agenda than simple revenge. And it's not yet clear if that's good news for Dexter or if it will ultimately put them at cross-purposes.
G/O Media may get a commission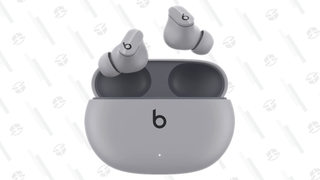 One thing that surprises me: Does Dexter really believe that Freebo killed Teegan? And why wouldn't he ask a few questions about her and Oscar Prado before sticking a knife in his neck? Obviously, Freebo needed to go no matter what, but the fact that he was hiding out in Teegan's house would seem to indicate that he doesn't know of her death and isn't responsible for it, right? A guy sitting around eating cereal in the nude doesn't suggest the behavior of someone who knows he's in trouble; he's laying low because of what happened in his house, but if he knew another body was being pinned on him, I just don't see him hanging out like that. Am I wrong about that?
Meanwhile, on the domestic front, Dexter is in a blind panic about the pregnancy, though to Rita, "blind panic" looks a lot like apathy. Dexter refuses to talk to her about it, outside of mentioning one "pro" ("kids are cute"), but the voices in his head are chatting about it constantly. "I'm not in the business of giving life," he narrates in the early going, and we can see in his dreams that he's very pessimistic about how a child of his might turn out. He visualizes the whole family playing in the park, but that idyllic scene is punctured by his son staring ahead blankly, stretching a wire between his arms. When he meets the kids of today at a fraternity kegger, the Girls Gone Wild scenario leads him to snort, "The leaders of tomorrow. Their parents must be proud." Then he catches himself: "How much worse could my child turn out? Do I even know the answer to that question?"
Well, Rita's decided to have 'lil Dexter, Jr. after all. So he's going to find out.
Grade: B+
Stray observations:
• Why can't I bring myself to write about the supporting cast in the main text? Maria, Deb, Angel… they're all doing stuff, and yet they seem to be characters in some second-rate detective show that wouldn't really interest me. That's the thing about Dexter: Without the eponymous character, there's no show here.
• So what's the deal with this Quinn fellow? His presence and the Internal Affairs investigation wouldn't make much sense if it didn't have any connection to the main plot, but so far, no connections have been suggested outside of a C.I. who knew that Oscar Prado was in hock to Freebo.
• Dexter knows what scrapbooking is. I guess, in a way, he has some experience with it.