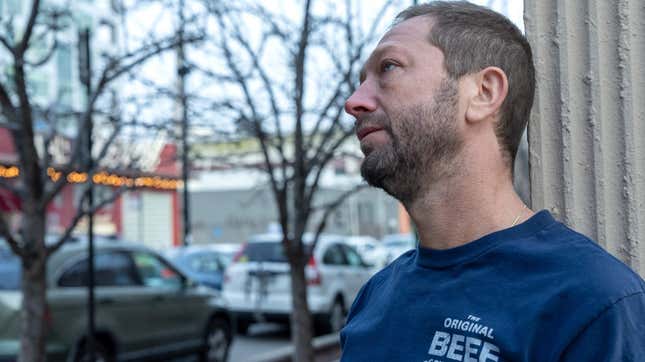 Unless you work in a fancy restaurant, you're probably not around microbasil much. If you do encounter the herb (and you're reading this article), you may be tempted to pump your fist and shout, "Microbasil, fuck YES!" like Ebon Moss-Bachrach does as Richard "Richie" Jerimovich. It's a triumphant moment for Richie, a boyish glee that one wouldn't have expected from The Bear's resident "jagoff" and (to some) dirtbag loser, a 45-year-old divorced dad who spent most of season one bellowing, brooding, and undermining everyone at the Original Beef of Chicagoland.
But in episode seven of the show's fantastic second season, "Forks," we see Richie change before our eyes. Carmy sends him to a friend's Michelin-starred restaurant to "stage" (pronounced "stahj"), i.e., intern to pick up new skills. Richie, who would normally scoff at bespoke herbs, hours scrubbing cutlery, and insane standards of service, learns to respect the workplace, himself, and even Taylor Swift.

The A.V. Club caught up with Moss-Bachrach over the phone, while he was on vacation with his wife and two daughters in Greece, to talk about the making of the episode and how he learned the lyrics to "Love Story."

---
The A.V. Club: What were your first impressions when you got Alex Russell's script for "Forks"? 
Ebon Moss-Bachrach: The thing I remember is being deeply moved in that moment Chef Terry [Olivia Colman]—who was Chef Tally in the original, but that name couldn't get cleared—where she says, "Carmy says you're good with people." I read the whole season straight through. For Richie, it seemed like everything was heading towards this revelation, his need to have some validation.
AVC: And in the next episodes, Richie becomes the sort of guy who wears a suit and basically saves the day in the season finale.

EMB: Right? The other thing I thought when I read the episode was that it was a big ask to have this transformation happen over the course of a week. I'm still on the fence about that. The Bear has its own time logic. It flexes and pulls and compresses and stretches time in a way that doesn't really bother me too much; I just have to sort of accept it.

AVC: In "Forks," you arrive at the restaurant where you're staging for the week and it feels super mysterious, like science fiction. What is this futuristic place?

EMB: Everyone would be so happy to hear you say that. When they were compiling the tone and the feel of it, they were looking at sci-fi. There was 2001, there was Ridley Scott—Richie's a big Ridley Scott guy—and they wanted it to have that strange, empty feeling. I think especially of 2001, walking these abandoned halls. So different from the cacophonous world of Original Beef that we're used to.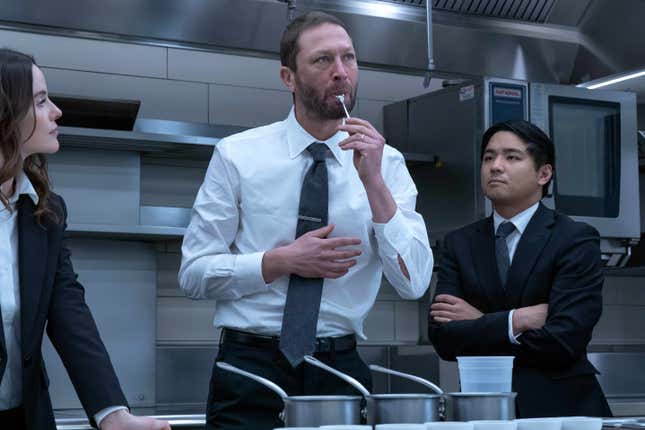 AVC: Where did you shoot?

EMB: At a Chicago restaurant called Ever, owned by chef Curtis Duffy. This is his second restaurant in Chicago. Two Michelin stars, but I think they're trying to change that.

AVC: Did you get a chance to eat there?

EMB: I didn't have that kind of time! Eating there is like six hours. If we were shooting in the dining room, Curtis and his chefs would be in the kitchen working on new dishes. They literally work all the time. They go in and experiment during the day before service and then service comes and they cook these 15-course meals for people. He conceived and prepared most of the dishes that were served at that restaurant in the episode.

AVC: You mentioned Richie being a Ridley Scott stan, and I recall one of my favorite Richie lines last season: "What is good, you fuckin' replicants?" In his apartment, we see a movie poster for Alien. And White Squall, which I'm not familiar with.

EMB: Yeah, that's an outlier for him. Also, I don't know if you can see it, but the book he's reading on his bedside table is the novelization of Black Rain.

AVC: Deep cut.

EMB: Chris [Storer, the show's creator] loves these things. That art department, man. Give them a little bit, and they'll pull every single Ridley Scott artifact in Chicago. There was that replicants line and also, when they ask, "What are you thankful for?" Richie says, "Philip K. Dick." He's a sci-fi guy.

AVC: You're always breaking our hearts with Richie's struggle, being divorced, drifting, seeing him wake up at 5:30 a.m., staring at himself in the bathroom mirror.

EMB: I always love watching characters by themselves. When I'm playing someone, I think about routines. What is it when they wake up in the morning? What is their morning like? So I relish when I get the chance to do it in a series or a movie, because they're often not directly plot related. "Forks" had room for this and it was really important to magnify his alienation.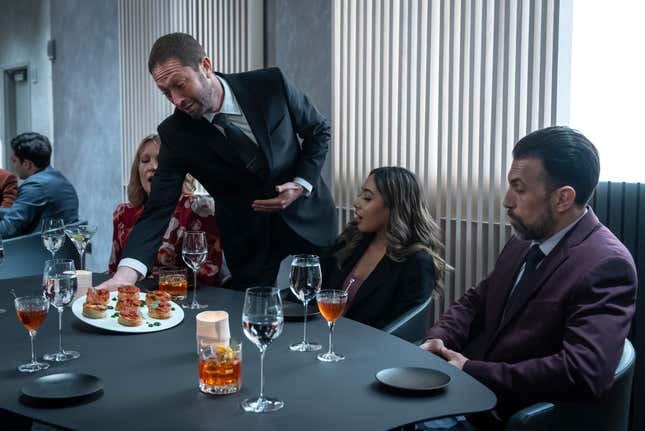 AVC: The phone call with Tiff was so raw.

EMB: That conversation was not in the original script. Chris called me, I think, on Saturday or Friday before the week we shot and said, "I'm adding a scene where you call Tiff. Or she calls you and she lets you know that she's marrying Frank, because I just want to up the stakes." And I was like, "Maybe there can be a moment where I bring up the Taylor Swift tickets and we have this crossed lines kind of thing where she's saying one thing and I'm saying another. Richie tells Tiff, "I got the Swift tickets. I got three of them, actually, if you want to come." Obviously, trying to get back together with her.
AVC: This leads to another of Richie's character pivots: becoming a Swiftie. He goes from telling Eva "Daddy has to take a break" from her songs to belting "Love Story" in his car.

EMB: That was at the end of the week, and I had no more voice. It was gone from shouting, so I was concerned about those notes. I thought it would be nice if Richie had a beautiful singing voice but, unfortunately, he doesn't. I was trying to learn the lyrics. I had a little cheat sheet in my pocket, and whenever I had a moment, I'd study them. The cheat sheet is still in storage.

AVC: You get a pizza from Pequod's. And when you bring it to the table, you do this sweet basketball move where you slip it behind your back. How'd that come about? 

EMB: That's funny. Basketball. I was thinking about the kind of reveals you have with close-up magic. I had to practice swinging it through. I kept bumping up against my ribs.

AVC: Richie has one of the thickest Chicago accents among the younger characters.

EMB: It was important that we know how aligned and important Chicago is to him. It's interesting that when he talks with Chef Terry we learn they both were in military families. Richie was an Army brat and moved around a lot, so he's not actually a Chicago native. He probably didn't get there until he was a teenager, 12, 13 years old. So some of that accent, in my opinion, is a choice he's making rather than something he inherited from the world around him.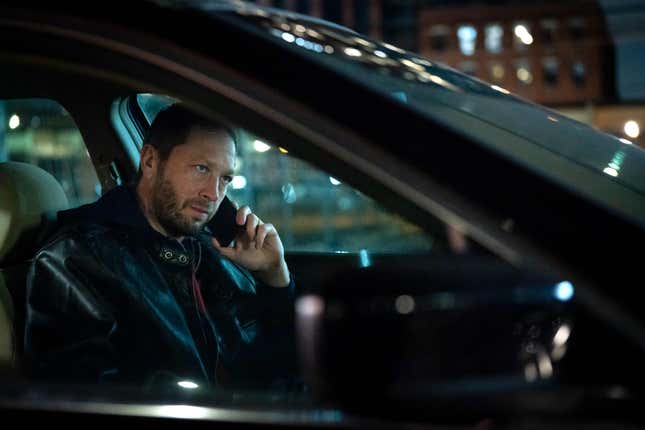 AVC: Olivia Colman as Chef Terry was a big surprise cameo. When did you learn about her casting?

EMB: Not until two weeks before we shot it. There was a lot of logistics stuff with her schedule and our schedule and then visas. So they were trying to make it work. We didn't shoot that scene until a while after we shot the majority of "Forks." All of a sudden there was a 24-hour window, where she could come in, and we quickly changed the schedule. So even when they told me, I was like, "I'll believe it when I see it."

AVC: What sticks out for you about that scene?

EMB: To bring such a badass motherfucker of an actor like Olivia Colman over to quietly peel mushrooms and have this delicate, mutual sharing with Richie ... it's simply lovely and telling. I really enjoyed making that scene with her. It reminded me of acting class years ago. I did Meisner training and for part of it, you had to do a physical activity, a repetitious physical activity while acting. The point of that, I think, was to trigger some sort of frustration or physical behavior but stay in character. That may not be what the scene with Chef Terry was about, which is coming together, but it did remind me of acting class years ago.

AVC: Chef Terry talks about being of service. How does that resonate with Richie?

EMB: The service theme is interesting. Remember, the season starts with Marcus taking care of his mother, and we hear a lot of parallels between hospitality and hospitals between Carmen and Claire, when they're describing their jobs. I think of Marcus helping the man in Copenhagen who had the bike accident. I'm glad that Richie resisted when Andrew Lopez's character Garret says, "It's like we're doctors." And he says, "That's a bit much." It's wise that Richie doesn't just drink the Kool-Aid.