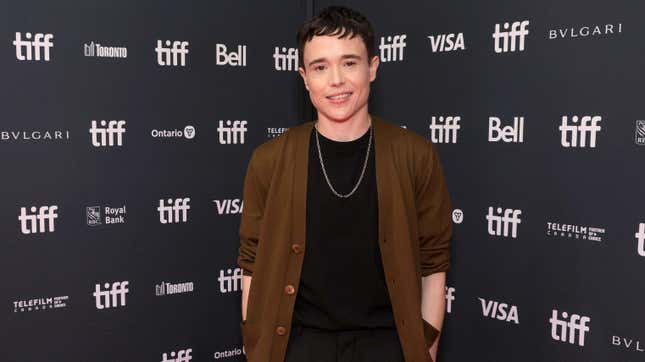 The topic of gendered categories at awards shows is becoming more prominent as more gender-nonconforming performers rise to the top of their craft (or feel more comfortable being open with their gender expression). Several awards shows have already done away with gendered categories, though most of the major U.S. film and television award ceremonies still have "Best Actor" and "Best Actress" categories. In a new interview, Elliot Page, one of the most visible trans actors and a previous Academy Award nominee, agrees that it's probably time to move on from those gendered distinctions.
Here's how "Cocaine Bear," "The Quiet Girl," and more of this week's new releases stack up
"Yeah, it seems like a good idea," Page told Entertainment Weekly when asked about the Oscars potentially abolishing gendered categories. "And, again, this sort of unusual aspect of that being the only category, right, where that sort of happens? So, hopefully, we start moving beyond that degree of binary thinking."
In recent years, several non-binary actors have spoken out about the issue, including Emma Corrin, Liv Hewson, and Bella Ramsey. While Hewson chose not to submit themselves for Emmy consideration because of the gendered categories, Ramsey chose to compete in the female category, noting that doing so "can open up a conversation about how it feels—as long as I'm aware of the fact that it's not ideal, but also that finding alternatives is really complex." However, Ramsey told Vanity Fair, "I just hope there's more space for nonbinary people to be recognized within [future] categories."
Non-binary actors are not the only ones who have advocated for the abolishment of gendered categories. "I don't understand why it's split into just two genders when we all know it's a much bigger spectrum. Whatever the mix is, we should maybe just break down any of those categories that end up being divisive and unnecessary," Hugh Jackman said to the BBC (via Metro), while Michael Imperioli remarked to The New York Times, "Why not? It's all one big acting soup."
Why not indeed? There are two main arguments against getting rid of gendered categories. One is that collapsing the categories would lead to fewer awards; Angela Bassett told the NYT she didn't like the idea because there's "Not enough opportunity." One solution for that would be to create new categories, and therefore more opportunities. Those new awards could recognize genre performances (like how the Golden Globes have categories for comedy and drama), or be designated by screen time (a featured actor category in addition to supporting, for example).
More complicated is the argument that collapsing the categories would actually take away opportunities for women and gender-nonconforming performers to be recognized, as when only men were nominated in the Brit Awards' gender-neutral Best Artist category. In the acting world, awards are usually related to screen time, and men tend to get the most of that. Better Call Saul's Rhea Seehorn observed to the NYT that until women and nonbinary stars get "as much screen time as the men, it's not very fair to compare the performances." The Crown's Olivia Williams agreed, "Until there's a 50-50 opportunity, then we still need to have our own categories." One way or another, there clearly needs to be more change to accomplish parity in Hollywood.