Film performances can be difficult to untangle; where do style and writing end, and the actors begin? And why privilege fiction films over documentaries, which can be populated with characters who are every bit as memorable as any performance? In lieu of a traditional, actor-centric list, we've decided to go a different route this year, singling out some of our favorite film characters—real and fictional, lead and supporting—of the year, based not only on performance, but on how the characters fit in their respective films. And, to make things just a little more interesting, we've paired them in categories.
American dreamers
Bruno Weiss (Joaquin Phoenix), The Immigrant
Lou Bloom (Jake Gyllenhaal), Nightcrawler
"Why you pursue something is equally important as what you pursue," says freelance videographer Lou Bloom (Jake Gyllenhaal) early into Nightcrawler. This nugget of self-help wisdom, one of many the character regurgitates over the course of the film, is Lou in a nutshell: Though he'll quickly make a name for himself as a "nightcrawler," selling guerrilla footage of accidents and violent crimes to the morning news, the man is equally suited to any growth industry that requires ambition and a complete lack of scruples. Talking a mile a minute through a shit-eating grin, a sickly slender Gyllenhaal turns Lou into the monster of American self-actualization—a pure sociopath engineering his own rags-to-riches narrative. The Immigrant's tragic small-time pimp, Bruno Weiss (Joaquin Phoenix), is Lou's opposite—a sad-eyed, weak-willed, endearingly awkward wannabe schemer, eking out a modest living on the margins of society and respectability. The American dream is all over Bruno's act—the burlesque show that serves as his front even climaxes with a dancer made-up like the Statue Of Liberty—but it seems to have left him behind.
G/O Media may get a commission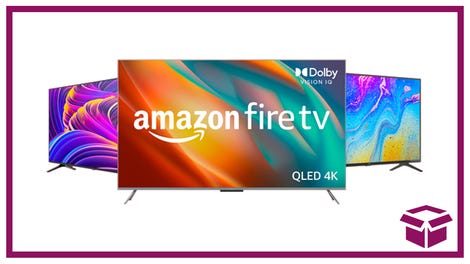 Ooh. stunning.
New Amazon Fire TVs
Bad teachers
Ike Zimmerman (Jonathan Pryce), Listen Up Philip
Terence Fletcher (J.K. Simmons), Whiplash
2014 was a bad year to be a promising young male sociopath in New York. Whether you were a talented jazz drummer like Whiplash's Andrew or an up-and-coming novelist like Listen Up Philip's title character, your very existence made you a prime target for a toxic, misogynistic self-styled mentor to swoop in and indulge your worst tendencies in the name of art. Philip Roth-like literary icon Ike (Jonathan Pryce) and big-band instructor Fletcher (J.K. Simmons) have their differences; the former is a pretentious, vulnerable sad-sack consigned to a life of unacknowledged loneliness, while the latter is a blowhard who needs students in order to justify his abusive tendencies. What the two do have in common is that they represent career-best performances from veteran actors.
B heroes
Atticus (Adewale Akinnuoye-Agbaje), Pompeii
Sergeant (Frank Grillo), The Purge: Anarchy
Kit Harington's Celt might be Pompeii's romantic lead, but the Roman disaster movie's real man-of-action hero is Atticus, the veteran gladiator played with considerable shit-talking swagger by Adewale Akinnuoye-Agbaje. Atticus—who is due to fight his arena battle when Vesuvius erupts—is fixated on the idea of dying as a free man, a goal that turns poignant once it becomes clear that he won't be able to outrun the eruption. Compared to Atticus, the motivations of Frank Grillo's black-clad loner—who remains unnamed through most of The Purge: Anarchy—are tantalizingly vague. Grillo, a character actor whose weather-beaten face and croaky voice bring to mind Lance Henriksen in his prime, is pitch-perfect as the archetypal leader of a rag-tag band of strangers trying to survive a night-long battle royal.
Cotillards
Ewa Cybulska (Marion Cotillard), The Immigrant
Sandra (Marion Cotillard), Two Days, One Night
James Gray reportedly wrote the role of Ewa Cybulska—the titled Immigrant, a Polish woman struggling to survive in 1920s New York—specifically for Marion Cotillard, citing her expressive, silent-movie eyes as an inspiration for the character. Is any modern-day actor more graceful at balancing vulnerability and determination? Cotillard's emotional nakedness gets put to equally tremendous use in Two Days, One Night, in which she plays Sandra, a woman with just one weekend to talk her co-workers into voting for her continued employment at the expense of their hefty annual bonuses. So right was the actress for the role—a battle against despair, a struggle to preserve her job and dignity—that the film's directors, Jean-Pierre and Luc Dardenne, broke their cardinal rule against casting major movie stars. Even her fame and celebrity couldn't distract from the rawness of feeling she exhibits.
Gentlemen
Tanner Bolt (Tyler Perry), Gone Girl
Gustave H. (Ralph Fiennes), The Grand Budapest Hotel
One of Gone Girl's best tweaks on the missing-person potboiler formula is the way in which it positions Tanner Bolt—the impeccably dressed, high-priced defense attorney who specializes in "wife killers"—as a paragon of decency. Played by an effortlessly (and surprisingly) charismatic Tyler Perry, Tanner is funny and unflappable—the only person who genuinely believes that Nick Dunne is innocent, and the closest thing to an all-around good guy that exists within Gone Girl's skewed moral universe. Monsieur Gustave H.—the concierge and gigolo who all but runs the Grand Budapest Hotel in the film's 1930s sections—is a gentleman of an earlier era, old-fashioned even in his own time. Equal parts oblivious and cosmopolitan, Gustave represents an idealized, pan-European sort of refinement, which the movie continually hints may have never existed; Ralph Fiennes' charming, sympathetic performance turns this Old World fop into a tragic clown.
Mysteries
Amy Dunne (Rosamund Pike), Gone Girl
Jay Reinke, The Overnighters
Gone Girl's central mystery isn't whether Amy Dunne—the Bacall-voiced housewife played by Rosamund Pike—was murdered by her husband, Nick, but who Amy was to begin with. Narrating the opening stretch of the film via entries from a recovered diary, Amy proves to be a puzzle, driven by contradictory impulses and a need for both freedom and validation. Similarly, while The Overnighters initially appears to be about its titled subjects, a group of desperate interlopers searching for work in the oil fields of North Dakota, the documentary's real interest lies with Pastor Jay Reinke, the holy man offering them succor. Suffice it to say, Reinke's motives prove more complicated than they first appear, and as his community tests the limits of his altruism, the roots of the pastor's crusade—and the secrets he conceals—are gradually unearthed.
Parents
Brandy Burre, Actress
Olivia (Patricia Arquette), Boyhood
One of the neatest things about Boyhood is the way in which it conflates narrative and documentary time, connecting the aging of it actors with the development of their characters. And though the title focuses the viewer's attention squarely on Mason Evans Jr. (Ellar Coltrane), it could be argued that his mother, Olivia, has as much of a right to be being called the movie's protagonist. Seen over the course of 12 real-time years and three dissolving marriages, Olivia is painfully aware of missed opportunities and the passage of time; Patricia Arquette's performance creates one of cinema's most nuanced and fleshed-out portrayals of a parent struggling—and often failing—to find the best for herself and her children. Brandy Burre, the subject of the documentary Actress, feels even more constrained by time and the demands of parenthood. An actor who's found herself aging out of desirable gigs, Burre takes to performing other roles: mother, housewife, the friend who's moved out of the city but remained "cool."
Strangers in strange lands
Henri (Patrick D'Assumçao), Stranger By The Lake
The Girl (Scarlett Johansson), Under The Skin
Jonathan Glazer's sci-fi mood piece Under The Skin pulls off a tricky balancing act, managing to somehow both estrange the viewer from its protagonist, an alien seductress played by Scarlett Johansson, and make her Scottish surroundings seem alien and threatening, too. It's a film about the disorienting experience of being an outsider in a foreign place, and much of the credit is owed to Johansson's subtle, otherworldly performance, which gradually shifts our identification in her direction and away from the humans she hunts. Stranger By The Lake works in a similarly discomfiting mode, exploring an erotic fascination with death using the elliptical story of a man who witnesses a murder being committed at a lakeside gay cruising spot. Sitting (literally) on the sidelines is Henri (Patrick D'Assumçao), a straight, doughy outsider who likes to hang out at the beach; his poignant, complicated friendship with protagonist Franck provides as an effective counterpoint to the movie's oblique intermingling of sex and death.