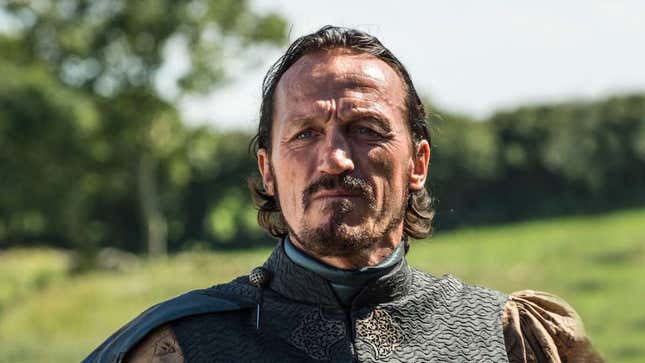 Jerome Flynn is perhaps best known these days as Bronn, Game Of Thrones' preeminent orgy enthusiast, but the English actor will soon find himself cracking wise another epic series. In a new interview with The Mirror (via Birth.Movies.Death), Flynn revealed he'll be appearing in an unspecified role in Amazon's upcoming adaptation of Stephen King's The Dark Tower.
Why Robert Rodriguez still loves "Spy Kids"
"Game of Thrones has opened doors to some great stuff. I'm getting offered stuff I never would have," he said. "I've always said I'd like to play a cowboy—and now one has come along. I'm excited for that."

Flynn joins Sam Strike and Jasper Pääkkönen, who will, respectively, play gunslinger Roland Deschain and his nemesis, The Man In Black. "Cowboy," however, doesn't really narrow down Flynn's role, as this prequel to King's Western fantasy series is set during a time when knightly, six-shooting gunslingers are abundant. Roland, who will go on to be the last living gunslinger, is still a young man in the show, which is said to chronicle how he "became a gunslinger and got his guns, his first conflict with the man in black, his first love, and his first mission as a gunslinger." That sounds a lot like King's prequel novel, Wizard And Glass, though we're sure it'll pull from the many, many flashbacks littered throughout the entire series.
There's plenty of roles the leathery, 56-year Flynn could play, from Roland's troubled father, Steven Deschain, to one of Wizard And Glass' Big Coffin Hunters, a nasty gang of renegades. He could always pop up in an entirely new role, but early reports say the series will be "a more faithful retelling" than that bizarre 2017 movie—it's doubtful, then, that they'll veer too far from King's text. Besides, now that we know Flynn is starring, it's hard not to imagine him as mounting a steed as the Coffin Hunters' fierce, bitter leader, Eldred Jonas.
Amazon has yet to officially announce the series, likely due to the stink of the film still clinging to the property. It'll drift away, eventually, though, especially since King adaptations are getting announced quicker than we can report on them.